TSF 2020 Kentucky DPOY: Tayquan Calloway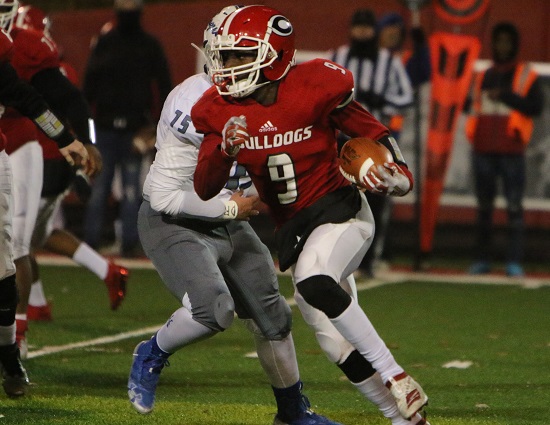 Holmes RB/DB Tayquan Calloway (photo by Dan Bieneke/TriStateFootball.com)
Holmes senior Tayquan Calloway is an electrifying talent in all phases of the game. Calloway's impactful play on defense that helped the Bulldogs to their second consecutive Class 4A, District 6 championship, last fall. His efforts earned him the 2020 TriState Football Kentucky Defensive Player.
In his final campaign at Holmes, Calloway snared five interceptions, returned a punt for a touchdown, ran for 794 and 10 scores while also garnering 2020 Class 4A, District 6 Player of the Year, First Team NKFCA All-NKY (DB) (for a second straight season) and Second Team All-TSF (RS) honors. He finished his career in a Bulldogs uniform with 2,454 yards on the ground, 46 receptions for 798 yards, 43 touchdowns (32 rush, six rec, two PR, two IR, one KR,) 13 interceptions and two fumble recoveries.
TriStateFootball.com was founded in 2005 and started its postseason awards in 2007. In the 14-year history of this award, Calloway becomes just the seventh player to be nominated twice as a TSF Kentucky Defensive Player of the Year finalist joining – Drake Bruns (Highlands) in 2010-'11; Seth Hope (Highlands) in '12-'13; Sam Burchell (Covington Catholic) in '12-'13; Adam Derry (Beechwood) in '17-'18; Michael Mayer (Covington Catholic) in '17-'18 and Brycen Huddleston (Highlands) in '18-'19.
Other 2020 finalists included seniors – Rhys   Brown (Dixie Heights), Dawson Catlett (Walton-Verona), Ben Dickhaus (Covington Catholic), juniors Eric Jiminez (Dayton), Gabe Savage (Ryle) and sophomore Mitch Berger (Beechwood).
TSF Kentucky Defensive Players of the Year
2020 – Tayquan Calloway (Holmes)
2019 – Brycen Huddleston (Highlands)
2018 – Michael Mayer (Covington Catholic)
2017 – Kam Butler (Covington Catholic)
2016 – Derrick Barnes (Holy Cross)
2015 – Marcus Watson (Cooper)
2014 – Branden Johnson (Dixie Heights)
2013 – Nate McCoy (Gallatin County)
2012 – Cameron Fogle (Conner)
2011 – Mikel Reynolds (Boone County)
2010 – Austin Baldwin (Simon Kenton)
2009 – Brandon Roller (Highlands)
2008 – Kody Rosenhagen (Highlands)
2007 – Luke Stein (Highlands)