2019 Snapshot: Franklin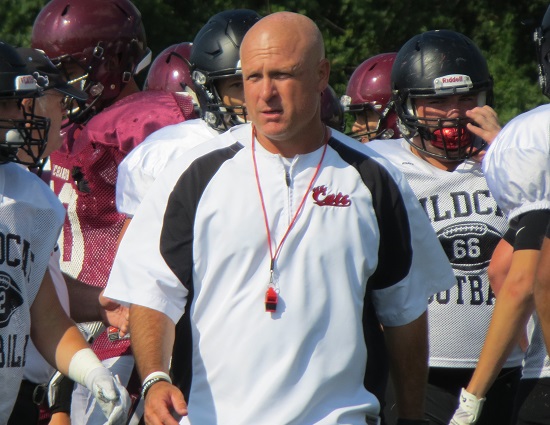 Watch out for Franklin. The Wildcats come into this season having won their last five games a year ago. This squad is a legitimate playoff contender.
Franklin has some key components that takes many teams into November.
"We are big up front and fast on defense," stated head coach Brad Childers. "We are looking forward to this team."
How the team plays in Week 2 and Week 3 at home against Edgewood and Xenia will be a good indicator of what is to come for the Wildcats. Franklin will be out to avenge losses to those two teams last fall. It is a precursor to what life will be like in the postseason.
Region 12 is loaded with quality, proven programs. The state champion could very well come out of this region.
Division III, Region 12
2018 RECORD: 6-4, 5-1 SWBL Southwestern
COACH: Brad Childers (35-18 at Franklin, five years; 35-18 overall)

HONOR ROLL
Zach Johnson, Sr, DB: One of the best defensive backs in the SWBL. Johnson picked off eight passes on his way to First Team All-SWBL Southwestern honors as a junior.
Ryan Russell, Sr, WR: A First Team All-SWBL Southwestern selection as a junior. Russel has 42 interceptions for 524 yards and three touchdowns in his career.
Brian Thacker, Sr, K: A special team's weapon, Thacker had 19 touchbacks on 45 kickoffs a year ago. Thacker was named First Team All-SWBL Southwestern for the effort.
Cameron Craft, Sr, DL: The anchor of the defensive line. Craft was a Second Team All-SWBL Southwestern selection as a junior.
Gage Johnson, Sr, RB: Ran for 761 yards and 12 touchdowns as a junior. Johnson named Second Team All-SWBL Southwestern for his work.
Aiden Kinser, Sr, DB: Was named Second Team All-SWBL Southwestern as a junior after intercepting six passes.
Braden Woods, Sr, QB: A two-time Honorable Mention All-SWBL Southwestern selection. Woods has amassed 3,027 yards of total offense and accounted for 21 touchdowns at the varsity level.

OTHER RETURNEES
Jared Kremer, Sr, OL/LB: Has all-conference talent. Kremer recorded three sacks, forced two fumbles and had an interception in 2018.
Dylan Dirks, Sr, WR: Has big-play ability. Caught two balls for 77 yards and a touchdown as a junior.
Gunner Lakins, Jr, DL: Played very well as a sophomore with a sack and two fumble recoveries.

NEWCOMERS
Cyre Williams, Jr, RB/slot/DB: Caught a glimpse of what could lie ahead when Williams amassed 138 all-purpose yards on 16 touches in Week 9 versus Brookville last fall.

PLAYOFF HISTORY
(11 appearances, 5-11) – 2017, 2016, 2013, 2012,2011, 2008, 1993, 1989, 1988, 1987, 1985

2019 SCHEDULE
Fri – 08/30/19 – at Madison Senior – 7:00 PM
Fri – 09/06/19 – EDGEWOOD – 7:00 PM
Fri – 09/13/19 – XENIA – 7:00 PM
Fri – 09/20/19 – at Monroe – 7:00 PM
Fri – 09/27/19 – BELLBROOK – 7:00 PM
Fri – 10/04/19 – at Preble Shawnee – 7:00 PM
Fri – 10/11/19 – at Valley View – 7:00 PM
Fri – 10/18/19 – EATON – 7:00 PM
Fri – 10/25/19 – BROOKVILLE – 7:00 PM
Fri – 11/01/19 – at Oakwood – 7:00 PM