2019 Snapshot: Newport Central Catholic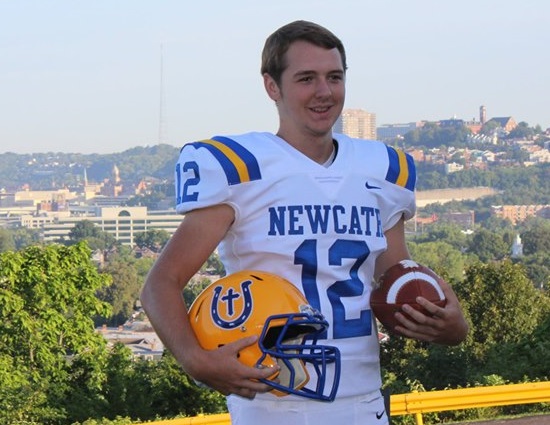 Although the entirety of the year didn't turn how Newport Central Catholic wanted with a 5-7 record, a 3-0 record in the Class 2A, District 6 is not to be overlooked. This year the school drops down to Class 1A where they will compete in District 4.
Last year's NewCath team was a thorn in many other teams' sides, and the overall record doesn't tell the whole story. Head Coach Stephan Lickert knows that this program can be better.
"We have really good senior leadership returning for 2019," Lickert said. "That is going to help the toughness, and overall mental makeup of this football team. Also, our team speed and overall athleticism is as good as it's been in years. We have a lot of difference makers that can hit home runs when you need them."
In terms of some weaknesses, Lickert was quick to point out his team's lack of size.
"We aren't going to be very big, plain and simple," the coach added. "We are going to have to play fast, physical, and smart to make up for our lack of size."
He also pinpointed experience, as they graduated multiple high-end starters from the 2018 team.
"This should be a fun year. We have a lot of pieces that we have to bring together, but if we keep working every day and getting better, there's no reason for us not to be a problem," Lickert stated.
Class 1A, District 4
2018 RECORD: 5-7, 3-0 Class 2A, District 6
COACH: Stephen Lickert (5-7 at Newport Central Catholic, one years; 74-83 overall, 15 years)
TOP RETURNEES
Paul, Kremer, Sr, QB/P: Perhaps the most underrated quarterback in Northern Kentucky, Kremer has thrown for 2,401 yards with 29 passing and four rushing touchdowns at the varsity level. He was named Second Team All-NKY as a punter as a sophomore.
Luke Landrum, Sr, RB/LB: A healthy Landrum will make a huge difference on both sides of the ball for the Thoroughbreds.
Joey Doeker, Sr, RB/SS: Like Landrum, a big senior season is a must for Doeker if NewCath wants to make a deep run in the playoffs.
Daniel Craig, Sr, OL/LB: See above, Craig is another piece of that senior class that needs to step up for this team to have a successful campaign.
Montgomery Stephenson, Sr, OL/DL: Will be a much-needed leader in the trenches.
Caleb Jefferson, Sr, WR/DB: A three-year starter, Jefferson has been an asset on both sides of the ball. He had 15 receptions for 262 yards and three touchdowns a year ago. Jefferson also has four career interceptions.
Jahmir Ackerson, Jr, RB/DL: Could become the team's featured running back. A 1,000-yard rushing season is not far-fetched for Anderson.
Malaki Herndon, Jr, WR/DB: The Thoroughbreds must find ways to get the ball into Herndon's playmaking hands as much as possible.
Joey Runyon, Jr, RB/DB: The production should go way up for Runyon with more playing time this fall.
NEWCOMERS
There are quite a few players chomping at the bit to get on the field and contribute. Seniors TE/LB Tanner Daunt, OL Max Morgan, OL/DL Gavin Miller, LB Landon Davis, WR/DB Cody Mueller, juniors RB/LB Cameron Trimmell, WR/DB Quentin Meyer, DL Ike Sector and sophomore WR/DB Luke Wiles will have abundant opportunities to shine.
Mueller had six catches for 63 yards in six games a year ago.
Daunt will be a vital cog in the defense where he showed glimpses of being special as a sophomore with 26 total tackles. Injuries limited him to just three games in 2018.
PLAYOFF HISTORY
State Champion (five) – 2012 (2A), 2010 (2A), 2006 (2A), 2005 (2A) & 1984 (2A).
State Runner-up (nine) – 2015 (2A), 2014 (2A), 2013 (2A), 2008 (2A), 2007 (2A), 2001 (1A), 2000 (1A), 1986 (2A) & 1985 (2A).

2019 SCHEDULE
Fri – 08/23/19 – at Campbell County – 7:00 PM
Fri – 08/30/19 – COOPER – 7:00 PM
Fri – 09/06/19 – at Roger Bacon – 7:00 PM
Fri – 09/13/19 – at Walton-Verona – 7:00 PM
Fri – 09/20/19 – BYE – 7:00 PM
Fri – 09/27/19 – NEWPORT (at Thomas More University) – 7:00 PM
Fri – 10/04/19 – HOLY CROSS (at Thomas More University) – 7:00 PM
Fri – 10/11/19 – LUDLOW – 7:00 PM
Fri – 10/18/19 – DAYTON – 7:00 PM
Fri – 10/25/19 – at Bellevue – 7:00 PM
Fri – 11/01/19 – at Beechwood – 7:30 PM
*Photo from Facebook/@NCCFootball