2019 Snapshot: Edgewood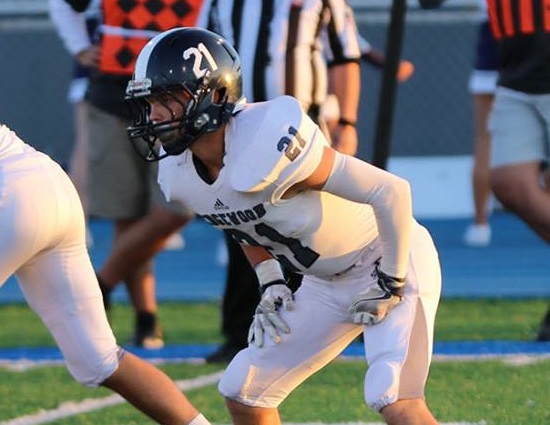 Edgewood RB/DB Lincoln Howell (photo Courtesy of ScoutingOhio.com)
Coach Scott Clemmons has a lot of positive things to say about his team for the upcoming season.
"We have size and speed," he says.
This senior class has been leading the way, going all the way back to December. He also raved about his young guns as well.
"We have a lot of underclassmen that have been putting in extra work during this offseason," Clemmons added. "Pair this with some key experience coming back on defense and in the trenches, I like where were at going into the season."
Unfortunately, there is 4,723 rushing yards worth of replacing to do. Elijah Williams and Wade Phillips as a 1-2 combination was as good as it got, The main concern for the offense is who is going to step up and fill those shoes.
Quarterback Corbin Craft also graduated, who was fourth in the conference with 528 passing yards. Point being, basically the entire offensive production from 2018 is gone, and for Coach Clemmons and the rest of the Edgewood faithful, it's the next man up.
Division II Region 8
2018 RECORD: 8-3, 5-5 SWOC
COACH: Scott Clemmons (42-31 at Edgewood, seven years; 42-31 overall)
HONOR ROLL
Lincoln Howell, Sr, RB/DB: Will finally get his chance to display his talents to the fullest. A Second Team All-SWOC pick in 2018, Howell has 386 yards and five touchdowns rushing in his career.

Gavin Childers, Sr, DL: What Childers will play at 240-pounds, it should really benefit his game. He was a Second Team All-SWOC selection a year ago.
Isaac Hamilton, Sr, OL: The leader of the o-line, Hamilton was named Second Team All-SWOC as a junior.
OTHER RETURNEES
Sam Everson, Jr, OL: Everson looks to make his junior year a breakout year. As a sophomore he mostly watched, but Edgewood is counting on him for crucial snaps this season.
Dylan Polsini, Sr, DL: Played on both sides of the ball in 2018. As a fullback, he ran for 67 yards on 11 carries. On defense, he recorded three sacks and two fumble recoveries. He has all-conference potential.
Tyler Began, Sr, LB: Did very well in his limited playing time as. a sophomore. In only five appearances, Began registered one-and-a-half sacks and forced a fumble. With an increased workload, his numbers should skyrocket.
Cymeon Gary, Sr, DB: A returning starter, Clemmons call Gary his "stud DB." Gary has four Division II offers going into 2019.
Clayton Gerber, Sr, DL: Back for another year as a starter, Gerber had two sacks as a junior
Aaron Williams, Sr, RB: Will become part of the Cougars backfield rotation this fall.
Peyton Hatfield, Sr, OLB: Now gets his chance to play after sitting behind some very good upperclassmen.
Alex Gavern, Sr, WB/DB: Listed as a two-way starter, but the Edgewood coaching staff would like to see him become a mainstay in the Cougars' offense. He had 142 yards on 20 attempts, which equates to an incredible seven yards a carry, while scoring two touchdowns. He did fumble twice as well, so ball security will be something he looks to correct.
Chase Barker, Sr, WR/DB: Barker will look and play totally different compared to what we saw last year. Being only 140-pounds as a sophomore his contributions were minimal. Now with more time in the weight room and another year of experience, he could surprise some people this year.
Jonathan Testas, Jr, K: Handles kickoff duties. Testas led the SWOC in yards per kickoff (min. 10 att.) at 44.4 yards on 55 kickoffs with three touchbacks.
Conner Beckman, Sr, WR/DB: Started at receiver as a junior and had five receptions for 42 yards.
Dustin Turner, Jr, K: Turner is the main man when it comes to extra points. He made 32 out of his 37 attempts a year ago.
NEWCOMERS
The coaching staff is looking for seniors OL/DL Max Collett, TE/LB Jackson Heflin, OL Clayton Stahlheber, OL/DL Trey Howard, DL Jeremiah Campbell, juniors RB Landon Howell, QB Anthony Scott, RB/DB Andrew Gray, DL Ryan Purdy, DL Nick Herbst, TE/OLB Hunter Gage, OL/DL Tim Farley along with sophomores OL/LB Radical Rothermal and DL Josh Geisz to make on-field contributions and up the level of competition for snaps in 2019.
PLAYOFF HISTORY
(13 appearances, 12-13 overall) – 2018, 2016, 2012, 2008, 2007, 2006, 2003 (State runner-up), 2002, 2001, 2000, 1999 (Regional Champions), 1998, 1997
2019 SCHEDULE
Fri – 08/30/19 – MONROE – 7:00 PM
Fri – 09/06/19 – at Franklin – 7:00 PM
Fri – 09/13/19 – at Badin – 7:00 PM
Fri – 09/20/19 – at Northwest – 7:00 PM
Fri – 09/27/19 – HARRISON – 7:00 PM
Fri – 10/04/19 – ROSS – 7:00 PM
Fri – 10/11/19 – WINTON WOODS – 7:00 PM
Fri – 10/18/19 – TALAWANDA – 7:00 PM
Fri – 10/225/19 – at Little Miami – 7:00 PM
Fri – 11/01/19 – at Mount Healthy – 7:00 PM
NEW KINGS OF THE SWOC
This will be the eighth season of the Southwest Ohio Conference. Mount Healthy dominated the SWOC initially, winning the league's first four titles in football while going 25-1 versus conference foes. Since then Edgewood has taken control with the last three SWOC crowns shared with Harrison in 2018). The Cougars have won 21 of their last 24 games versus league rivals dating back to 2015.