2019 Snapshot: Milford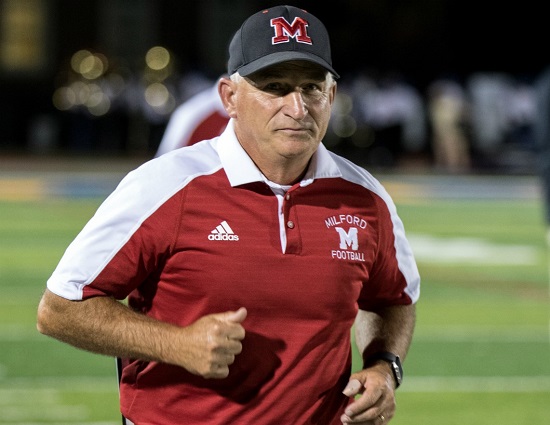 Coming off the program's first-ever playoff win and back-to-back playoff appearances, Milford now looks to reload. It is unfamiliar territory for the Eagles, who are in the most prosperous period of football the school has ever seen.
Maintaining its winning ways won't be easy. Milford graduated a very experienced core. The Eagles must replace nine starters on offense and six on defense.
"We are young but talented," head coach Tom Grippa stated.
Milford should be able to move people in the trenches.
"We have guys who can bench 300-plus pounds and squat 365-plus pounds," Grippa said.
Couple that with the arm of returning starter, Hunter Johnson at quarterback. This Eagles team may not miss a beat on offense.
"Our passing game will be strong," Grippa quipped.
In two years at Milford his spread offense has averaged 35.1 points per game, with a combined 5,098 yards and 48 touchdowns passing.
To sustain this current success the Eagles will have to tighten it up on defense. In eight of their 23 games (including the forfeit win over Princeton in 2018) under Grippa, Milford has allowed 34 points or more eight times. In that same span, eleven times the Eagles and their opponents combined to score 62 points or more in a game.
Division I, Region 4
2018 RECORD: 9-3, 6-1 ECC
COACH: Tom Grippa (17-6 at Milford, two years; 192-104 overall, 28 years)
HONOR ROLL
Hunter Johnson, Sr, QB: Has seen what the best opposition has to offer. Johnson should rise to the occasion against the upper echelon after a stellar junior campaign. He threw for 2,618 yards with 25 touchdown passes on his way to Second Team All-ECC honors a year ago.
OTHER RETURNEES
Haidyn Oberschlake, Sr, DL: Oberschlake will be a key cog in a young Milford defensive line. The 6-foot, 240-pound senior had three fumble recoveries and played in ten games last season.
Lucas Bowling, Sr, LB: Milford is hopeful Bowling takes the next steps in his development. His statistics won't wow you, but he has the sideline to sideline speed and instincts to be a force in this defense.
Cameron Hemmert, Sr, LB: Will be the leader of the Milford secondary this season. Hemmert played every game in 2018 recording a forced fumble and a fumble recovery. Although he didn't record an interception last fall, expect that to change quickly.
Brandon Edwards, Sr, OG, Sr, LB: The offensive line will be anchored by Edwards this season. His return is crucial for the Eagles, as they look to keep star quarterback Johnson upright, and run the ball effectively.
Max Ward, Sr, S: Saw action in all three facets of the game last season. Ward recorded 17 yards on two punt returns and had an interception on defense. Offensively, he had minus six yards on three rushing attempts.
NEWCOMERS
Jared Peterson, Sr, DE: Patterson will be an interesting player to watch in 2019. Standing only 5-foot-10 but weighing 240-pounds, his low center of gravity, paired with excellent strength could make him a nightmare for opposing offensive linemen.
A trio of juniors WR Vince Ringland, OT Mark Gibson and OT Johnny Mickler will all look to be mainstays in Milford's hopes of returning to the playoffs. Ragland played sparingly at quarterback last season, but with Johnson coming back, he officially makes the move to wide receiver.
Dallas Adams, So, WR: Only a sophomore, expect Adams to get thrown into the fire quickly. Milford is very high on this young man. His numbers may not be astronomical this coming season, but all Eagles' fans should know this name for years to come.
PLAYOFF HISTORY
(three appearances, 1-3) – 2018, 2017, 1986
2019 SCHEDULE
Fri – 08/30/19 – PRINCETON – 7:00 PM
Fri – 09/06/19 – DUNBAR – 7:00 PM
Fri – 09/13/19 – LOVELAND – 7:00 PM
Fri – 09/20/19 – at Walnut Hills – 7:00 PM
Fri – 09/27/19 – at Loveland – 7:00 PM
Fri – 10/04/19 – ANDERSON – 7:00 PM
Fri – 10/11/19 – at Withrow – 7:00 PM
Fri – 10/18/19 – KINGS – 7:00 PM
Fri – 10/25/19 – WEST CLERMONT – 7:00 PM
Fri – 11/01/19 – at Turpin – 7:00 PM