Dayton Round-Up: Troy prevails in OT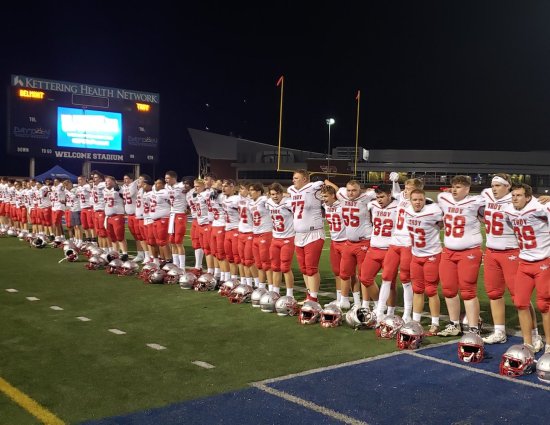 High school football action kicked off on Thursday night in Dayton with a few nice matchups on the slate, including an overtime thriller between Troy and Belmont.
The Troy defense came up with a big stop when Belmont, trailing 28-27, opted to go for a 2-point conversion rather than the extra point in an overtime thriller at Welcome Stadium.
Kevin Walters ran for three scores to lead the way for the Trojans and quarterback Brayden Siler threw at 20-yard TD pass to Josh Mayfield for the decisive score of the game.
Rian Reaves scored twice on the ground in the loss for the Bison.
ALTER 21, FAIRMONT 7
The Knights prevailed in a slugfest against the Firebirds to grab a win in their opener. Alter had nearly a 2:1 advantage in time of possession and limited Fairmont to just three first downs and 78 total yards in the win.
Branden McDonald paced the Knights' offense with 112 yards rushing and a touchdown on 16 carries. Quarterback Kale Steneman rushed for two scores of his own and finished with 66 yards on 16 attempts and completed two of his three passes for 24 yards through the air.
BEAVERCREEK 21, XENIA 20
Elijah Howard capped off a 13-point, fourth-quarterback comeback for the Beavers when he punched in a 6-yard TD run as Beavercreek knocked off Xenia on the road. Nick Brown and Addison Culpepper also added rushing scores in the win.
The Buccaneers dominated the game early behind a pair of Andrew Pollender TD runs and outgained Beavercreek by 60 yards in total offense, but costly turnovers and penalties (4 / 54 yards) would prove costly.
*Image from Twitter (@troyhstrojans)