Elder starts season atop Blitz 5 Top 25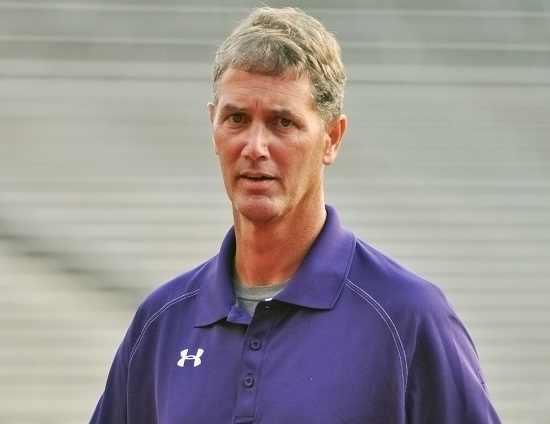 The Elder Panthers top the preseason Blitz 5 Top 25 presented by TriStateFootball.com, a new weekly poll highlighting the top teams across the Greater Cincinnati area, including Southwest Ohio, Northern Kentucky and Eastern Indiana.
The Panthers will face 10 schools that were a combined 66-39 a year ago. Second-ranked St. Xavier will get its shot to unseat Elder as the Blitz 5 Tour stops on North Bend Road in Week 6. It will be the 100th all-time meeting between the two schools.
The last Friday in August features three games featuring ranked teams as the season kicks off. Expect to see the polls really start shaking up beginning in Week 3 when the Greater Miami Conference starts league play.
1. Elder (8-5 in 2018): With two of the state's top offensive linemen in Jakob James (Ohio State commit) and Luke Kandra (Louisville commit) along with TE Joe Royer (Ohio State commit), the Panthers should be able to move the chains in any situation while using the clock to their advantage. That will be very helpful for Elder come playoff time. Last year's run to the regional title game will be a huge plus for this team and for its confidence come November. NEXT UP: 8/30 – at Gahanna Lincoln (5-6).
2. St. Xavier (5-6): Even though the Bombers are sitting at #2 in our preseason poll, this team is flying under the radar and is going to be deceptively good. It will become very evident in November. St. Xavier will have more options on offense that it has had in recent years and that will keep foes honest on defense. NEXT UP: 8/30 – BROWNSBURG (10-1).
3. Colerain (14-1): Shawn Cutright takes over as the Cardinals' head coach and the team must replace a ton of production on offense. Fans should not expect too much of a step back though. An incredibly fast and fierce defense led by DB DeShawn Pace (Cincinnati commit) will carry the team when the going gets tough. NEXT UP: 8/30 – at Wayne (7-4).
4. Fairfield (7-4): This team is the most athletic group that head coach Jason Krause has had at the school. It would not surprise anyone if Fairfield made a deep playoff run. Running back JuTahn McClain, a Kentucky commit and the reigning 2018 GMC Offensive Player of the Year, will carry the offense. The Indians are poised to make a deep run into November. NEXT UP: 8/30 – CENTERVILLE (2-8).
5. Winton Woods (12-2): The Warriors will make a run at the state title if they get to the playoffs. Their schedule includes the likes of Trotwood-Madison, Elder, Moeller, La Salle and reigning Division I state champion, St. Edward. Junior RB Miyan Williams (Iowa State commit), the 2018 OPSWA Division II Offensive Player of the Year and TSF Cincinnati Offensive Player of the Year, has shown he can carry the Warriors anytime, anywhere. NEXT UP: 8/30 at Trotwood-Madison (7-4).
6. Moeller (6-5): The senior Crusaders will be playing for their third head coach in three years. Nevertheless, they are still the reigning GCL South champions. That toughness will resonate amongst the upperclassmen. Moeller is a combined 19-23 over the last four seasons. Moeller has not won a playoff game since 2014, outscored by a combined 80-0 in their last two postseason contests. NEXT UP: 8/31 – CATHEDRAL (IN) (6-6) at St. Xavier Stadium.
7. Princeton (3-7): The Vikings have more FCS Division I college talent on their roster than any other team in the Top 25.This will be a very physical and aggressive defense behind the lead of DL Darrion Henry (Ohio State commit) and LB Jaheim Thomas (Cincinnati commit). There will be no excuses for Princeton if they fail to make the playoffs for the first time since 2007. NEXT UP: 8/30 – at Milford (9-3).
8. Covington Catholic (14-1): Winners of 20 consecutive regular season games and 29 of its last 30 tilts overall, CovCath is the king of the hill in Northern Kentucky. With one of the nation's top players in TE/LB Michael Mayer (Notre Dame commit), the 2018 TSF Northern Kentucky Defensive Player of the Year, and a cast of characters that know what it takes to get to the finals, these Colonels are very capable of bringing home the school's eighth state title. NEXT UP: 8/23 – RYLE (2-9).
9. Mason (8-3): The Comets will go as far as their massive offensive line can take them. This team could very easily end up with a pair of 1,000-yard rushers. This team isn't built to come back from double-digit deficits, but they should not be in that position very often. The Comets were 4-1 in games decided by four points or less in 2018. NEXT UP: 8/30 – SPRINGBORO (5-5).
10. La Salle (4-5): Lack of size up front and players without much varsity experience were problems for the Lancers in 2018. Those deficiencies a year ago will be assets this fall. The back half of the schedule is brutal for the Lancers with Moeller, Covington Catholic, St. Xavier, Winton Woods and Elder all on tap over the last five weeks. That all starts after a bus trip to Buffalo St. Joseph to end September. NEXT UP: 8/30 – LAKOTA WEST (4-6).
11. Simon Kenton (10-3): A model of consistency, the Pioneers have produced double-digit win totals ten times over the last 11 seasons. Simon Kenton has its usual size up front on both sides of the ball. The biggest question is who will emerge as the starting quarterback? Fortunately, the Pioneers won't have to rely heavily on that position to win games for them.
NEXT UP: 8/23 – vs. Henry Clay (6-6).
12. Lakota East (8-4): Look for a bunch of low scoring games involving the Thunderhawks this fall. The team's young backfield may take some time to gel. Only four players on the roster have ever scored a touchdown at the varsity level. The Lakota East defense has a very good core of returnees that will provide leadership and grit in tight affairs. NEXT UP: 8/30 – TURPIN (6-4).
13. Lakota West (4-6): Former Colerain head coach Tom Bolden takes over for West. He inherits an offense that only scored 90 points last fall. The Firebirds scored seven points or fewer on seven occasions and have failed to throw a touchdown pass since October 2017 (11 games). Lakota West has not had a winning season since 2015. NEXT UP: 8/30 – at La Salle (4-5).
14. East Central (11-2): The Trojans have won 18 playoff games over the last four seasons and it would not surprise anyone if the Trojans end up in the state championship game for the third time in their last five campaigns. Former assistant and alum, 28-year old Jake Meiners, takes over as the team's third head coach in the last three years. NEXT UP: 8/23 – at Lawrenceburg (5-6).
15. Highlands (10-3): The Bluebirds won 10 games for the first time since 2014. Defense stole the show for the Bluebirds in 2018. They held opponents to 14.0 points per game and nine foes to 10 points or fewer. Expect more of the same with senior LB Brycen Huddleston (Eastern Michigan commit), a 2018 finalist for the TSF Northern Kentucky Defensive Player of the Year, leading the way. NEXT UP: 8/23 – at Scott (7-5).
16. Sycamore (6-4): A trip back to the playoffs in 2019 would mark the third time in the last four years for the Aviators. That has never happened in the history of the program. Sycamore is not a deep team, but their starters will matchup with most everyone. Any injury to a key player could lead to a negative domino effect on the depth chart that could really limit what this team is capable of doing. NEXT UP: 8/30 – LOVELAND (1-9).
17. Milford (9-3): It has been quite a turnaround for Milford under Tom Grippa. The Eagles made the playoffs for a second straight season and won their first-ever postseason game in 2018. There are big shoes to fill as the school graduated its most successful class on the gridiron. Look for QB Hunter Johnson to build on a stellar junior campaign. NEXT UP: 8/30 – PRINCETON (3-7).
18. Hamilton (1-9): Do not let last year's record fool you. Injuries wreaked havoc on the Big Blue in 2018. New head coach and former alum Nate Mahon inherits arguably the best backfield in the GMC with senior QB Kahliyal Sowell, junior RB Keyshawn Stephens and sophomore RB Kaleb Johohnson. An offensive line that returns most of its nucleus should be a real asset to this team. NEXT UP: 8/30 – at West Clermont (4-6).
19. Harrison (7-4): The Wildcats are on a quest for their fourth consecutive Division II playoff appearance and 13th in school history. The program has only missed the postseason twice since 2010. Harrison chances of playing again in Week 11 are in the hands of reigning SWOC Offensive Player of the Year QB Connor Kinnett, TE CJ Young and WR Max Tidwell. The defense must tighten up after allowing 35 points or more in all of their losses a year ago. NEXT UP: 8/30 – at Butler (4-6).
20. Edgewood (8-3): Size and speed will set the Cougars apart from their peers. Edgewood has depth and experience. They do have to replace their starting backfield, but that never seems to be an issue in their tried-true Wing-T offensive scheme under head coach Scott Clemmons. Edgewood has not won a postseason game since 2006. The Cougars are 0-5 in the playoffs since that victory. NEXT UP: 8/30 – at MONROE (2-8).
21. Lebanon (6-4): The Warriors' schedule is always a bear but this one may have a serious bite to it. Lebanon played five teams that made the playoffs a year ago and still managed to win six contests. A gritty defense held seven opponents to 17 points or less in 2018. That trend should continue again this fall. NEXT UP: 8/30 – KINGS (9-2).
22. Ryle (2-9): The Raiders should be much better on both sides of the ball after a forgettable 2018 campaign and that will lead to more consistency. Ryle needs vast improvement on defense after allowing 40 or more points six times in 2018. That had only happened six times combined in the four previous four years under head coach Mike Engler. NEXT UP: 8/23 – at Covington Catholic (14-1).
23. Middletown (2-8): Recent years have brought some tough times for the Middies' program, but changes in attitude and effort have been noticeable under second-year head coach Don Simpson. With an ever-improving GMC, from top to bottom, those changes may not appear so evident this fall. NEXT UP: 8/30 – at Western Hills (6-4).
24. Mount Healthy (5-6): Starting strong and finishing strong will be key for the Owls. Mount Healthy is a combined 1-5 in the first three games and 1-5 in the last three tilts over the past two years. Since the formation of the SWOC in 2012, the Owls have lost just eight league games (36-8) with seven of those coming in the last three seasons. NEXT UP: 8/30 – TIPPECANOE (5-5).
25. Wyoming (15-0): The reigning Division IV state champions return one of the top players in Ohio, QB Evan Prater (Cincinnati commit), along with fellow seniors LB Cam O'Gara and DL Harrison Shepherd. Wyoming has won its first 12 games in each of the past three seasons. The Cowboys are 39-2 since O'Gara became a starter as a freshman. NEXT UP: 8/30 – at Columbus Academy (6-4).
KNOCKING ON THE DOOR: Anderson, Badin, Campbell County, Clinton-Massie, Conner, Fenwick, Franklin, Indian Hill, Kings, Lawrenceburg, New Richmond, Oak Hills, Roger Bacon, South Dearborn, and West Clermont.