Clinton-Massie edges Fenwick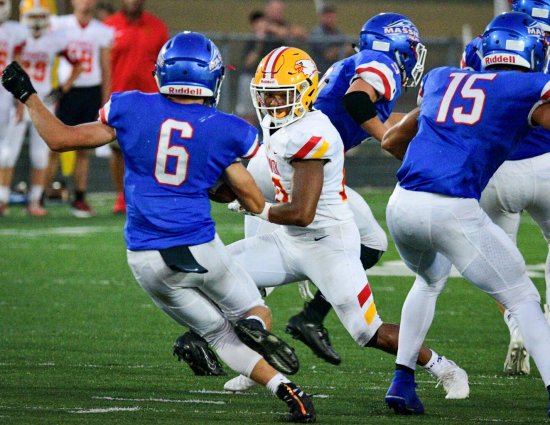 CLARKSVILLE, Ohio – Clinton Massie's Tate Olberding knocks down the Hail Mary pass in the end zone as time expires, and Clinton Massie escapes with a 28-21 win.
Fenwick continued to pull within seven points but could not tie the game.
Brendan Lamb led the game with 197 yards and two touchdowns. He outrushed his total from last season's meeting when he ran for 112 yards in a 21-18 victory.
Lamb opened the scoring in the first quarter with just under five minutes left when he scored on a 3-yard run that capped off a 75-yard drive. He scored again before halftime on a 30-yard run. Carson Vanhoose rushed for 94 yards on 15 carries. Clinton Massie combined to rush for 338 yards.
Listen to our post-game interview with Clinton-Massie head coach Dan McSurley on High School Football Tonight:
Fenwick junior Braden Listermann threw 9-14 for 165 yards and two touchdowns. Listermann found David Schuh for Fenwick's first touchdown with 32 seconds left in the half. He found the endzone again when he connected with Jordan Rucker on a 38-yard pass as time expired in the third quarter. Drew Thiery led the team with 107 yards on four receptions.
Clinton Massie was able to avoid losing two straight games for the first time since the 2011 season.
Fenwick will travel next week to St. Charles. Clinton Massie will host Blanchester.
SCORING BY QUARTERS
Fenwick 0-7-7-7-21
Clinton Massie 0-14-7-7-28
RECORDS: Fenwick (1-2); Clinton Massie (2-1)
UP NEXT: Fenwick at St. Charles; Clinton Massie hosts Blanchester (0-3)
+Image from Rob McCulley  (Twitter / @RAM_photography)