Springboro shuts out Beavercreek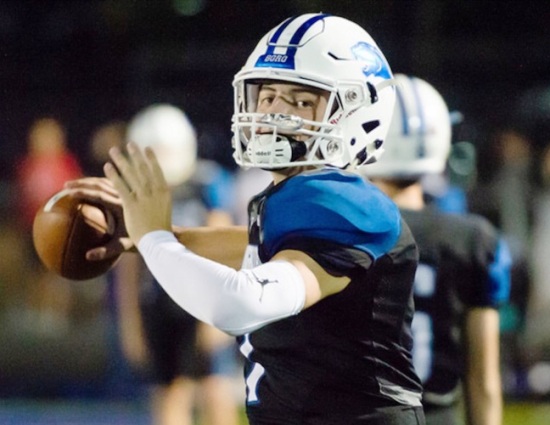 SPRINGBORO, Ohio – Springboro scored 31 points in the first half and cruised to 45-0-win Friday night at home.
The Panthers' defense was impressive in their first conference game. They held Beavercreek to only four first downs and 81 total yards.
Senior Nathan Swartz forced and recovered a fumble. Brock Bernard, Timmy Keseday and Cameron Snurr made numerous stops and helped Springboro remain undefeated. Early in the second quarter, the Panthers stuffed the Beavers on fourth down to take over in Beavercreek territory.
Landon Palmer and the Springboro offense continued to role over defenses. Palmer threw for 122 yards and scored two touchdowns, one in the air and the other on the ground. Palmer threw for 221 yards and two touchdowns in last season's 34-7 win.
Moises Armbruster led the team with 55 rushing yards and two touchdowns. Mikey Appel also took snaps under center and threw for 107 yards and two touchdowns. Brandon Thomas, Conner Heyser and Willieon Yates all scored receiving touchdowns.
The offense has scored at least 34 points in every game this season. This is a great start to the season after finishing 5-5 the last two seasons.
Springboro will head to Wayne in another GWOC showdown. The Warriors are still looking for their first won of the season. The last time these two teams played was in the 2015 playoffs with Wayne defeating Springboro, 52-21.
Beavercreek will look to get a conference win at home against Lebanon. They lost 41-10 in last season's meeting between the two teams.
SCORING BY QUARTERS
Beavercreek 0-0-0-0-0
Springboro 17-14-7-7-45
SCORING PLAYS
S: Armbruster 11 run (Dapore kick)
S: Palmer 8 run (Dapore kick)
S: Dapore 24 FG
S: Armbruster 10 run (Dapore kick)
S: Yates 32 pass from Appel (Dapore kick)
S: Thomas 46 pass from Palmer (Dapore kick)
S: Heyser 5 pass from Appel (Dapore kick)
RECORDS: Beavercreek (2-1); Springboro (3-0)
UP NEXT: Beavercreek vs Lebanon (2-1); Springboro at Wayne (0-3)
*Image from Hudl.com.