VOTE: Week 4 Player of the Week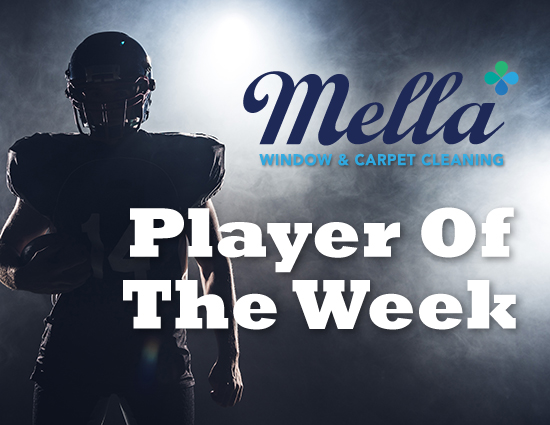 TriStateFootball.com is proud to present the Mella Window & Carpet Cleaning Player of the Week for the 2019 regular season. Players will be nominated from the Cincinnati, Northern Kentucky and Eastern Indiana areas.
Each week a group of nominees will be selected from a large list of some of the area's top performances and will be included in an online voting poll to determine a winner. The poll will launch weekly on Sundays. Voters can vote once per hour, per IP address through Wednesday at 12:00 PM Eastern weekly.
Once a player has won, they were ineligible to be nominated a second time. Players can only be nominated three times during the course of the season.
All of the season winners will be recognized and receive a plaque at the TriStateFootball.com Year in Review Show in February (more details announced during postseason).
+++
Take advantage of this internet special at Mella Window & Carpet Cleaning:

Whole house window cleaning $179 – COMPLETE DETAILS
+++
Here are this week's nominations…
David Afari, Lakota West, Sr, RB – Scored all four (three rush, one pass) of the Firebirds touchdowns before halftime, ran for 187 yards and caught two passes for 60 yards as West nipped Sycamore, 28-21.
Gunner Barnes, Bellevue, Sr, WR/DB – All three of Barnes' receptions went for touchdowns and he finished with 175 yards receiving as the Tigers won their first game of the year.
Jacob Davidson, Lloyd, So, QB – 12/19 for 313 yards and two passing touchdowns added 91 yards and another score on the found as the Juggernauts mauled Mason County, 55-27.
Juwaan Davis, Hughes, Sr, WR/DB – Had six offensive touches for 153 yards from scrimmage, a rushing touchdown, 11 total tackles and an interception in the Big Red win over Western Hills.
Reece Evans, Turpin, Sr, RB – Had touchdown runs of 64, 45, 67 yards (in the first quarter), a 47-yard touchdown reception, 225 yards from scrimmage, 167 yards rushing on four carries as the Spartan improve to 4-0.
Austin Hammack, Simon Kenton, Sr, RB – Ran for 178 yards on 22 attempts with three rushing touchdowns as the Pioneers plowed through Taylor County, 39-7.
Lincoln Howell, Edgewood, Sr, RB – Churned out 199 yards on 17 totes with touchdowns runs of 65, 52 and 37 yards as the Cougars blanked Northwest, 35-0.
Connor Kinnett, Harrison, Sr, QB – Racked up 433 yards of total offense (349 pass, 84 rush) went 24/30 passing and accounted for four touchdowns two pass, two rush) as the Wildcats rolled Ross, 48-10
Paul Kremer, Newport Central Catholic, Sr, QB – Threw five first half touchdowns and went 9-10 for 284 yards as the Thoroughbreds routed Holy Cross, 50-14.
Jackson Kuhn, Anderson, Jr, QB – Went 44-63 for 417 yards with six touchdowns (no INTs) passing as the Redskins carved up Kings, 59-41.
JuTahn McClain, Fairfield, Sr, RB – Ran for 206 yards and three touchdowns as the Indians held off Hamilton, 34-27.
Lee Megois, Madeira, Sr, WR/DB – Snared seven receptions for 213 yards and pair of touchdowns as the Mustangs improved to 4-0 after beating Finneytown.
Dalton Norris, Talawanda, Sr, TE/LB – Recorded two sacks, recovered a fumble and had a 27-yard touchdown reception as the Brave improve to 4-0 after beating New Richmond, 29-6.
Mark Smith, CCPA, So, QB, CB – Went 10/15 for 383 yards with 55 touchdown passes as the Lions shutout Clark Montessori, 32-0.