VOTE: Week 4 Team of the Week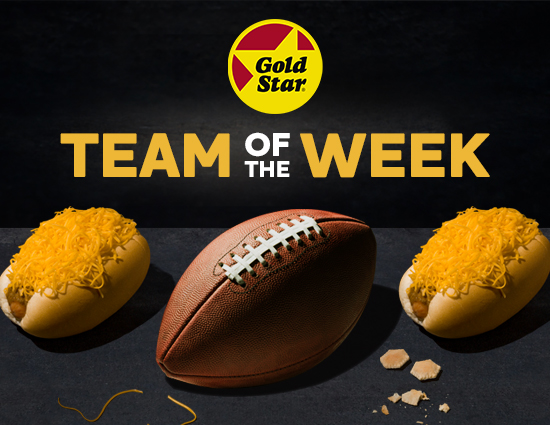 Gold Star Chili and TriStateFootball.com are partnering once this year to present the Gold Star Chili Team of the Week during the 2019 regular season. Each week 10 schools will be nominated from the Greater Cincinnati area to be included in an online voting poll to determine a winner.
The voting is open now until Wednesday afternoon at 12PM Eastern. Voters can vote once per hour, per IP address.
Once a team has won, they were ineligible to be nominated a second time. All of the winning teams will receive a trophy to be presented at their school by Gold Star Chili. Teams can only be nominated three times during the course of the season.
+++
Take advantage of the TSF-only deal at Gold Star this week:

$1 OFF any milkshake  – PRINT COUPON
+++
Here are this week's nominations:
COLERAIN (3-1)
The Cardinals knocked off Princeton 23-14 in last week's Blitz 5 Game of the Week.
FAIRFIELD (4-0)
The Indians are the only undefeated team left in the GMC after four weeks and knocked off Hamilton, 34-27.
LAWRENCEBURG (4-1)
The Tigers rolled off their fourth straight win by defeating Franklin County, 41-7.
MADEIRA (4-0)
For the fourth straight game the Madeira defense held their foes to 7 points or less, pitching their second shuout in 42-0 win vs. Finneytown.
MCNICHOLAS (3-1)
The Rockets bounced back after a tough Week 3 loss to beat Purcell Marian, 30-7.
MOUNT HEALTHY (2-2)
Mount Healthy took down Little Miami in 36-35 overtime thriller to open up SWOC play.
NEWPORT CENTRAL CATHOLIC (3-2)
Make it two straight wins for NewCath after they knocked off Holy Cross 50-14 in Week 4.
NEW MIAMI (4-0)
New Miami is off to its best start in the TSF era after beating St. Bernard 27-18 to pick up their fourth straight win.
SCOTT (3-2)
The Eagles picked up their second straight road win by knocking off Boone County, 30-8.
WALNUT HILLS (3-1)
Walnut Hills posted 35 points or more for the the third straight week, posting a 35-7 win over Milford.