VOTE: Week 5 Player of the Week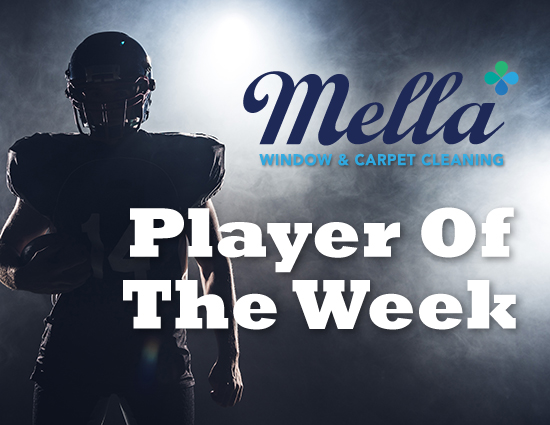 TriStateFootball.com is proud to present the Mella Window & Carpet Cleaning Player of the Week for the 2019 regular season. Players will be nominated from the Cincinnati, Northern Kentucky and Eastern Indiana areas.
Each week a group of nominees will be selected from a large list of some of the area's top performances and will be included in an online voting poll to determine a winner. The poll will launch weekly on Sundays. Voters can vote once per hour, per IP address through Wednesday at 12:00 PM Eastern weekly.
Once a player has won, they were ineligible to be nominated a second time. Players can only be nominated three times during the course of the season.
All of the season winners will be recognized and receive a plaque at the TriStateFootball.com Year in Review Show in February (more details announced during postseason).
+++
Take advantage of this internet special at Mella Window & Carpet Cleaning:

Whole house window cleaning $179 – COMPLETE DETAILS
+++
Here are this week's nominations…
Landon Amann, Clermont Northeastern, Jr, QB – Threw for career highs of 214 yards and four touchdowns as the Rockets got past Hillsboro.
CJ Boze, Ross, Jr, QB – Scored on runs of 33 and 50-yards and finished with 206 yards rushing on 21 carries as the Rams bucked Mount Healthy, 48-30.
Reece Evans, Turpin, Sr, RB (FINAL NOMINATION) – Ran for 288 yards, had four touchdowns (third time this season) and caught four balls for 34 more yards as the Spartans won at Kings, 27-24.
Cole Fisher, CHCA, Sr, QB – Came up big with a 64-yard touchdown pass and 64-yard touchdown run in the fourth quarter of the Eagles 28-14 win over Bethel-Tate.
Jared Hicks, Conner, Sr, QB – Was 12/18 for 180 yards with one passing and three rushing touchdowns in beatin Boone County for the Cougars fourth consecutive win.
Javier Ison, Holy Cross, Fr, QB – In the second start of his career, Ison threw for 164 yards, ran for 70 yards and accounted for three touchdowns (two rush, one pass) as the Indians snapped a four game losing streak.
Miles Landrum, North College Hill, Jr, RB – Churned out 369 yards and five touchdowns on just 16 rushes as the Trojans trounced St. Bernard-Elmwood Place, 48-22.
Luke Lytle, New Richmond, Jr, QB – Went 15-19 for 318 yards and five touchdowns passing, ran for 54 yards and a score, connected on all eight of his extra point attempts as the Lions shredded Norwood, 58-14.
Quincy Perrin, Scott, Sr, RB – Carried the ball 16 times for 252 yards and four touchdowns as the Eagles soared past Rowan County, 54-28.
Brody Reder, Little Miami, Sr, QB – Threw for 228 yards, ran for 153 yards and accounted for five touchdowns (three rush, two pass) as the Panthers handed Talawanda its first loss of the season.
Vince Ringland, Milford, Jr, WR – Reeled five catches for 173 yards with three touchdowns, in the first 19-and-a-half minutes of the game, of the Eagles second win over Loveland in three weeks.
Joe Royer, Elder, Sr, TE – Had seven receptions for 161 yards and four trips to the end zone in the first half (three in the first quarter) as the Panthers rocked Ryle, 49-7.
Matthew Rueve, St. Xavier, Sr, QB – Went 31-46 for 341yards and three touchdowns passing with Bombers escaping Moeller, 27-24.
Keyshawn Stephens, Hamilton, Jr, RB – Ran for 170 yards, amassed 258 all-purpose yards with three touchdowns on the ground as the Big Blue beat oak Hills, 31-21.
*Nominate players weekly by emailing us at staff@tristatefootball.com by 9AM Sunday mornings.