Elder downs St. Xavier in 100th meeting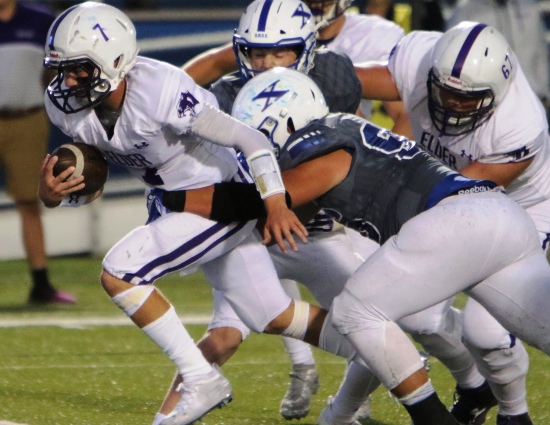 CINCINNATI, Ohio – The 100th game in the series between St. Xavier and Elder was your typical GCL South dogfight. It would also prove to be a night to remember for Matthew Luebbe. The Elder quarterback ran for 236 of the Panthers' 316 yards with three touchdowns in a 31-28 road win. Elder now holds a 52-42-6 advantage all-time in the rivalry.
Luebbe got the scoring started with 65-yard with just over eight minutes to go in the first quarter. It was the sixth touchdown of 55 yards or more that St. Xavier defense has given up in the first half of games this season.
It also marked the second time this season that Luebbe has rushed for more than 230 yards. On the defensive side of the ball big interceptions by Ben Deters and Tanner Perdue afforded the Panthers and Leubbe the opportunity to put space between them and the Bombers on the scoreboard.
St. Xavier had a hard time getting in any kind of rhythm before intermission. The Elder defense had them confused with different looks in the secondary while eight penalties cost the Bombers 78 yards. It was an uphill grind, all evening long, for the boys on North Bend Road.
Quarterback Matthew Rueve threw two picks on St. Xavier's second and third possessions of the game. He had not thrown any interceptions entering the contest.
Despite the rough start Rueve wasn't about to go quietly into the night. The senior accounted for three fourth-quarter touchdowns on a short run and his 14th and 15th scoring tosses this season. He finished with 328 yards through the air. Rueve's top target was Marshall Lang, who had 11 receptions for 126 yards and a touchdown.
Elder still has some things to work on. The Panthers gave up 434 yards to the Bombers. It was the third time in the last four weeks that they have given up 400-plus yards.
SCORING BY QUARTERS
Elder 14-3-7-7-31
St. Xavier 0-7-0-21-28
SCORING PLAYS
E: Matthew Luebbe 65 run (Sam Harmeyer kick)
E: Luebbe 5 run (Harmeyer kick)
S: Liam Clifford 6 pass from Matthew Rueve (Mason Rohmiller kick)
E: Luebbe 82 run (Harmeyer kick)
S: Rueve 2 run (Rohmiller kick)
S: Marshall Lang 3 pass from Rueve (Rohmiller kick)
E: Drew Ramsey 45 run (Harmeyer kick)
S: Kellen Newman 6 pass from Rueve (Rohmiller kick)
RECORDS: Elder (5-1, 1-0); St. Xavier (5-1, 1-1)
UP NEXT: Elder hosts Moeller (1-5, 0-2); St. Xavier hosts Clarkson North (ONT) (3-2)
*Stay updated on high school football updates by following @TSFootball on Twitter.
+++
Check out these great photos from TSF Senior Photographer Dan Beineke: