NKY Round-Up: Conner upsets Highlands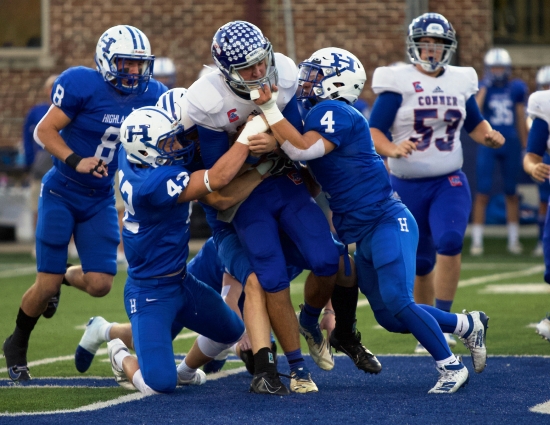 It was Jared Lorenzen Night in Fort Thomas and the emotions ran high as Highlands went for the program's 900th overall win for the second straight week. However, the visitors would spoil the celebration.
The Conner Cougars controlled much of this game throughout the evening, but after giving up a couple big plays early on they found themselves buried on the scoreboard. That was, until the game's final minute.
Senior Jared Hicks entered the contest leading Northern Kentucky in passing yards and he looked the part, especially on his final drive of the night. Hicks threw a 20-yard TD pass to Colton Roy with 43 seconds left in the game to give Conner the lead. The duo connected for a two-point conversion to give the Cougars the 20-17 victory.
The first half wasn't pretty for either team. Both squads turned the ball over four times, but Highlands led 14-0.
Things started off with a bang when Bycen Huddleston returned the game's opening kickoff to the house and the Bluebirds were up 7-0 right out of the gate.
Less than six minutes later Highlands capitalized on a Conner fumble when Collin Hollingsworth completed a 30-yard TD pass to Joey Deschler on 4th-and-24 and the home team was up 14-0 and that is where things stood when the teams went to the locker rooms.
Conner didn't break though and its defense kept putting the pressure. The unit finished with eight sacks, including six in the first half.
The Cougars would dent the scoreboard after the break with a couple of field goals and things got very interesting when Hicks found Drew Cobble on 4th-and-14 for 33-yard scoring pass. The two-point conversion failed and Highlands maintained a 14-12 lead.
The Bluebirds responded with a 70-yard drive that ended with Brennan Haigis 27-yard field goal with 4:34 left, but Hicks would rally and the five-point cushion wouldn't prove to be enough.
Highlands will try for a third time at their 900th win when they head to Boone County next Friday. Conner is set to host Cooper.
No. 6 Covington Catholic 45, Boone County 0
The Colonels had this one on a running clock by the second quarter as they cruised past the Rebels 45-0 Friday night at Wooten Field.
Caleb Jacob connected with Michael Mayer for three first-half touchdowns, including two in the game's first three minutes. Mayer finished with four receptions and 74 yards in limited action. Jacob completed 7-of-9 passes for 171 yards and four touchdowns in the victory.
Boone County finished with just 53 yards of total offense in the contest and 0-for-8 on third-down conversions. The visitors also committed two turnovers in the loss.
CovCath moves to 7-0 and now gets set for a huge test versus La Salle in next week's Blitz 5 game of the week. The Rebels will attempt to snap a five-game skid when they welcome Highlands next Friday.
Beechwood 14, Dixie Heights 10
Beechwood snapped a two-game losing streak and picked up their second win of the season by taking down Dixie Heights on the road, 14-10.
The Colonels got on the scoreboard first when Logan Sanders and Dylan Sanders from five yards out and following the PAT Dixie Heights led 7-0.
Cameron Hergott and Brady Moore would hook up for a pair of passing scores for the Tigers though to take control of this contest, including the game winner in the fourth quarter on a 2-yard scoring strike. Hergott completed 21-of-28 passes for 149 yards and moore finished with 11 receptions for 82 yards.
Up next, the Tigers tackle Holy Cross on the road. Dixie Heights travels to Simon Kenton for a Thursday matchup.
Here are some other scores from NKY teams in action on Friday night:
Mount Healthy (OH) 21, Campbell County 7
Scott County 57, Ryle 21
Scott 33, Harrison County 7
Holmes 27, Rowan County 20
Frederick Douglas 54, Grant County 0
Newport 51, Bellevue 21
Berea 49, Dayton 6
Cooper 21, George Rogers Clark 14
Lloyd Memorial 37, Ludlow 7
Walton-Verona 33, Carroll County 14
Nicholas County 28, Bishop Brossart 6
*Stay updated on high school football updates by following @TSFootball on Twitter.
*Rocio Flores-Walls / TriStateFootball.com