Cincinnati Round-Up: Fairfield remains perfect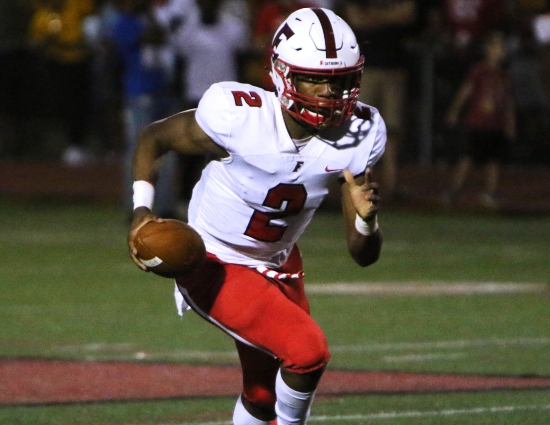 Many thought this game was all Fairfield, but the Thunderhawks had other plans. The Indians came in rolling with a 6-0 record and coming off a huge win over Lakota West. East was reeling, coming off a heartbreaking, last-second loss to Princeton.
Going into halftime it was all about the defenses. Both teams had a rushing touchdown, outside of that, not much transpired. The second half saw more offense, but Fairfield continued to give Lakota East life with turnovers. The Indians coughed the ball up three times.
The difference in the game, Fairfield had Jutahn McClain and East did not. He gained 221 yards on 22 attempts with two touchdowns with the biggest coming late in the fourth quarter with the game tied. A 68-yard run to the house gave Fairfield the lead. For McClain it was his second 60-yard TD of the game. Fairfield stays perfect on the year at 6-0.
McClain has not only been one of the best players in Ohio, but in the entire country. The University of Kentucky Commit has gone over 100 yards in every game this season, including multiple 200-yard performances. He has also scored two or more TDs in five of six games. If Fairfield makes a deep run, it will be on the back of their superstar running back.
No. 3 Colerain 27, No. 12 Sycamore 7
The Cards continued their GMC dominance in Week 6. The defense lead the way, and a plethora of players found the end zone for Colerain.
Freddie Johnson got things going with a 5-yard rushing touchdown. Then came a Ronald Williams score, followed by Hamza Abdul Waheed taking one in from 17 yards. Cameron Ott added two field goals as well.
The only bright spot for the Aviators was a 68-yard rushing score from Will Ingle. Sycamore has now lost three straight games after starting the season 3-0. Colerain and Fairfield are tied atop the conference at 4-0.
No. 7 La Salle 41, Moeller 20
The Lancers' run game completely dominated Moeller tonight. La Salle outgained the Crusaders 444-111 on the ground.
Zach Branam had a career night. He rushed for 252 yards on 18 attempts and an incredible five TDs. Gi'Brian Payne also had a great night, tallying 139 yards and a TD.
Moeller had a few bright spots in the game. Malik Verdon scored a 25-yard score, and Brandon White added a receiving touchdown as well. The Crusaders now fall to 1-5, while La Salle stays undefeated with a monster game against Kentucky powerhouse Covington Catholic coming up next week.
No. 18 Anderson 48, Milford 13
The Anderson offense is scoring points in bunches, with tonight's victim being the Eagles. Four different Redskins scored tonight in route to a dominating 48-13 win.
Jackson Kuhn accounted for three scores, two through the air, one on the ground. Owen Koelle added two scores from the ground as well. Through the air Jerrick McClanahan made his impact quickly and efficiently, catching one pass which was a 73 yard Touchdown.
Hunter Johnson struggled again, which has been a consistent problem for him this season. He threw 4 INTs tonight. His best games have come against a struggling Loveland squad. His TD-INT ratio in those two matchups is 10-0. Against every other opponent, it goes to 3-13.
Anderson as now scored 40 or more in four of their six games, and sit with Turpin atop the ECC, with both teams being undefeated in conference play.
Here are some other scores from Cincinnati teams ranked inside our Blitz 5 Top 25:
#9 Lakota West 35, Oak Hills 0
#11 Turpin 32, Walnut Hills 7
#15 Mason 35, #17 Hamilton 21
#19 Wyoming 54, Madeira 0
#21 Ross 21, Edgewood 20 OT
#22 Little Miami 21, Northwest 7
#23 Franklin 38, Preble Shawnee 36
#24 Clinton-Massie 35, Goshen 7
*Stay updated on high school football updates by following @TSFootball on Twitter.