Springboro holds off T-Mad for GWOC National crown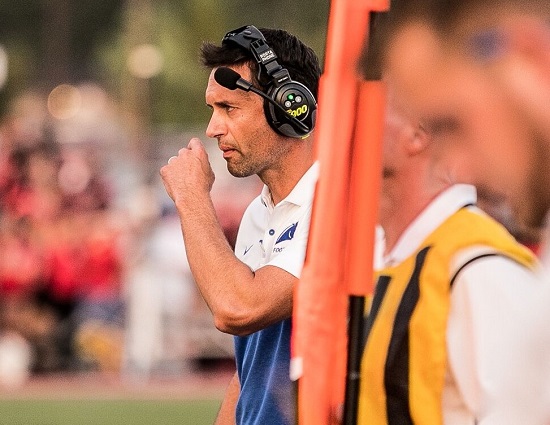 Springboro head coach Ryan Wilhite (photo by Dan Bieneke/TriStateFootball.com)
SPRINGBORO, Ohio – Springboro clinches the GWOC National Division with a 28-25 win against Trotwood-Madison Friday night at home. The Rams were driving late in the game, but the Springboro secondary batted down a Hail Mary pass at the goal-line to end the game.
Trotwood-Madison scored early and were ahead 13-0 after the first quarter. They could have been ahead by more, but fumbled going into endzone, which the Panthers recovered.
Springboro turned on the offense in the second quarter when on third-and-long Landon Palmer found Titan Case on a 33-yard touchdown. They took the lead after capitalizing on a Trotwood-Madison fumble. Palmer hooked up with Case again on a 49-yard scoring play. The Rams did manage to go into halftime with a 19-14 advantage.
Throughout the contest both teams would counter after the other team would score, but Springboro took the lead with six minutes left when Tim Keseday broke away for a 28-yard run. This was his second touchdown after scoring on a 24-yard run earlier in the quarter. The Panthers senior finished the night with 94 yards rushing and 10 total tackles.
The Rams scored with 11 minutes left in the game on an 80-yard strike from quarterback Cooper Stewart to Carl Blanton Jr., to take a 25-21 lead, but it would not last. It was the third touchdown connection of the night between the two of them. The duo was sensational. Stewart threw for 386 yards and four touchdowns with no interceptions. Blanton Jr. had nine receptions for 259 yards and the three trips to the end zone.
Trotwood-Madison had two chances after Keseday scored the go-ahead touchdown but were unable to capitalize. The Rams outgained Springboro, 536-298 but couldn't failed to get the final score.
SCORING BY QUARTERS
Trotwood-Madison 13-6-0-6-25
Springboro 0-14-0-14-28
SCORING PLAYS
T: Carl Blanton Jr. 40 pass from Cooper Stewart (Carter Mims kick)
T: Blanton Jr. 39 pass from Stewart (kick failed)
S: Titan Case 32 pass Landon Palmer (Matthew Dapore kick)
S: Case 49 pass Palmer (Dapore kick)
T: Sammy Anderson 25 pass from Stewart (pass failed)
S: Timmy Keseday 23 run (Dapore kick)
T: Blanton Jr. 80 pass from Stewart (pass failed)
S: Keseday 22 run (Dapore kick)
RECORDS: Trotwood-Madison (7-2, 3-1); Springboro (8-1, 4-0)
UP NEXT: Trotwood-Madison at Springfield (8-1, 4-0); Springboro at Centerville (4-5, 2-2)