VOTE: Week 9 Player of the Week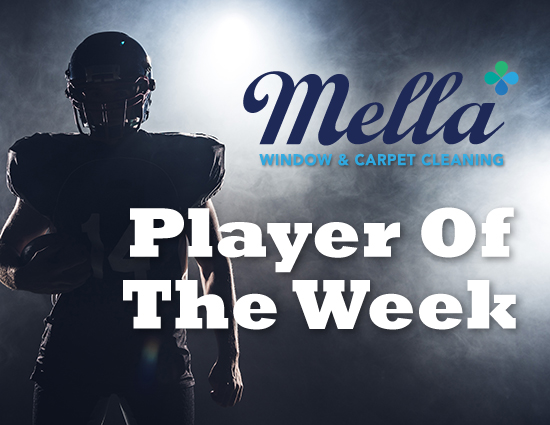 TriStateFootball.com is proud to present the Mella Window & Carpet Cleaning Player of the Week for the 2019 regular season. Players will be nominated from the Cincinnati, Northern Kentucky and Eastern Indiana areas.
Each week a group of nominees will be selected from a large list of some of the area's top performances and will be included in an online voting poll to determine a winner. The poll will launch weekly on Sundays. Voters can vote once per hour, per IP address through Wednesday at 12:00 PM Eastern weekly.
Once a player has won, they were ineligible to be nominated a second time. Players can only be nominated three times during the course of the season.
All of the season winners will be recognized and receive a plaque at the TriStateFootball.com Year in Review Show in February (more details announced during postseason).
+++
Take advantage of this internet special at Mella Window & Carpet Cleaning:

Whole house window cleaning $179 – COMPLETE DETAILS
+++
Here are this week's nominations…
Ryan Bond, East Central, Jr, QB – Threaded the needle on 10-11 pass attempts for 173 yards and three touchdowns as the Trojans beat Silver Creek.
Mehki Bouldin, Ross, Sr, RB – Touched the ball four times for 138 yards of total offense and scored three times in the Rams win over Thurgood Marshall.
James Camden, Anderson, Sr, QB – Racked up 301 yards of total offense (153 Pass, 148 rush) and ran for two touchdowns in the Redskins 34-31 overtime win at Walnut Hills.
Tre Lopez, Indian Hill, Sr, QB – Went 9-9, amassed for 265 yards of total offense and accounted for four touchdowns (two pass, two rush) as the Braves shutout Finneytown.
Michael Mayer, Covington Catholic, Sr, TE/LB – Snared five receptions for 148 yards, found the end zone twice, forced a fumble, had four tackles and interception as the Colonels crushed Conner, 45-7.
Evan Mulberry, Simon Kenton, Sr, WR – Had eight receptions for 201 yards and two touchdowns in The Pioneers win over Ryle.
Jaxon Orlando, Mason, Jr, RB/DL – Recorded two sacks and ran for a score as the Comets got past Middletown.
Austin Pohlman, Batesville, Jr, RB – Ran for 156 yards and two touchdowns in the Bulldogs playoff win over Rushville.
Evan Prater, Wyoming, Sr, QB – Threw four touchdowns passes ran for another score, had 151 yards passing and 107 yards rushing as the Cowboys corralled Taylor.
Dakota Thiel, Lloyd, SR, RB – Found the end zone twice and had 141 yards rushing as Lloyd got past Holy Cross.
Phil Thomas, Fairfield, Sr, RB/DB – Picked off two passes and had a 31-yard touchdown run in the Indians shutout of Oak Hills.
Jack Webster, Goshen, Jr, QB – Tossed a career high four touchdowns as the Warriors blanked Batavia, 48-0.
Miyan Williams, Winton Woods, Sr, RB – Churned out 145 yards and scored the game's last three touchdowns in the Warriors comeback victory at La Salle.
*Nominate players weekly by emailing us at staff@tristatefootball.com by 9AM Sunday mornings.