EIAC puts four teams in sectional semifinals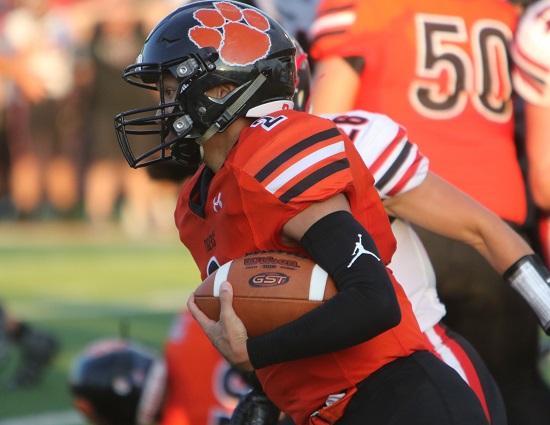 Lawrenceburg QB Garrett Yoon (photo by Dan Bieneke/TriStateFootball.com)
Sophomore quarterback Garrett Yoon hooked up with his older brother Gavin Yoon five times for 129 yards and three touchdowns as Lawrenceburg handle Scottsburg with ease. It was the ninth straight win for the Tigers and the seventh time that they have scored 40 points or more in that span. It is the fourth straight season that Lawrenceburg has advanced to the sectional semifinals in the playoffs.
The younger Yoon finished 7-9 for 164 yards and the three scoring strikes through the air. He also found the end zone once and had 69 yards rushing. Junior Adam Burd led the Tigers with 126 yards rushing on 12 carries and two touchdowns. Burd upped his season totals to 1,337 yards and 18 scores on the ground.
Next up for the Tigers is Charlestown, winners of eight in a row. It is a clash between two teams that have gotten to this point by opposite means. The Pirates have only allowed 5.75 points during their winning streak and no more than seven in their last seven victories. Lawrenceburg is averaging 40.9 points per game.
In the other half of the Class 3A, Sectional 31 bracket four EIAC teams battled it out with Greensburg and Batesville winning the wars in round one of the 2019 postseason. Greensburg eked out a one-point win over Franklin county. It's the second time this year that the Pirates beat the Wildcats by seven points or less. In Week 7 of the regular season, Greensburg pulled off a 24-18 win over Batesville. Greensburg quarterback Toby Brogan ran for 202 yards and accounted for three touchdowns in that victory over the Bulldogs. The junior is having a breakout campaign with 1, 197 yards rushing, 949 yards passing, 21 touchdowns on the ground and six touchdowns through the air.
Since 2005, Batesville has knocked the Pirates out of the playoffs five times including last year.
East Central remains unbeaten after passing its first test, in its quest for a fifth consecutive sectional title. The Trojans built a 42-0 lead after three quarters over Silver Creek behind three rushing touchdowns by Jake Fike and three passing touchdowns from the arm of Ryan Bond. A trip to Greenwood is next for East Central. The Woodmen limped into the playoffs having lost three in a row before bashing Madison to move on. Pulling off the upset won't be easy for Greenwood. The Trojans are clicking on all cylinders having scored 40 or more points in seven consecutive victories. The East Central defense is allowing just 6.1 points per contest and no one has scored more than 15 points on them.
IHSAA Playoffs: Sectional Semifinals
**All games played Friday, November 1st at 7:00 pm

Class 3A, Sectional 31
RESULTS:
Charlestown 7, Brownstown Central 6
Lawrenceburg 42, Scottsburg 0
Batesville 49, Rushville 14
Greensburg 27, Franklin County 26
BRACKET:
Charlestown (8-2) at Lawrenceburg (9-1) winner vs. Greensburg (6-4) at Batesville (4-6) winner
Class 4A, Sectional 23
RESULTS:
Greenwood 61, Madison 0
East Central 42, Silver Creek 14
Martinsville 42, Jennings County 7
Mooresville 35, South Dearborn 13
BRACKET:
East Central (10-0) at Greenwood (4-6) winner vs. Martinsville (4-6) at Mooresville (8-2) winner
Class 4A, Sectional 21
RESULTS:
Mount Vernon (Fortville) 64, Connersville 0
New Castle 21, Richmond 12
Pendleton Heights 54, Shelbyville 6
Greenfield-Central 40, Muncie Central 39
BRACKET:
Mount Vernon (8-2) at New Castle (4-6) winner vs. Pendleton Heights (6-4) at Greenfield (2-8) winner