Elder takes down Springfield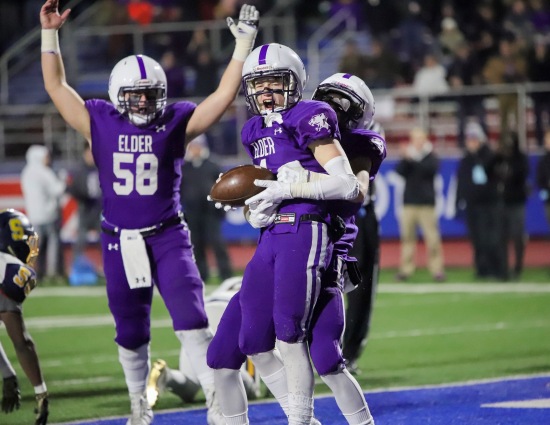 PIQUA, Ohio – It's been 16 years since Elder last won a state championship. After Friday night's 31-24 win over Springfield the Panthers are now just one win away from ending that drought.
The Panthers will play Pickerington Central next Friday night in Canton in their fourth state title appearance. To earn that berth though Elder had to take care of a stingy and talented Wildcats' team. It marked the first-ever meeting between the two schools.
Turnovers were the key. Springfield quarterback Te'Sean Smoot only threw four interceptions during 10 regular season games. Elder picked him off three times in the first half.
The first interception came from Nicholas Seger. The Panthers capitalized too as Matthew Luebbe and Evan Vollmer connected on a 7-yard TD pass to give Elder a 7-0 lead with two minutes left in the first quarter.
Smoot made up for his mistake on the next drive as he found James Wood II for a 31-yard TD pass. Less than five minutes later Smoot would five Spingfield a 14-7 lead when he connected with Larry Stephens on a 19-yard pass.
After sputtering on offense, Ben Deters would come up with another Panthers' pick. That setup a 7-yard Luebbe to Joe Royer TD play with just 12 seconds left in the half as the teams hit the locker room tied at 14. Luebbe finished the night with 25 carries for 114 yards for the Panthers. He was 20-of-27 passing for 221 yards and two touchdowns.
The Panthers took the lead five minutes into the third quarter on a 30-yard field from senior Sam Harmeyer. The Wildcats would answer with a field goal of their own, a 35-yarder by Cole Yost, to tie the game back up heading into the fourth quarter.
Senior Joseph Catania chipped in with a 3-yard touchdown run to start the fourth quarter scoring out. Elder then surprised Springfield with an onside kick and Royer recovered it. It was a big blow to the Wildcats.
Shortly thereafter Cooper Johnson scored from five yards out to give Elder a 14-point lead with 9:21 left in the game.
Smoot and Stephens connected for another score with 6:46 in the fourth quarter to get within seven.
Elder would hold off the Wildcats' in their comeback attempt and move on.
SCORING BY QUARTERS
Springfield 0-14-3-7-24
Elder 7-7-3-14-31
SCORING PLAYS
E: Matthew Luebbe 7-yard PaTD to Evan Vollmer (kick good)
S: Te'Sean Smoot 31-yard PaTD to James Wood II (kick good)
S: Te'Sean Smoot 19-yard PaTD to Larry Stephens (kick good)
E: Matthew Luebbe 7-yard PaTD to Joe Royer (kick good)
E: Sam Harmeyer 35-yard FG
S: Cole Yost 30-yard FG
E: Joseph Catania 3-yard RuTD (kick good)
E: Cooper Johnson 5-yard RuTD (kick good)
S: Te'Sean Smoot 15-yard PaTD to Larry Stephens (kick good)
RECORDS: Elder (13-2); Springfield (12-3)
UP NEXT: Elder vs. Pickerington Central – Division I State Championship
Be sure to follow @TSFootball for updates all week long & catch Blitz 5 Friday nights at 11PM on WLWT-TV Channel 5 for the best high school football playoff coverage in the city!
+++
Check out these great photos from TSF Photographer Shelby Frieszell: