La Salle moves on with win over Central Catholic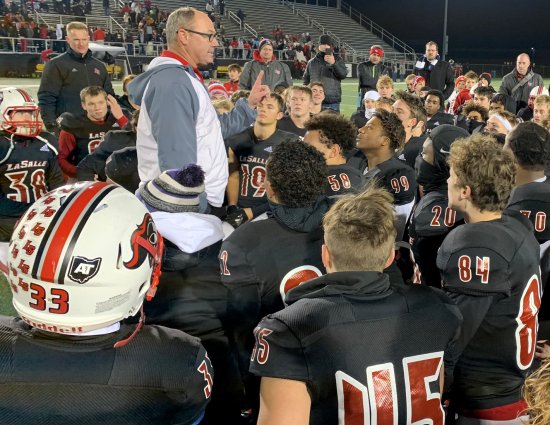 SIDNEY, Ohio – The Lancers dominated this contest most of the night, but it wasn't until the fourth quarter when they finally put the game away, taking down the Fighting Irish 35-21.
After sputtering on their first drive, La Salle got on the scoreboard on their second possession when Zach Branam capped off a 70-yard, three-play drive with a 8-yard TD run. The junior added a second touchdown later in the quarter on a 38-yard run.
Toledo Central Catholic got their first points of the game as they went for it on 4th-and-5 from the Lancers' 19 and a tipped ball landed right in the hands of Tae'Shaun Johnson for a touchdown with just over two minutes left in the half.
La Salle came right back on an electrifying 51-yard screen pass TD from Branam to Gi'Bran Payne. Before the celebration ended, the Fighting Irish had an answer as Bishop Vargas threw a 75-yard TD pass to Randy Williams on their very first play on the ensuing possession.
Running back Cam Porter got in the scoring less than three minutes into the second half when he took it in from two yards out to give the Lancers a 28-14 lead.
Cam runs it in from 2 yards out. PAT is good. Lancer drive 86 yards to extend the lead 28-14 with 9:13 to play in the third quarter. pic.twitter.com/42gSvZ1pvW

— La Salle Athletics (@LS_LancerATH) November 30, 2019
After coming up with another stop, La Salle took its biggest lead of the game as Branam wraps up a 50-yard drive with a 1-yard plunge for his third TD run of the game with 1:05 left in the third quarter.
It was do or die time for Central Catholic and Vargas marched the offense down the field, but just as the Fighting Irish were getting to punch it in, Vargas suffered an injury on a hard hit at the 2-yard line.
He left the game and did not return. TCC would score on the next play on a 2-yard TD pass from Jonzell Norris to Dominique Cole, but without their leader under center their comeback was doomed.
Those would be the final points of the game. After a couple punts by both teams. Austin Kelley recovered a fumble for the Lancers for the first turnover of the game and it was the final nail in the coffin for the Fighting Irish.
With the win, La Salle moves on to next week's Ohio Division II state championship against the Massillon Tigers and their former head coach Nate Moore.
SCORING BY QUARTERS
La Salle 14-7-14-0-35
Central Catholic 0-14-0-7-21
SCORING PLAYS
L: Zach Branam 8-yard RuTD (Logan Forcum kick)
L: Zach Branam 13-yard RuTD (Logan Forcum kick)
C: Bishop Vargas 19-yard PaTD to Tae'shaun Johnson (Semaj Cross kick)
L: Zach Branam 51-yard PaTD to Gi'Bran Payne (Logan Forcum kick)
C: Bishop Vargas 75-yard PaTD to Randy Williams (Semaj Cross kick)
L: Cam Porter 2-yard RuTD (Logan Forcum kick)
L: Zach Branam 1-yard RuTD (Logan Forcum kick)
C: Jonzell Norris 2-yard PaTD to Dominique Cole (Logan Forcum kick)
RECORDS: La Salle (12-2); Toledo Central Catholic (13-1)
UP NEXT: La Salle vs. Massillon – Division II State Championship
* Image from Twitter (@LS_LancerFB)
Be sure to follow @TSFootball for updates all week long & catch Blitz 5 Friday nights at 11PM on WLWT-TV Channel 5 for the best high school football playoff coverage in the city!