Cov Cath heads to its third straight title game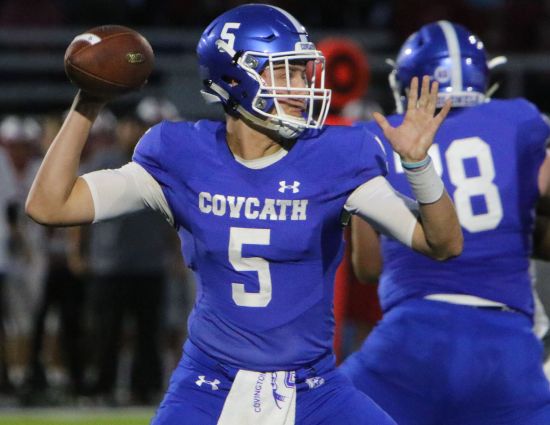 Brady Laber/Tristatefootball.com
PARK HILLS, Kentucky – Covington Catholic made easy work of Bowling Green, pitching a 28-0 shutout, advancing to its third consecutive Class 5A state championship game next week at Kroger Field in Lexington.
The Purples have earned five state titles and two runner-up finishes since 2011, but looked totally overmatched in this game. 
The two teams had not faced off on the gridiron since the 2006 Class 3A state championship game that Covington Catholic had won 27-8 under then head coach John Rodenberg.
Covington Catholic got out of the gate a bit slow on offense. The Colonels turned the ball over on a fumble in the game's second play from scrimmage. However, the defense came to the rescue and were dominant the entire night.
The Colonels held the Bowling Green offense that has averaged 30.5 points per game to just 179 total yards.
Covington Catholic's high-powered offensive attack got on track late in the first quarter. The Colonels finished a 68-yard drive on the first play of the second quarter to finally get on the scoreboard.
Quarterback Caleb Jacob threw a 15-yard scoring strike to wide receiver Andy Molique for a 7-0 lead.
After forcing a three-and-out possession on Bowling Green's ensuing drive the Purples were forced to punt. Cov Cath took over on its own 19-yard line and drove eight plays for its next score.
Jacob hit All-American tight end Michael Mayer across the middle for a 27-yard touchdown pass.
Mayer, who caught five passes for a game-high 95 yards, was matched up most of the night with another nationally ranked level recruit DeVito Tisdale.
Jacob continued engineering the Colonels' high-octane attack in the second half. The junior quarterback connected with Ethan Reardon on 35-yard touchdown pass midway through the third quarter. 
Jacob performed at his usual effectiveness on the night going 16-for-24 for 240 yards and three touchdowns.
The Colonels put the finishing touches on the Purples with a 2-yard touchdown run by Owen Nally with 34 seconds left in the third quarter. 
David Felix had a great game on both sides of the ball with 97 yards rushing on 20 carries. He also compiled a team-high seven tackles and two sacks on defense.
Head coach Eddie Eviston, who was a standout quarterback for both Newport Central Catholic and Georgetown College improved his coaching record at Covington Catholic to 57-13 overall and is now 43-1 over the last three seasons.
Covington Catholic looks to avenge its only loss in the last three seasons when they lost to South Warren in last season's championship game. The Colonels will face the Frederick Douglass Broncos, who defeated Owensboro 28-17 for its first state championship appearance since opening in 2017.
SCORE BY QUARTERS
Bowling Green 0-0-0-0 – 0
Cov Cath 0-14-14-0 – 28
SCORING PLAYS
CC – Andy Molique 27-yard TD pass from Caleb Jacob (Trey Gronotte kick)
CC – Michael Mayer 15-yard TD pass from Caleb Jacob (Trey Gronotte kick)
CC – Ethan Reardon 35-yard TD pass from Caleb Jacob (Trey Gronotte kick)
CC – Owen Nally 2-yard TD run (Trey Gronotte kick)
RECORDS: Bowling Green (9-4); Elder (14-0)
UP NEXT: Class 5A Championship game vs. Fredrick Douglass (14-0) Saturday, December 7 at Kroger Field