Clyde halts Wyoming's streak, repeat bid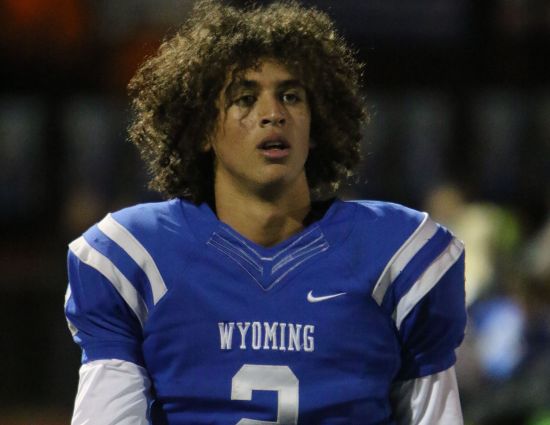 MARYSVILLE, Ohio – The Wyoming Cowboys were defeated on Saturday night by the Clyde Flyers 35-21, ending the team's 28-game winning streak and costing them an opportunity to play for a second straight Ohio Division IV state title next weekend in Canton.
Wyoming fell behind 14 points after ceding a pair of rushing touchdowns to Gunner Golden in the first quarter and ultimately could never erase that deficit.
Senior Evan Prater finally got the Cowboys on the scoreboard with 5:04 left in the first half when he scored on a 34-yard run, shedding several tacklers along the way. The game was tied 14-7 at intermission.
After forcing Wyoming into a turnover on downs, the Flyers churned out a 9-play, 60-yard drive capped off by third rushing score from Golden with just over five minutes left in the third quarter.
The Cowboys would answer though on the ensuing possession when Brennan Pagan hit paydirt on a 34-yard run to pull the score to 21-14, which how the scoreboard stood entering the final quarter.
Golden delivered for Clyde once again when he rushed for a fourth rushing touchdown with 8:43 left in the game to make 28-14 and added a final blow on a fifth score with just over three minutes left in the game.
The loss is the first for Wyoming since November 17, 2017. It also marked the final game for one of the school's best senior classes in the school's storied history, including Prater, who we will next see dawning a Cincinnati Bearcats' uniform.
With the win Clyde advances to next week's DIV championship game versus Newark Licking Valley Saturday afternoon at 3PM at Canton's Tom Benson Hall of Fame Stadium.
SCORING BY QUARTERS
Clyde 14-0-7-14-35
Wyoming 0-7-7-0-14
SCORING PLAYS
C: Gunner Golden 7-yard RuTD (kick good)
C: Gunner Golden 1-yard RuTD (kick good)
W: Evan Prater 34-yard RuTD (kick good)
C: Gunner Golden 1-yard RuTD (kick good)
W: Brennan Pagan 34-yard RuTD (kick good)
C: Gunner Golden 5-yard RuTD (kick good)
C: Gunner Golden 10-yard RuTD (kick good)
RECORDS: Wyoming (13-1); Clyde (10-4)
UP NEXT: Wyoming vs. Clyde – Division IV State Championship
Be sure to follow @TSFootball for updates all week long & catch Blitz 5 Friday nights at 11PM on WLWT-TV Channel 5 for the best high school football playoff coverage in the city!