La Salle rolls by Walnut Ridge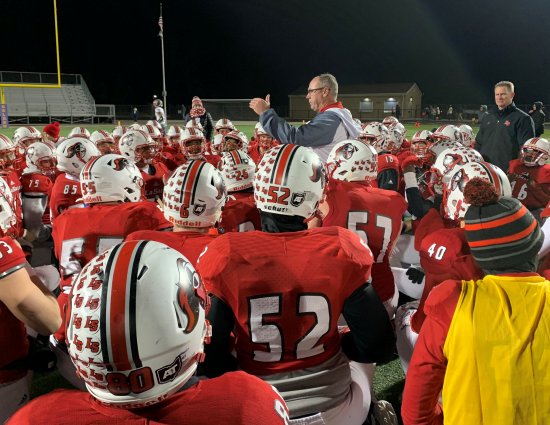 BELLBROOK, Ohio – A 21-point, second quarter outburst by La Salle put and end to a perfect season by Walnut Ridge, The Lancers and their young offensive line opened up huge holes and senior Cam Porter and sophomore Gi'Bran Payne took advantage of those opportunities.
Payne, who had missed the last three games due to injury, ran free all night long. He had his first-ever, two-touchdown rushing game of his career. Porter, a Northwestern commit, found the end zone three times for a second straight contest. Porter never scored twice in a game before last week.
The win puts La Salle one win away from its fourth regional title the last six seasons. The Lancers are 19-1 in their last 20 playoff games.
Next up for La Salle is Harrison. The Wildcats last won a regional championship in 1988.
SCORING BY QUARTERS
La Salle 7-21-7-0-35
Walnut Ridge 0-0-0-7-7
SCORING PLAYS
L: Gi'Bran Payne 3-yard RuTD
L: Cam Porter 1-yard RuTD
L: Cam Porter 7-yard RuTD
L: Gi'Bran Payne 70-yard RuTD
L: Zach Branam 46-yard PaTD to Cam Porter
RECORDS: La Salle (10-2); Walnut Ridge (11-1)
UP NEXT: La Salle vs. Harrison – Region 8 Championship
Be sure to follow @TSFootball for updates all week long & catch Blitz 5 Friday nights at 11PM on WLWT-TV Channel 5 for the best high school football playoff coverage in the city!
*Image from from Twitter (@LS_LancerFB)