Cincinnati Round-Up: Elder sweeps St. Xavier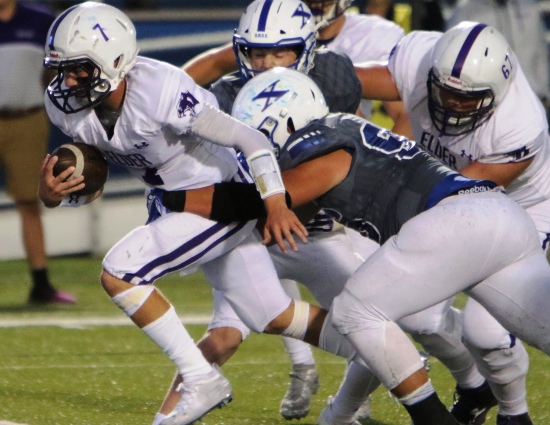 For the second time this season the Elder Panthers defeated their GCL South foes, the St. Xavier Bombers. The contest once again came down to the wire, but this time the stakes were much higher.
The game definitely lived up to the hype with both of the powerhouses trading blows. There were two ties and six different score changes. Elder netted 442 total yards of offense. St. Xavier tallied 403 yards. Both teams possessed the ball for about 24 minutes. Elder won the turnover battle 3-to-2. When the clock finally hit zero the Bombers were on the verge of the end zone, but time ran out and the Panthers held on.
Quarterback Matthew Luebbe once again proved to be a thorn in the Bombers' side. The senior completed 20-of-29 passes for 286 yards and three touchdowns and picked up another 120 yards and a score on 18 carries.
Wide receivers Evan Vollmer and Joe Royer shined in the win as well. Vollmer led all players with 10 receptions and 137 yards and scored. Royer contributed 112 yards and two touchdowns on four catches of his own.
St. Xavier was paced by running back Kellen Newman, who finished with 140 yards and a TD on 27 carries.
With win Elder advances to next Friday's Region 4 Championship.
Colerain 28, Fairfield 7
Colerain is returning to the Ohio DI, Region 4 title game after they knocked off Fairfield for a second time in three weeks. It marks the ninth region final for the Cardinals since they won their state championship in 2004.
Unlike the 16-10 OT game to close out the regular season, the Cardinals dominated this contest in every aspect.
Things were close early on with Colerain scoring the only first-quarter points on a spectacular 45-yard TD run by Jaylen Thomas.
Fairfield answered in the opening moments of the second quarter when senior quarterback Sawiaha Ellis found classmate Deshaun Simpkins for a 27-yard TD pass.
The Cardinals would not allow the Indians to dent the scoreboard over the game's final 34 minutes though.
Freddie Johnson hit Isaiah Myers for a 28-yard TD pass to give Colerain a 14-7 lead at the half. Johnson rushed for a 14-yard touchdown in the third quarter. Brandon Sinclair put the nail in the coffin with a 27-yard pick six with 16 seconds left in the third quarter.
Colerain now advances to face Elder next week for a regional title and a chance to move on the Ohio DI state semi-finals.
Harrison 42, St. Frances DeSales 7
The Wildcats continued their amazing 2019 campaign by winning on a running clock against Columbus St. Frances DeSales.
After upsetting Turpin last week, the Stallions were no contest for Harrison here. Senior Connor Kinnett once again led the Harrison attack. The dual-threat quarterback threw for three touchdowns and rushed for three more.
With the win, Harrison is now set to face La Salle next Friday night in Ohio Division II, Region 8 title game. La Salle defeated Walnut Ridge 35-7 in the other regional semi-final Friday night.
Thank you to the Wildcat Nation who traveled an hour and a half to sit through freezing temperatures to watch these boys move on to the D2 Regional Final game that will be played next week vs. LaSalle! #WTD. @swocsports @demcatsdoe @HarrisonFootba1 @HarrisonWildcat pic.twitter.com/2LghqLjovC

— Harrison Wildcats AD (@wildcatsofhhs) November 16, 2019
Here are some other scores from Cincinnati playoff action:
Division II – Region 8
La Salle 35, Walnut Ridge 7 (COMPLETE RECAP)
Division III – Region 12
Badin 38, Alter 21
Be sure to follow @TSFootball for updates all week long & catch Blitz 5 Friday nights at 11PM on WLWT-TV Channel 5 for the best high school football playoff coverage in the city!