NKY Round-Up: CovCath crushes Conner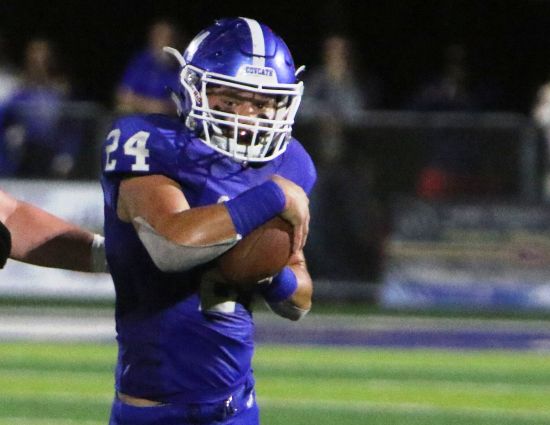 The Covington Catholic Colonels continued their dominance in big way as they cruised past the Conner Cougars, advancing on the round of 16 in Kentucky Class 5A playoff action with a 38-8 victory. It marked the 11th time in 12 outings where the Colonels held their opponents to single digits.
CovCath once again had the game on a running clock before intermission. The route was on from the game's very first play as Michael Boydston busted out for a 60-yard TD run.
After Trey Gronotte drilled a 34-yard field goal, Daniel Felix wrapped up the opening quarter with 2-yard TD run of his own.
The Colonels would add three more touchdowns in the second quarter. Caleb Jacob hit Michael Mayer on a 4-yard TD pass and followed it up with a 8-yard scoring strike to Ethan Reardon less than five minutes later. Jacob would find Mayer again for 22-yard touchdown to wrap up the half.
Defense was also key. The unit came up with five sacks, including a pair by Trevor Wilson in the game's first six minutes. They held an explosive Conner offense to just 160 total yards, a large chunk of which was allowed after the game was in hand.
Jared Hicks did throw a touchdown to Justin Daniels with 4:51 left in game to spoil the bid for the shutout. The Cougars' senior quarterback finished a great season with a subpar statline as he completed 17-of-26 passes for 153 yards while being picked off twice.
Simon Kenton 41, Dixie Heights 17
Simon Kenton knocked off Dixie Heights for a sixth straight time and second time this season to claim yet another district championship.
The contest was pretty tight for much of the first half, but Simon Kenton got a field goal in the waning moments to take a double-digit lead and they never looked back. The Pioneers outscored the Colonels 17-0 after intermission to advance.
It was a one-two punch of quarterback Chase Crone and running back Austin Hammack that sealed the Colonels' fate. Hammack rushed for three touchdowns on runs of 10, 26, and 10 yards. Crone managed the game without too many freshman mistakes and added a rushing touchdown of his own.
Beecwhood 38, Newport 19
The Tigers got out of the gate fast with a 10-0 lead, on a Cam Hergott 21-yard TD pass to Brady Moore and appeared to have the game in hand, but the Wildcats settled down and kept things interesting.
The explosive Kaleal Davis got Newport on the scoreboard with a 80-yard TD run, but the two-point conversion failed.
Hergott and the Tigers would answer quickly as the quarterback rushed for a 22-yard score to make it 17-6. Davis cut the lead to seven with a second rushing touchdown before the break.
It was all Beechwood after intermission though as the Tigers outscored the Wildcats 21-6 in the second half.
Here are some other scores from Northern Kentucky playoff action:
Class 4A – District 6
Scott 40, Holmes 29 (COMPLETE RECAP)
Class 2A – District 5
Walton-Verona 48, Owen County 20
Class 1A – District 4
Newport Central Catholic 40, Ludlow 20
Class 1A – District 5
Nicholas County 18, Bishop Brossart 13
Be sure to follow @TSFootball for updates all week long & catch Blitz 5 Friday nights at 11PM on WLWT-TV Channel 5 for the best high school football playoff coverage in the city!