La Salle routs Harrison for regional title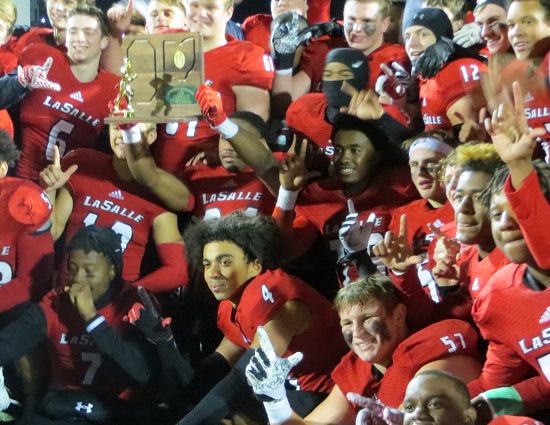 La Salle Lancers, the 2019 Regional Champions (photo by Greg Shoemaker/TriStateFootball.com)
WEST CHESTER, Ohio – It took La Salle less six minutes to do what 12 teams couldn't do against Harrison this season, score more than 18-points against the Wildcats in a game. The run saw Lancers quarterback Zach Branam throw two touchdown passes with a Cam Porter scoring run sandwiched in between. That was just the beginning of what would 45-0 first half rout by La Salle. The victory gives the Lancers their fourth regional title in the last six seasons. La Salle is 20-1 in its last 21 playoff games.
Sophomore Gi'Bran Payne electrified the crowd with 46-yard touchdown run and 95-yard pick six just seven minutes later. That ended the first half scoring onslaught by the Lancers.
La Salle racked up 350 yards of total offense on 24 plays before halftime. Branam accounted for 259 yards of total offense (155 pass, 106 rush) and three touchdowns (two pass, one rush) in the half. He was 6-8 passing and did not take a snap after intermission. With the running clock on to start the third quarter, the Lancers only ran 12 plays and gained just 19 yards with their second unit in.
It was a rough first 24 minutes for Harrison quarterback Connor Kinnett the two-time SWOC Offensive Player of the Year. Kinnett went 10-21 for 119 yards with two interceptions and no touchdown tosses. He ended the night 229 yards passing and one touchdown toss. Kinnett had an outstanding year with 3,761 yards passing, 37 touchdown passes, 442 yards rushing and 11 more scores on the ground.
Next up for La Salle is unbeaten Toledo Central Catholic. The Fighting Irish won their sixth regional title in the last eight years, Friday night. They have won 25 of their last 26 games.
SCORING BY QUARTERS
Harrison 0-0-8-0-8
La Salle 24-21-0-0-45
SCORING PLAYS
L: Jaylen Norwood 39 pass from Zach Branam (Jake Seibert kick)
L: Cam Porter 16 run (Seibert kick)
L: DeVonte Smith 39 pass from Branam (Seibert kick)
L: Seibert 48 field goal
L: L: Gi'Bran Payne 46 run (Seibert kick)
L: Branam 38 run (Seibert kick)
L: Payne 95 interception return (Seibert kick)
H: CJ Young 10 pass from Connor Kinnett (Levi Tidwell pass from Kinnett)
RECORDS: Harrison (11-2); La Salle (11-2)
UP NEXT: La Salle vs. Toledo Central Catholic (13-0) @ TBD
*Stay updated on high school football updates by following @TSFootball on Twitter.