Cincinnati Round-Up: Elder holds off Colerain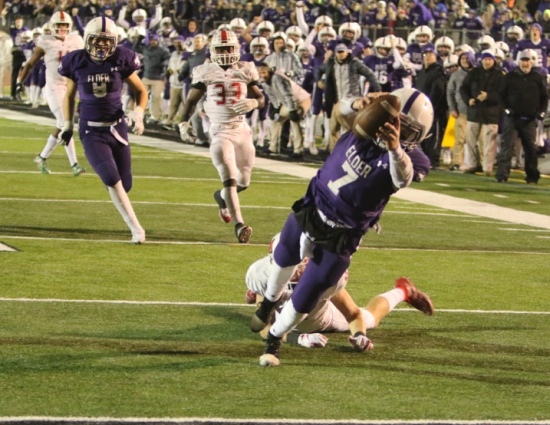 It was another instant classic between Ohio Division I powers as the Elder Panthers and Colerain Cardinals clashed with the Region 4 title on the line Friday night at Mason High School. It was a game with many turns in it, but in the end Elder prevailed 28-21.
Matthew Luebbe made plays through the air and on the ground, but was far from perfect as he turned the ball over three times. He saved his best for last though as his 24-yard rushing touchdown with 1:36 left in the game sealed the deal for the Panthers.
The senior finished 243 yard and two touchdowns through the air while adding 29 carries for 170 yards two more scores on the ground.
Luebbe put Elder on the scoreboard first when he connected with classmate Joe Royer on a 7-yard TD play less than four minutes into the game.
The Panthers would hold Colerain on their first drive and Luebbe drove Elder back into Colerain territory before getting picked off by Deshawn Pace, who returned it 72 yards for a touchdown.
Colerain beat Elder in the Regional Final last year 42-0, this year's outcome was quite different. Panthers are going to the state semifinals @WLWT pic.twitter.com/jRwQwf5ZAJ

— Elise Jesse (@Elise_JesseWLWT) November 23, 2019
Early in the second quarter the Cardinals took their first lead of the game when Hamzah Abdul-Waheed busted off a 80-yard TD run.
After Luebbe scored another rushing touchdown with 2:47 left in the first half to tie it again, Colerain grabbed the lead going into the half on a 36-yard TD pass from Freddie Johsnon to Isaiah Myers. It proved to be the final points the Cardinals would put on the scoreboard this season.
No scoring occurred in the first 17 minutes out of the locker room, but the Panthers got hot late with Royer catching his second TD of the game on a 5-yard pass with just under five minutes to play. After stopping the Cards, Luebbe drove Elder down the field on the game-winning, five-play, 68-yard drive that spanned 1:36.
Colerain into Elder territory on their final drive, but a desperation pass by Tyle Prather, who went under center for a Hail Mary attempt, was picked off as time expired.
With the win Elder advances to face Springfield next Friday in an Ohio Division I state semi-final matchup.
La Salle 45, Harrison 8
The Lancers continued their stellar season by breezing past an overmatched Wildcats' team in the Ohio Division II, Region 8 Final.
La Salle scored 24 first-quarter points and put together one of their best halves of football as they took a 45-0 lead into the locker room.
Zach Branam was 6-of-8 for 155 yards and two touchdowns through the air and he picked up another 104 yards and a score on eight carries all in the first half. Gi'Bran Payne had five carries for 67 yards and a TD on the ground and a pick six before the break as well.
Harrison's only had one scoring drive all game and it came midway through the third quarter when Connor Kinnett found CJ Young on a 10-yard TD pass and then the Wildcats converted the two-point conversion.
The Lancers now move on to the Ohio Division II state semifinals and are set to face Toledo Central Catholic.
Trotwood-Madison 20, Badin 7
It was a battle of attrition for the first 24 minutes of the contest as both defenses pitched shutouts in a classic November playoff battle.
Trotwood-Madison would get things rolling on offense out of the break though. Cooper Stewart took advantage of some confusion on defense by Badin and hit Carl Blanton Jr on a 78-yard TD strike to give Trotwood a 7-0 lead less than three minutes into the third quarter.
Badin responded just a minute later with some highlight plays of their own as they executed a reverse to Josh Hegemann who connected on a pass to quarterback Zach Switzer for a 18-yard TD to know the game at 7-7.
Blanton came up with another big TD catch on a 69-yard score from Keonte Huguely. The third quarter came to an end with Trotwood-Madison leading 14-7.
Both teams came up with some big defensive stops as the fourth quarter unfolded. Badin had their comeback chances squashed though when Sammy Anderson came up with a 20-yard pick six to give Trotwood a 20-7 lead with just 2:35 left to play.
Badin would drive deep into Trotwood-Madison territory, but couldn't finish it off.
Up next, Trotwood-Madison will square off again Columbus Bishop Hartley in an Ohio Division III semi-final matchup.
*Image from from Twitter (@ehsports)
Be sure to follow @TSFootball for updates all week long & catch Blitz 5 Friday nights at 11PM on WLWT-TV Channel 5 for the best high school football playoff coverage in the city!