NKY Best Bets: Week 13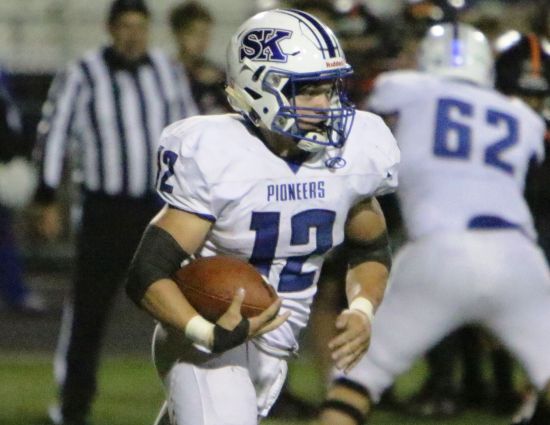 District champions have been crowned and we've reached the Round 16 across all six classes in the Bluegrass State. We've got six Northern Kentucky teams still standing and for the first time all postseason none of them are facing each other. We look at some of them in this week's Northern Kentucky Best Bets.
Simon Kenton (8-4) at Tates Creek (8-4)
Kentucky Class 6A state quarterfinals
These two teams have not met since 2010, but the matchup is intriguing.The Pioneers used a balanced attack to take down Dixie Heights and now have to hit the road to continue their playoff journey. Senior Austin Hammack gashed the Colonels last week for 261 yards and three touchdowns on 33 carries. He now has amassed 1,188 rushing yards and 16 touchdowns on 225 attempts through his 10 games this year. With their win last week Simon Kenton has now won five of their last six contests. Tates Creek has been even hotter. The Commodores have rattled off six straight victories after starting the year 2-4. They are averaging 33.25 points per game on the season and advanced the past two weeks by scoring 85 points, but they ceded 56 points in that span. The Commodores are a pass-heavy offense led by quarterback Luke Durby (39 PaTD) and wide receiver Miles Thomas (68-1,644), who has 21 touchdown receptions. Tates Creek will have home field on their side, so Simon Kenton can ill afford to fall down early. In the end, the game will likely come down to turnovers and how freshman quarterback Chase Krone handles the pressure of his first road playoff game.
Scott (8-4) at Boyle County (12-0)
Kentucky Class 4A state quarterfinals
Scott traded blows with Holmes for the second time in four weeks and claimed the district title with a 40-29 win a week ago. Now they get the daunting task of traveling two hours to face an impressive Boyle County team in Danville. Boyle County has the best RPI of any 4A team in the state and have yet to allow an opponent to come within 30 points of them all season. No team in the entire state has scored more than the 624 points the Rebels have put on the scoreboard this season. The best chance for Scott will be to shorten the contest by running the ball well and keeping Boyle County's high-powered offense on the sideline. Eagles' running back Quincy Perrin has rushed for 1,680 yards and 24 touchdowns and definitely is capable of putting this team on his back. Linebacker Nigel Robinson will need to step up for Scott like he has most of the season (121 tackles, 20 TFL, 9 sacks, 2 fumble recoveries) and lead the defense. The unit will need to turn in its best game of the year to have any chance here. Legendary head coach Chuck Smith of Boyle County picked up his 200th win this year and he wants to cap it off with a state title. Quarterback Reed Lanter has been sensational with a 32:2 TD-to-interception ratio and 2,533 passing yards. If the Eagles can't get pressure on him, the senior will light them up.
Newport Central Catholic (10-2) at Louisville Holy Cross (10-2)
Kentucky Class 1A state quarterfinals
The Thoroughbreds are running well once again at the most critical part of the season. They've played a challenging schedule and after a 1-2 start, NewCath has now won nine straight games, including big wins versus current 2A teams still alive in the playoffs, Beechwood and Walton-Verona. Quarterback Paul Kremer takes care of the football and makes plays when needed more often than not. The senior has completed 129-of-207 passes for 1900 yards, 24 touchdowns and five interceptions. His favorite target is Caleb Jefferson, who leads the team with 34 receptions and 10 receiving touchdowns. Louisville Holy Cross also beat Walton-Verona this year and defeated Holmes 21-14 in Week 3. The Cougars' defense has had some holes in it this year though. Look for them to try to control the clock with their one-two punch of running back Luke Davis (1,460 RuYd, 21 TD) and dual-threat quarterback Chaz Geraghty.
+++
Here are the rest of the playoff games on tap for Northern Kentucky teams this week:
FRIDAY (all games 7:30 PM kickoff unless otherwise noted)
Class 5A
Madison Southern (7-5) at Covington Catholic (12-0) – 7:00 PM
Class 2A
West Carter (9-3) at Beechwood (7-5)
Walton-Verona (8-4) a Breathitt County (12-0)
Be sure to follow @TSFootball for updates all week long & catch Blitz 5 Friday nights at 11PM on WLWT-TV Channel 5 for the best high school football playoff coverage in the city!