Cincinnati Best Bets: Week 13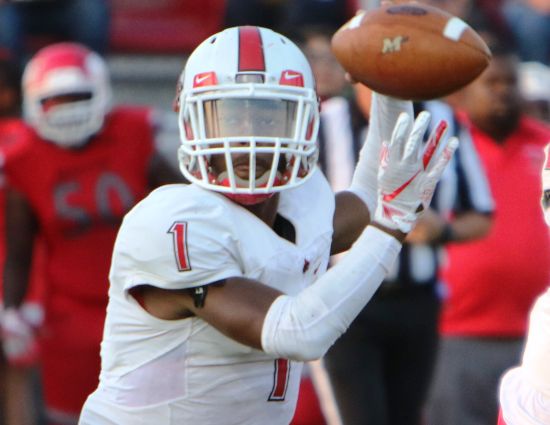 The second round of the playoffs was quite interesting to say the least. St. Xavier and Elder played the game of the weekend with Elder beating their GCL south Rivals in thrilling fashion for the second time this season. The other winners from Cincinnati were incredibly impressive and dominant. With regional final weekend upon us, there are matchups we have been waiting for all season. Here are the games to look out for in this week's edition Cincinnati Best Bets.
No. 3. Colerain (11-1) vs. No. 4 Elder (10-2)
Ohio DI – Region 4 Championship / Friday – 7:00 at Mason H.S.
The Cardinals and Panthers playing in the regional final has become a routine. This is the third time since 2015 that these powerhouses will do battle in the third round. The two previous matchups have been all Colerain, as they've outscored Elder 84-11. The biggest variable in this game comes from an incident that was off the football field. Cardinal senior running back Jaylen Thomas was involved in a car accident shortly after the win against Fairfield. Thomas has 258 rushing yards and three scores so far this postseason, and has clearly been Colerain's best offensive player. He will not be available here for the Cards. The Panthers' offense was too much again for their opposition. Matthew Luebbe did it both ways against St. X, passing for 286 and rushing for 120. He accounted for all four of the Elder's touchdowns. This potent offense vs. the Cardinal defense is the biggest matchup of the weekend. Colerain has yet to allow an opponent to score 30 this season. Elder has scored 30 in nine of their 12 contests. It is important to know the Panthers have been held under 30 in two of their past three contests. With Deshawn Pace likely shading Joe Royer, Evan Vollmer and Drew Ramsey could be x-factors in deciding this game. Pace gets much of the attention on the Cardinals' defense and rightfully so, but DT Dontay Corleone is an absolute force that can change a game with his pass rushing and run-stopping ability. For the Colerain offense, quarterback Freddie Johnson will have to be special like he was against Fairfield last week. In the triple-option offense, it starts and ends with his decision making. The best way to stop Elder's offense is to keep them off the field. Johnson will have to lead methodical drives, and they absolutely cannot turn the ball over. This matchup has instant classic written all over it.
No. 1 La Salle (10-2) vs. No. 3 Harrison (11-1)
Ohio DII – Region 8 Championship / Friday – 7:00 at Lakota West H.S.
Here is the Division II showdown we have been anticipating all season. The Lancers and Wildcats are two of the most complete teams in the Tri-State area. Both teams are coming off blowout victories over teams in Columbus. La Salle throttled Walnut Ridge 35-7 in a game that was on a running clock for the majority of the second half. Harrison annihilated a very good St. Francis Desales team 42-7. These teams can do it either way, but they do have their preferences. For La Salle, it's about running the football. Cam Porter and Gi'bran Payne have been the worst nightmare for offensive coordinators. Porter has 158 yards and five scores in the postseason, while Payne has 141 yards and two touchdowns. Signal caller Zack Branam is a dual threat and has the elusiveness of a running back. For Harrison, they will air it out all night. Leading the charge is a quarterback who has entered the record books. Connor Kinnett, the reigning SWOC Offensive Player of the year and favorite to repeat again, has 3,532 yards through the air this season. This ranks 41st all-time in the state of Ohio, according to OHSAA. Harrison has two number one wide receivers in Levi Tidwell and CJ Young. Tidwell has 236 yards while finding the end zone four times in the playoffs. Young has 130 yards and has scored once. On the defensive side of the ball the Wildcats have yet to allow an opponent to score more than 20 points this season. The Lancers' defense has Division I talent all over the field with Jalen Johnson, Devonte Smith, and Ben Blevins just to name a few. La Salle has held their opponents to single digit points in five of their twelve games played, including three shutouts. Bottom line, this game will come down to who takes care of the ball, and avoiding the big mistake. The winner of this game will take one more step towards a trip to Canton.
No. 1 Wyoming (12-0) vs. No. 7 Valley View (10-2)
Ohio DIV – Region 16 / Saturday – 7:00 at Princeton H.S.
The Cowboys keep churning along with arguably the best player in the state of Ohio at quarterback. Evan Prater continued his historic run and domination over rival Indian Hill a week ago. Wyoming defeated the Braves for the second time this season, in more convincing fashion during the second go around with a final score of 27-7. Prater ran for 100 yards and three touchdowns while throwing for 89 yards and a touchdown. The University of Cincinnati commit has been showing his dual-threat ability in a big way these past three weeks. He has tallied 620 rushing yards in that time, which totals 206 per game. The biggest takeaway for Wyoming has been their defense. They held Indian Hill to just 49 total yards last week. They have five shutouts this season, and have not allowed an opponent to score more than 20 points. With a championship caliber defense and a signal caller who can put a team on his back, results in no surprise that Wyoming is the favorite to win back-to-back Division IV state titles. Valley View is coming into this game hot and are riding the underdog wave. Many believed they were a one-and-done team, instead they beat Clinton Massie by two scores in round one. Followed by all the talk about a Corey Kiner- Prater regional final, Valley View had other plans. Kiner did what he could; rushing for 274 yards and a score, but it wasn't enough. This team is no slouch, but the fire power Wyoming possesses cold ultimately be too much for the Spartans to handle.
Be sure to follow @TSFootball for updates all week long & catch Blitz 5 Friday nights at 11PM on WLWT-TV Channel 5 for the best high school football playoff coverage in the city!