Lawrenceburg playoff run cut short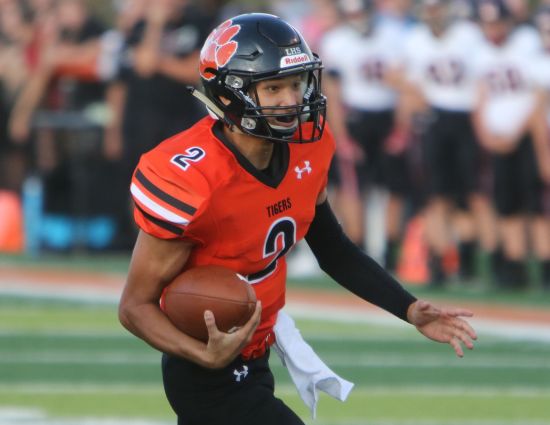 LAWRENCEBURG, Indiana – After losing in Week 0 to rival East Central, the Lawrenceburg Tigers rolled off 11 straight wins to arrive to Saturday's playoff showdown with unbeaten Heritage Hills. The winning streak would come to an end.
Lawrenceburg averaged 41 points per game coming into this contest, but were shutout by the visitors in this one. The Tigers mustered just 214 yards of total offense. The biggest hit came midway through the second quarter when quarterback Garrett Yoon was knocked out of the game with an undisclosed injury. He did not return.
The Patriots forced the Tigers into three turnovers, including an interception of backup signal caller Dakota Roth and a pair of fumbles.
Heritage Hills improved to 13-0 on the season and will play Danville (8-5) in the semistate next weekend. It's the first time since 2007 that Heritage Hills won its first 13 games.
SCORING BY QUARTERS
Heritage Hills 0-7-7-8-22
Lawrenceburg 0-0-0-0-0
SCORING PLAYS
HH: Phoenix Rodgers 1-yard RuTD (kick good)
HH: Noah Mundy 6-yard RuTD (kick good)
HH: Cole Sigler 12-yard RuTD (Sigler pss to Kaden Feldpaushc)
RECORDS: Lawrenceburg (11-2); Heritage Hills (13-0)
UP NEXT: Heritage Hills vs. Danville – Class 3A state semi-final
Be sure to follow @TSFootball for updates all week long & catch Blitz 5 Friday nights at 11PM on WLWT-TV Channel 5 for the best high school football playoff coverage in the city!