La Salle wins fourth title in last six years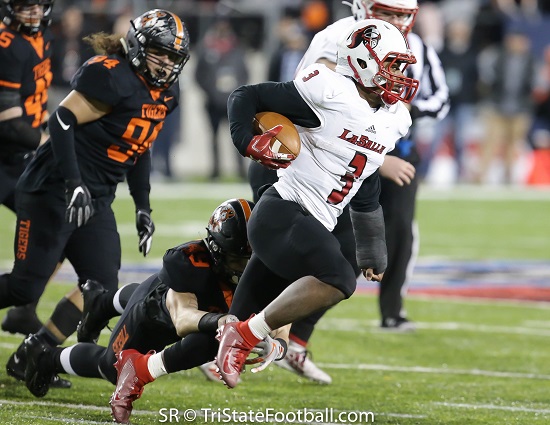 CANTON, Ohio – On a night when the deck was stacked against them, La Salle got a complete team effort to beat Massillon Washington and win the Division II state title. It was the fourth championship in the last six years for the Lancers. Their first title came exactly six years to the date. La Salle becomes just the 18th team in Ohio to have won at least four championships.
Playing in front of a large, hostile and rabid Massillon fan base, La Salle showed its toughness against one of the top offenses in Ohio. The Tigers made the short eight-mile trip to Canton with a caravan of supporters that were eager to capture the schools first crown since the playoffs started back in 1972.
The Lancers were more than determined not to let that happen. The Tigers were here a year ago only to fall short to Akron Hoban.
The first half was a nip-and-tuck battle that had all the makings of a potential shootout. Massillon scored first on a field goal by Alex Bauer. La Salle began to find their footing running the ball with two touchdown runs by sophomore Gi'Bran Payne and senior Cam Porter. The Lancers built a 14-3 advantage two minutes into the second quarter. The Tigers struck back with a pair of touchdown passes sandwiched in between another Cam Porter touchdown run.
Both teams scored 14 points in the second quarter, but La Salle never relinquished the lead. The Lancers took a 21-17 advantage into intermission.
Massillon quarterback Aidan Longwell, the Ohio Division II Co-Offensive Player of the Year, finished the half 4-of-7 for 171 yards and two touchdown tosses. La Salle junior signal-caller Zach Branam ran for 91 yards, Payne added 89 yards and Porter chipped in with 47 yards on the ground.
Defense took over in the third quarter. La Salle would make the Tigers pay after their second turnover. Porter would find the end zone for a third time, out of the Wildcat formation. The Lancers were up 28-17 with 1:52 left in the stanza. La Salle scored 14 points off of Massillon turnovers.
Special teams went to work in the final 12 minutes. La Salle kicker Jake Seibert set a Division II title game record with a 43-yard field goal. He later hit a 38-yard field goal to round out the scoring. It gave the Lancers their largest lead of the game at 17 points.
To put into perspective how good La Salle was, the 34 points they scored were the most that Massillon had allowed all year (by 10 points). They also held the Tigers to a season-low 17 points, 25 points below their season average.
The Lancers clamped down Longwell, who threw for just 74 yards in the second half. The Massillon ground game never got treading. They ran for just 82 yards on 22 carries.
Branam (166) and Payne (133) combined for 299 yards rushing for the victors. La Salle was able to get out and around the ends all night long. Their speed on the edges was the big difference in the contest.
As for Porter, the lone remaining letterman from La Salle's championship team, he could not have asked for a better ending to a stellar career. His three touchdown runs gave him 18 on the year.
There were only 14 seniors on the La Salle roster. The Lancers will be a favorite to repeat in 2020. They head into next season having won 22 of their last 23 playoff games.
POSTGAME INTERVIEWS
Pat McLaughlin, head coach, La Salle
Cam Porter, La Salle
Devonta Smith, La Salle
Zach Branam, La Salle
SCORING BY QUARTERS
La Salle 7-14-7-6-34
Massillon Washington 3-14-0-0-17
SCORING PLAYS
M: Alex Bauer 21 FG
L: Gi'Bran Payne 6 run (Jake Seibert kick)
L: Porter 6 run (Seibert kick)
M: Jayden Ballard 30 pass from Aidan Longwell (Bauer kick)
L: Porter 9 run (Seibert kick)
M: Andrew Wilson-Lamp 69 pass from Longwell (Bauer kick)
L: Porter 3 run (Seibert kick)
L: Seibert 43 field goal
L: Seibert 38 field goal
RECORDS: La Salle (13-2); Massillon Washington (14-1)
*Stay updated on high school football updates by following @TSFootball on Twitter.