Trotwood-Madison takes title in OT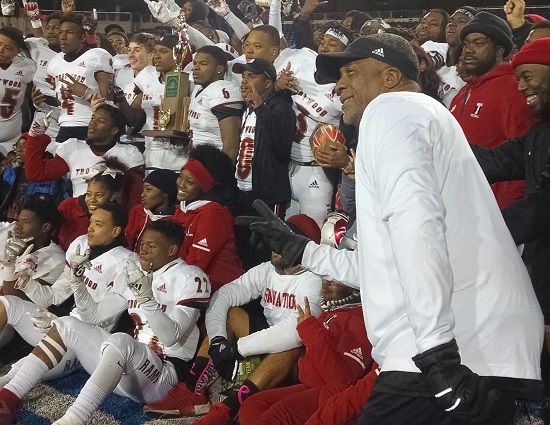 CANTON, Ohio – On a night where both offenses struggled to move the ball, penalties that curtailed scoring drives and opportunities missed, Trotwood-Madison showed enough grit to win its second Division III state championship in the last three years. The Rams got an 18-yard touchdown pass from senior Keon'Tae Huguely to his best friend and classmate, Sammy Anderson in overtime to expand on the school's playoff legacy.
This was a defense battle in in the first 24 minutes with a 0-0 stalemate at intermission. It was just the fourth scoreless first half in state finals history.
Trotwood Madison managed just 52 yards of total offense on 20 plays in the first half. The Rams went 0-5 on third downs and punted four times. Mansfield Senior wasn't much better racking up 78 yards of total offense (82 rushing, minus-four rushing) on 23 plays. The Tygers were just 2-6 on third down conversions.
As bad as Trotwood-Madison was on offense the Mansfield Senior defense deserves credit for the way they played in the first half. The Tygers came into the contest having held 10 of their opponents to 14 points or less including four shutouts.
Mansfield Senior got on the board first on a Terrance Flickinger 94-yard touchdown run. The senior had a game high 130 yards on the ground.
Trotwood-Madison had its chance to put the game away in the second half but penalties negated two touchdown runs. The Rams did tie the game up with 8:11 to go in the fourth quarter on a 13-yard run by Ke'Shawn Huguely.
Kicker Carter Mims got his shot to end things for Trotwood-Madison but Mansfield Senior blocked his 19-yard field goal as time expired in regulation. That forced overtime.
The Rams got the ball first and ironically, Anderson the Southwest District Defensive Player of the Year came up big on the other side of the ball with the touchdown catch from Keon'Tae Huguely.
Huguely replaced Cooper Stewart in the second half at quarterback for Trotwood-Madison and the move paid off. He threw for 71 yards and ran for another 70.
Mansfield Senior had a chance to even things up. Two bad snaps and an incomplete pass left the Tygers in a third and 37 from the Rams 47. A Hail Mary attempt on fourth down saw Anderson come up with an interception in the end zone to seal the victory.
Trotwood-Madison captured its third state title in its sixth finals appearance. The Rams have also won nine regional championships in the last 10 seasons.
Since going to eight team regionals in 1999, Trotwood-Madison became just the fourth #7 seed to ever win a state title.
POSTGAME INTERVIEWS:
Jeff Graham, head Coach, Trotwood-Madison
Keon'Tae Huguely, Trotwood-Madison
SCORING BY QUARTERS
Trotwood-Madison 0-0-0-7-7-14
Mansfield Senior 0-0-7-0-0-7
SCORING PLAYS
M: Terrance Flickinger 94 run (Aiden Crider kick)
T: Ke'Shawn Huguely 13 run (Carter Mims kick)
T: Sammy Anderson 18 pass from Keon'Tae Huguely (Mims kick)
RECORDS: Trotwood-Madison (12-3); Madison Senior (13-2)
attendance: 5,700
*Stay updated on high school football updates by following @TSFootball on Twitter.