Preview: Elder vs. Pickerington Central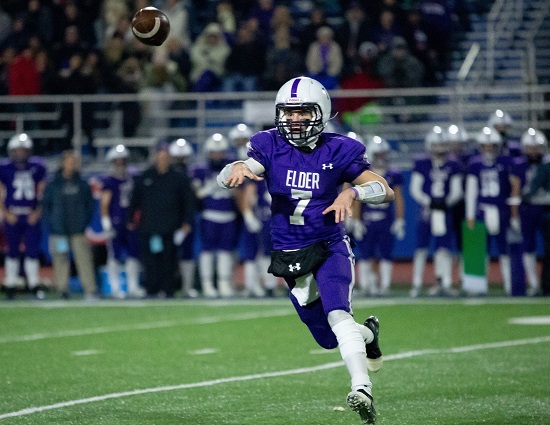 It's been 11 years since Elder has played for a title and 16 since they have won one. Pickerington Central is looking to capture its second crown in three years. Exuberance versus experience will take the stage. It's Columbus taking on Cincinnati in Canton for big school bragging rights in the Buckeye state. All signs point to entertaining affair that will feature exciting quarterback play with supporting casts that can "WOW" a crowd.
NO. 9 ELDER PANTHERS (12-2) vs. NO. 3 PICKERINGTON CENTRAL TIGERS (13-1)
Friday, December 6th, 2019
Kickoff: 8:00 p.m.
Tom Benson Hall of Fame Stadium; Canton, Ohio
Follow on Twitter @TSFootball
PLAYERS TO WATCH: Elder seniors QB Matthew Luebbe, WR Joe Royer, LT Jakob James, LG Luke Kandra and DB Colton Sandhas were all named First Team All-Southwest District. The Elder offense is fueled by Luebbe, the GCL South Co-OPOY and a First Team All-Southwest District selection has amassed 4,574 yards of total offense (2,968 passing, 1,606 rushing) and accounted for 43 touchdowns (27 passing, 16 rushing). Royer is his main target. The Ohio State commit has 69 receptions for 1,237 yards and 15 touchdown catches. James will also further his football career in Columbus. Luebbe has benefitted all year from running and throwing behind James and Kandra, who is headed to Louisville. He isn't the only one, RB Cooper Johnson (10) and RB Joseph Catania (11) have also combined to run for 21 touchdowns. Sandhas leads the Panthers with 121 (82 solo) total tackles. Also getting it done for the defense is LB Connor Keyes, who has 10.5 sacks.
Several Pickerington Central Players were named First Team All-Central, including four-year starter and the heart-and-soul of the Tigers, QB Demeatric Crenshaw. The senior was honored as the 2019 Central District Offensive Player of the Year. Crenshaw has thrown for 1,496 yards, ran for 1,201 yards while accounting for 29 touchdowns (12 passing, 17 rushing). He has offers from Cincinnati, Boston College, Louisville, Kentucky, Indiana and Toledo. Crenshaw had a record-setting state championship game in 2017 with six touchdowns. Classmates LB Dom Marasco, DE Ty Hamilton along with juniors WR Lorenzo Styles, Jr. and RB Nick Mosley are difference makers. Hamilton has committed to Ohio State and the electrifying speed demon, Styles Jr. has verbally committed to Notre Dame. Mosley leads the team with 1,395 yards and 22 touchdowns rushing.
TEAM TRENDS: Elder knocked off Colerain last Friday to win its sixth regional title and first since 2009. This the 21st trip to the playoffs for the Panthers. They are 38-18 lifetime in the postseason with state titles in 2002 and '03. Head coach Doug Ramsey is 189-83 in his 24th season at Elder. The Panthers are 6-1 in games decided by seven points or less this season. The Panthers are averaging 36.6 points per contest. They have scored 25 points or more in every game.
This the 14th consecutive playoff appearance and 20th overall for Pickerington Central. They are 40-18 overall with four consecutive regional titles and the school's lone state title in 2017. Head coach Jay Sharrett is 185-33 in his 17th season at Pickerington Central. The Tigers have not allowed more than 28 points in a game. Only four teams have scored more than 20 points on Pickerington Central.
ELDER'S KEYS TO VICTORY: Taking care of the football is a must against an opportunistic Pickerington Central squad that makes opponents pay for mistakes. Halftime adjustments were huge in last week's win over Springfield. Expect them to be a factor again. Elder will be well-prepared after intermission. Elder hasn't seemed to let the moment bother them. That poise may be just what is needed to get them to the promiseland.
PICKERINGTON CENTRAL'S KEYS TO VICTORY: A win will put an exclamation point on Crenshaw and his senior classmates as the greatest group ever at Pickerington Central. That is more than enough motivational edge to fire up the Tigers. They have been here before and should expect to play like it. Taking away Luebbe's options, including his ability to make something out of nothing, is a must. Staying at home and playing disciplined on defense will bode well for Pick Central.
Prediction: Pickerington Central 31, Elder 27
*Pairing listed with record and final Associated Press rank.
Be sure to follow @TSFootball for updates all week long & catch Blitz 5 Friday nights at 11PM on WLWT-TV Channel 5 for the best high school football playoff coverage in the city!