Preview: La Salle vs. Massillon Washington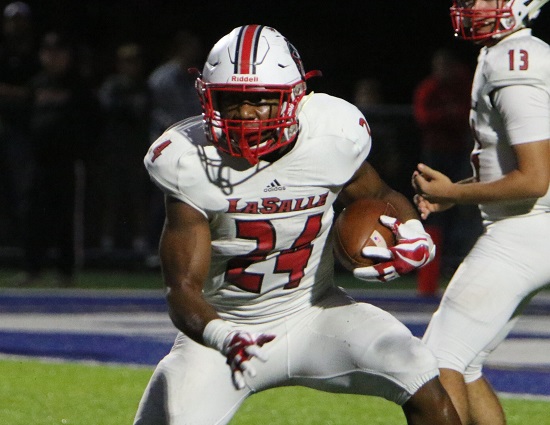 The deck is stacked against La Salle as they head to Canton to take on Massillon Washington for the Division II State Championship. The Lancers have defied the odds all year, winning the GCL South crown outright and surging to this spot in the playoffs. Now they have one more hurdle against a Tigers' team that will bring an enormous crowd that could become a tremendous home field advantage.
Massillon Washington won its third consecutive regional title and is back in the finale for a second straight season under head coach Nate Moore. Moore led La Salle to its first state crown in 2014. He left the Lancers and headed north to take the Washington job shortly after that season. Beating his old team and capturing the Tigers' first championship is just more fuel for his already highly-motivated team.
It will all come down who can bend, but not break. La Salle has not allowed more than 27 points in a contest. Only four teams have scored more than 20 points on the Lancers. Massillon Washington is explosive offensively. The Tigers average 42.0 points per contest. The La Salle defense will be pushed to the limits. Their performance will loom large in the outcome of this affair.
NO. 1 MASSILLON TIGERS (14-0) vs. NO. 6 LA SALLE LANCERS (2-2)
Thursday, December 5th, 2019
Kickoff: 7:00 p.m.
Tom Benson Hall of Fame Stadium; Canton, Ohio
Follow on Twitter @TSFootball
PLAYERS TO WATCH: Massillon Washington is loaded with players who earned All-Northeast District honors. First team members include seniors QB Aidan Longwell, RB Terrance Keyes, OL Cole Jones, LB Preston Hodges, DB Luke Murphy along with juniors WR Jayden Ballard, DL Caiden Woullard and P Magnus Haines. Second-Team selections were seniors OL Alejandro Salazar, DL Manny McElroy, DL Ethan Tobin, LB Ben Krichbaum, DB Robbie Page and junior WR Andrew Wilson-Lamp. Longwell was named the District Offensive Player of the Year. He holds the school records for most completions, passing yards and passing touchdowns in a career. He has offers from Ball State and Buffalo. Murphy has verbally committed to Kent State. Keyes has offers from Kent State, Akron and Central Michigan. Ballard is a rising star who has committed early to Ohio State. Classmate Wilson-Lamp has offers from Pitt, West Virginia and Iowa State. Junior OL Terrence Rankl has several MAC offers and one from Cincinnati.
La Salle is a three-headed monster on offense with Greater Catholic League South Co-Offensive Player of the Year, RB/LB Cam Porter, QB Zach Branam and sophomore RB/LB Gi'Bran Payne. Porter, a Northwestern commit has a team-high 17 touchdowns (15 rush) to go along with 850 yards rushing and another 310 yards receiving on 22 catches. He is the lone remaining letterman from the Lancers' state championship team back in 2016. In his first year as the starter Branam has thrown for 1,616 yards, run for 1,228 yards and accounted for 35 touchdowns (21 passing, 14 rushing). Payne has become a force on both sides of the ball with 1,159 all-purpose yards (661 rushing), 12 total touchdowns, 36 total tackles, four sacks (all in the playoffs) and two interceptions, including a pick six. DeVonte Smith, Jaymar Hargrove-Mundy, Iesa Jarmon and Jaylen Johnson make up arguably the best secondary in Ohio. Their matchup versus the Massillon Washington receivers will be one of the game's best. Hargrove-Mundy has a team high six interceptions.
TEAM TRENDS: Massillon Washington is the finals for the fifth time. They have never won a title. This is the Tigers 26th playoff appearance. They are 39-25 overall in the playoffs.
La Salle is 21-1 in its last 22 playoff games. The Lancers have won five in a row. The combined record of those foes, 55-9. La Salle is seeking its fourth state title in the last six years. This is the ninth postseason appearance for the Lancers. They are 21-5 overall in the playoffs.
MASSILLON WASHINGTON'S KEYS TO VICTORY: The Tiger are no strangers to big games. This is a program that has unfinished business to take care of and a menacing home crowd advantage to help get it done. Massillon Washington just needs to stick to what it does best and not beat themselves.
LA SALLE'S KEYS TO VICTORY: A daunting task lies ahead of the Lancers. The offense will need contributions from more than just Porter, Branam and Payne. Defensively, senior leadership has shown through in the playoffs and that needs to continue. If this game comes down to kicking you have to like La Salle behind Jake Seibert's leg.
Prediction: Massillon Washington 21, La Salle 16
*Pairing listed with record and final Associated Press rank.
Be sure to follow @TSFootball for updates all week long & catch Blitz 5 Friday nights at 11PM on WLWT-TV Channel 5 for the best high school football playoff coverage in the city!