Sophomore Yoon Sets New Bar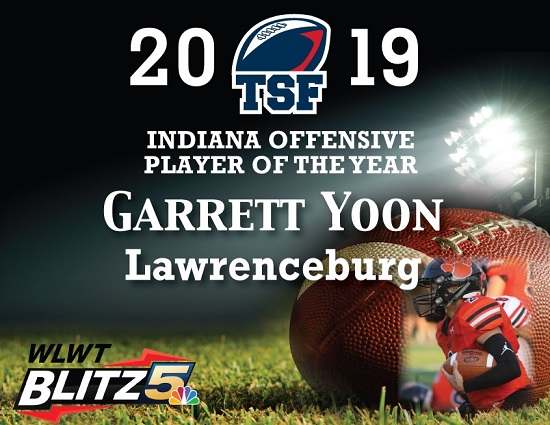 Lawrenceburg reeled off 11 straight wins and captured the schools 19th sectional title (third in the last four years) after losing tits 2019 opener to rival East Central Fueling the Tigers offense was quarterback Garret Yoon. The sophomore's play earned him 2019 TriState Football Indiana Offensive Player of the Year honors as TSF paid tribute to finest from Cincinnati, Northern Kentucky, Dayton and Southeast Indiana area's high school gridiron at the Year in Review Show on Monday night, in front of a packed house at the Holy Grail, downtown Cincinnati. He becomes the first sophomore earn this honor.
This past fall, Yoon amassed 3,324 yards of total offense (2,332 pass, 992 rush) and accounted for 40 touchdowns (28 pass, 12 rush). His work also garnered EIAC 3A OPOY accolades. Yoon heads into his junior year with 4,470 yards passing, 1,686 yards on the ground, 42 touchdown tosses and 24 rushing scores.
TriStateFootball.com was founded in 2005 and started its postseason awards for Indiana Offensive Player of the Year in 2010. Yoon becomes the third player from Lawrenceburg to win the award.
Indiana Offensive Players of the Year
2019 – Garrett Yoon (Lawrenceburg)
2018 – Alex Maxwell (East Central)
2017 – Mitchell Orschell (Franklin County)
2016 – Austin Bowling (Lawrenceburg)
2015 – Luke Patton (East Central)
2014 – Luke Patton (East Central)
2013 – Sam Fette (Lawrenceburg)
2012 – Chad Banschbach (Lawrenceburg)
2011 – Chad Banschbach (Lawrenceburg)
2010 – Connor Kelley (Batesville)