Stephens Earns More Accolades for Springfield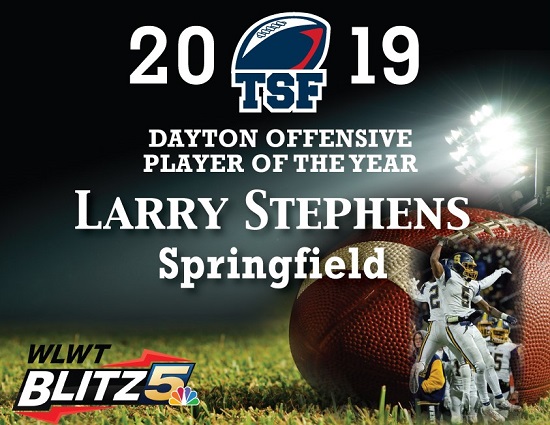 Larry Stephens was a menace for opposing defenses as he helped propel Springfield (12-2) to its first ever regional title. His effort saw him be named the 2019 TriState Football Dayton Offensive Player of the Year as TSF paid tribute to finest from Cincinnati, Northern Kentucky, Dayton and Southeast Indiana area's high school gridiron at the Year in Review Show on Monday night at the Holy Grail, downtown Cincinnati.
Stephens had 58 receptions for 1,127 yards, 13 touchdown catches and 1,456 all-purpose yards. He was named 2019 OPSWA Division I First Team All-Ohio, GWOC Offensive Player of the Year and First Team All-TSF for his work. Stephens, a Toledo signee ends his Wildcats career with 92 receptions for 1,718 yards, 19 receiving touchdowns and 2,521 all-purpose yards.
Other finalists included seniors Quincy Johnson Jr. (Chaminade Julienne), Keaton Kesling (Northmont), Brendan Lamb (Clinton-Massie), AJ Lovin (Milton-Union), Brayden Siler (Troy), Jeff Tolliver (Springfield) and Braden Woods (Franklin).
TriStateFootball.com was founded in 2005 and started its Dayton postseason awards in 2009. Stephens becomes the first Springfield player to ever be named the TSF Dayton Offensive Player of the Year.
Dayton Offensive Players of the Year
2019 – Larry Stephens (Springfield)
2018 – Jaydon Culp-Bishop (Troy)
2017 – Raveion Hargrove (Trotwood-Madsion)
2016 – Ryan Montgomery (Franklin)
2015 – Elijah Cunningham (Springboro)
2014 – D'Mitrik Trice (Wayne)
2013 – Bayle Wolf (Clinton-Massie)
2012 – Bayle Wolf (Clinton-Massie)
2011 – Israel Green (Trotwood-Madison)
2010 – Braxton Miller (Wayne)
2009 – Antwan Gilbert (Trotwood-Madison)