2020 Snapshot: Anderson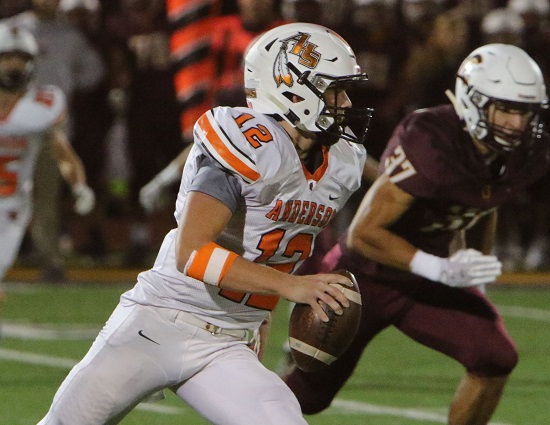 Anderson QB Jackson Kuhn (photo by Dan Bieneke/TriStateFootball.com)
The pains of missing the playoffs last season still sting a bit for Anderson. The Redskins won seven games including going 6-1 for a second-place finish in the Eastern Cincinnati Conference. Unfortunately, Anderson still found itself one of six teams in Region 8 with a winning record that didn't get to play in Week 11.
The region shows no mercy for its coveted eight postseason spots and this fall will be no different. The ECC will be loaded with the additions of juggernaut Winton Woods, Division I Lebanon and Little Miami who has made the playoffs the past two years. Gone is Withrow, who went a combined 7-35 in conference play during its six seasons in the ECC.
Anderson has been a force offensively under head coach Evan Dreyer. Scoring will not be a problem for this squad. "We have experience at the skill positions on offense and defense. We lack experience at the line of scrimmage," states Dreyer. How this team plays in the trenches will be pivotal to its success.
The Redskins have always won the games they are supposed to, under Dreyer. The hard part has been getting over the hump and winning more consistently against upper echelon competition.
The first seven games on the schedule are brutal. They will tell much about Anderson and if it can take that next step versus top competition. A 5-2 start or better should see the Redskins fulfill their playoff aspirations in 2020.
Division II, Region 8
2019 RECORD: 7-3, 6-1 ECC
COACH: Evan Dreyer (33-13 at Anderson, four years; 77-41 overall, 11 years)
HONOR ROLL
Jackson Kuhn, Sr, QB – Threw for 2,095 yards, ran for 311 yards and accounted for 25 touchdowns (20 pass, five rush) with only seven interceptions in eight games as a junior. Kuhn earned OPSWA Division II Second Team All-Southwest District for his efforts.
Billy Knott, Sr, DB – Came up with eight takeaways (six INTs, two FRs) to earn First Team All-ECC accolades in 2019. That activity all happened over the last seven weeks of the season including three contests with two takeaways. The Redskins were 5-0 in games that Knott had a takeaway.
Andrew Williams, Sr, RB – A dual-threat out of the backfield, Williams is poised to have a monster senior campaign. He ran for 575 yards, caught 21 balls for 215 yards and found the end zone 12 times (eight rush, four rec) last season. He was named Second Team All-ECC for the work.
Noah  Habig, Sr, OL – The 6-foot-3, 240-pound anchor up front will be leaned upon heavily by a raw group of Anderson offensive linemen. Habig was a Second Team All-ECC selection as a junior.
Casey O'Toole, Jr, LB – The rising star of the Redskins defense, O'Toole has ECC Defensive Player of the Year potential. He was named Second Team All-ECC after recording five sacks and recovering a fumble as a sophomore.
OTHER RETURNEES
Up front on offense, Anderson will look for seniors Habig and OL Ethan Ellington to provide leadership and stability. Classmate WR Jerick McClanahan came on strong last season with 17 of his 24 receptions over the Redskins last four games. McClanahan finished with 408 yards and four touchdowns receiving.
Seniors LB Andrew Azeez and LB Mitch Dinkins join O'Toole to make the linebacking unit the strength of the Redskins defense. Azeez had four sacks a year ago.
NEWCOMERS
It will a huge bonus if DL Cole Hinkle and junior DL James Ossoski can show that they can shine under "Friday Night Lights. The Redskins are high on TE Brody Foley and WR Joey Faulkner. Foley is a Division I prospect. Now, he must prove it on the field.
PLAYOFF HISTORY
(13 appearances, 15-12) – 2018, 2017, 2016, 2009, 2008 (State Runner-up), 2007 (State Champion), 2003, 2002, 2001, 2000, 1996, 1994, 1992
2020 SCHEDULE
Fri – 08/28/20 – SIMON KENTON (KY) – 7:00 PM
Fri – 09/04/20 – at Clinton-Massie – 7:00 PM
Fri – 09/11/20 – at Little Miami – 7:00 PM
Fri – 09/18/20 – KINGS – 7:00 PM
Fri – 09/25/20 – at Lebanon – 7:00 PM
Fri – 10/02/20 – WEST CLERMONT – 7:00 PM
Fri – 10/09/20 – at Winton Woods – 7:00 PM
Fri – 10/16/20 – MILFORD – 7:00 PM
Fri – 10/23/20 – at Loveland – 7:00 PM
Fri – 10/30/20 – TURPIN – 7:00 PM
TOUGH LUCK
Twelve of the 13 Anderson losses under Dreyer have come to teams that went on to make the playoffs. Those 12 postseason qualifiers went a combined 90-28 for .763 winning percentage.

LIGHTING UP THE SCOREBOARD
In 46 games under Dreyer, the Redskins have scored 40 points or more 25 times. Anderson is averaging 38.2 points per game with Dreyer on the sidelines.