2020 Snapshot: Milford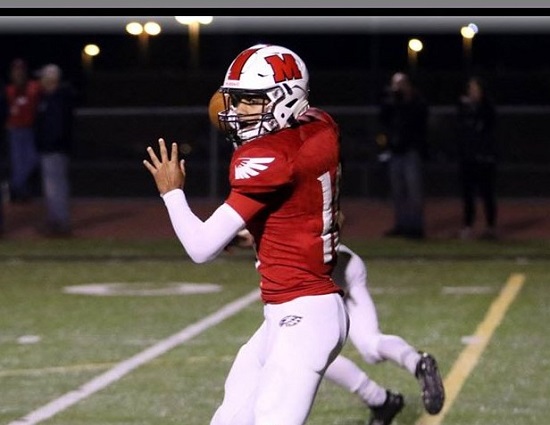 Milford WR/QB Vince Ringland (photo courtesy of ScoutingOhio.com)
Success isn't easy to sustain when you have a program that is in its infancy of learning how to win consistently. Milford sputtered in 2019 after back-to-back playoff appearances.
"We were terrible. We played 8-9 sophomores every game, but we will rebound and contend for the ECC title," head coach Tom Grippa laments about last season and his team's future.
Getting back on track will be an uphill battle as the league is deeper than it has ever been with the additions of Little Miami, Lebanon and Winton Woods. Seven wins should be enough to get Milford into the playoffs. Even if they don't make the postseason, accomplishing that feat (seven wins) will still make this a successful campaign.
Grippa is nearing a milestone. He is five wins away from 200 in his career. You can expect the Eagles to work hard to help their coach achieve that goal.
Division I, Region 4
2019 RECORD: 3-7, 1-6 ECC
COACH: Tom Grippa (20-13 at Milford, three years; 195-111 overall, 29 years)
HONOR ROLL
Vince Ringland, Sr, WR/QB/P – A versatile weapon, Ringland was named OPSWA Division I Second Team (P) and First Team All-ECC (WR) in 2019. He had a team high 10 touchdowns (five rush, five receiving) to go along with, 291 yards passing (one passing TD), 179 yards rushing, 22 receptions and 441 yards receiving.

OTHER RETURNEES
Caleb Johns, Sr, RB/LB – A three-year starter, Johns came up big on both sides of the ball as a junior. He finished with 297 yards and four touchdowns rushing on offense. Defensively, Johns recovered a fumble and had a 36-yard pick six in seven games.
Johnny Mickler, Sr, DE/TE – Look for the 6-foot-4, 260-pound Mickler to be a difference-maker, on the edges, on both sides of the line.
Mark Gibson, Sr, OL – A two-year starter, Gibson is the strongest player on the team. He is the anchor of the o-line.
Hayden Harvey, Sr, OL/DL – The 6-foot-1, 260-pound Harvey is back for his second season as a starter. He finished last season with 0.5 sacks and two fumble recoveries.

NEWCOMERS
Tofa Luani, Fr, RB/LB – Rarely do freshmen make an impact in a league like the ECC but the 6-foot-1, 210-pound, Luani has all the tools to be that player for the Eagles.
PLAYOFF HISTORY
(three appearance, 1-3) – 2018, 2017, 1986
2020 SCHEDULE
Fri – 08/28/20 – EDGEWOOD – 7:00 PM
Fri – 09/04/20 – @Dunbar – 7:00 PM
Fri – 09/11/20 – WALNUT HILLS – 7:00 PM
Fri – 09/18/20 – at Turpin – 7:00 PM
Fri – 09/25/20 – LOVELAND – 7:00 PM
Fri – 10/02/20 – WINTON WOODS – 7:00 PM
Fri – 10/09/20 – at Little Miami – 7:00 PM
Fri – 10/16/20 – @Anderson – 7:00 PM
Fri – 10/23/20 – LEBANON – 7:00 PM
Fri – 10/30/20 – at West Clermont – 7:00 PM
LIGHTING UP THE SCOREBOARD
In 13 of their 33 games (Including the forfeit win over Princeton in 2018) under Grippa, Milford has allowed 34 points or more. In that same span, 20 times the Eagles and their opponents have combined to score 53 points or more in a game.