2020 Snapshot: Northwest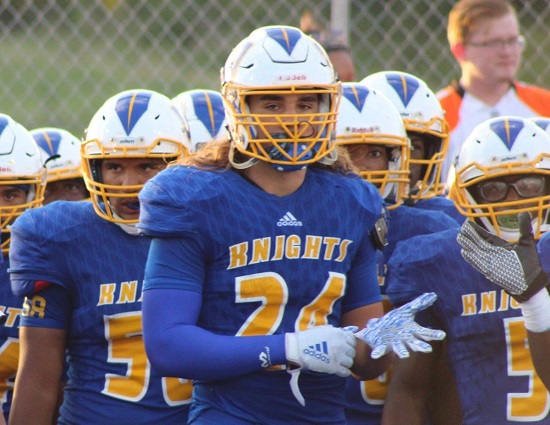 Northwest LB Diego Neri
The best thing about last season for Northwest is that is over and in the past. The Knights just didn't have enough horses and depth to be competitive week in and week out. Northwest is trying to avoid a fourth consecutive losing campaign.
This fall Northwest should be much improved on defense. A young unit allowed 37.0 points per contest in 2019. Linebacker Diego Neri is a special player, but he can't do it all. Neri will need his brothers in arms to step it up.
The offense must get better for this team to make a run at the playoffs. Northwest averaged just 12.5 points per game a year ago. They never scored more than 21 points and had just 15 offensive touchdowns. The quarterback position is a question mark and will lack experience. Whomever wins the job must play like a veteran for the Knights to be successful.
It is going to take a herculean effort to turn things around. The core players are there to get that done. It will take attention to detail and everyone down to the water boy giving it their all on Friday nights.
Division III, Region 12
2019 RECORD: 1-9, 0-6 SWOC
COACH: Lee Johnson (14-26 at Northwest, three years; 14-26 overall)
HONOR ROLL
Diego Neri, Sr, LB – Arguably the best player to come out of Northwest since former NFL stud, Preston Brown. Neri is a two-time Division III OPSWA First Team All-Southwest District selection who was also named Honorable Mention All-Ohio in 2019. He has 266 total tackles, four-and-a-half sacks, six forced fumbles, five fumble recoveries, a fumble recovery for a score and one interception return for a touchdown in his career. The 6-foot-4, 240-pound linebacker has verbally committed to Central Michigan.
Owen Massung, Sr, LB – Recorded 23 total tackles, registered four sacks and had two fumble recoveries for touchdowns as a junior. He was named second team All-SWOC for his efforts.
Kevon Grant, Sr, WR – Averaged 23.9 yards on 19 receptions for 454 yards and five touchdowns in 2019. Grant was named Honorable Mention for his work.
TOP RETURNEES
Kamare Frye, Jr, DB – The best is still to come for Frye who is drawing interest at the college level. Limited to just six games a year ago, Frye still ran for two touchdowns and was in on 12 total tackles.
Nick Moore, Jr, OL – The 6-foot-2, 235-pound Moore is a big physical lineman with a bright future.
Kenyon Smith, Jr, DL – Had a breakout year in 2019 with 21 total tackles in six games. The Knights coaching staff expects even more out of Smith as a junior.
NEWCOMERS
Darrion Montgomery, Jr, B/LB – A transfer from North College Hill, Montgomery will compete for the starting quarterback job.
PLAYOFF HISTORY
(four appearances, 1-4) – 2014, 2013, 2012, 1990

2020 SCHEDULE
Fri – 08/28/20 – at Taft – 7:00 PM
Fri – 09/04/20 – TURPIN – 7:00 PM
Fri – 09/11/20 – at Kings – 7:00 PM
Fri – 09/18/20 – EDGEWOOD – 7:00 PM
Fri – 09/25/20 – AIKEN – 7:00 PM
Fri – 10/02/20 – LITTLE MIAMI – 7:00 PM
Fri – 10/09/20 – at Ross – 7:00 PM
Fri – 10/16/20 – MOUNT HEALTHY – 7:00 PM
Fri – 10/23/20 – at Talawanda – 7:00 PM
Fri – 10/29/20 – at Harrison – 7:00 PM
TIGHTENING IT UP ON DEFENSE
Northwest gave up 375.0 yards of total offense per game in 2019. Nine foes put up more than 300 yards of total offense. The Knights gave up 214.4 yards rushing per contest including three of their final four opponents putting up 400 yards-plus on the ground.