By The Numbers: Corey Kiner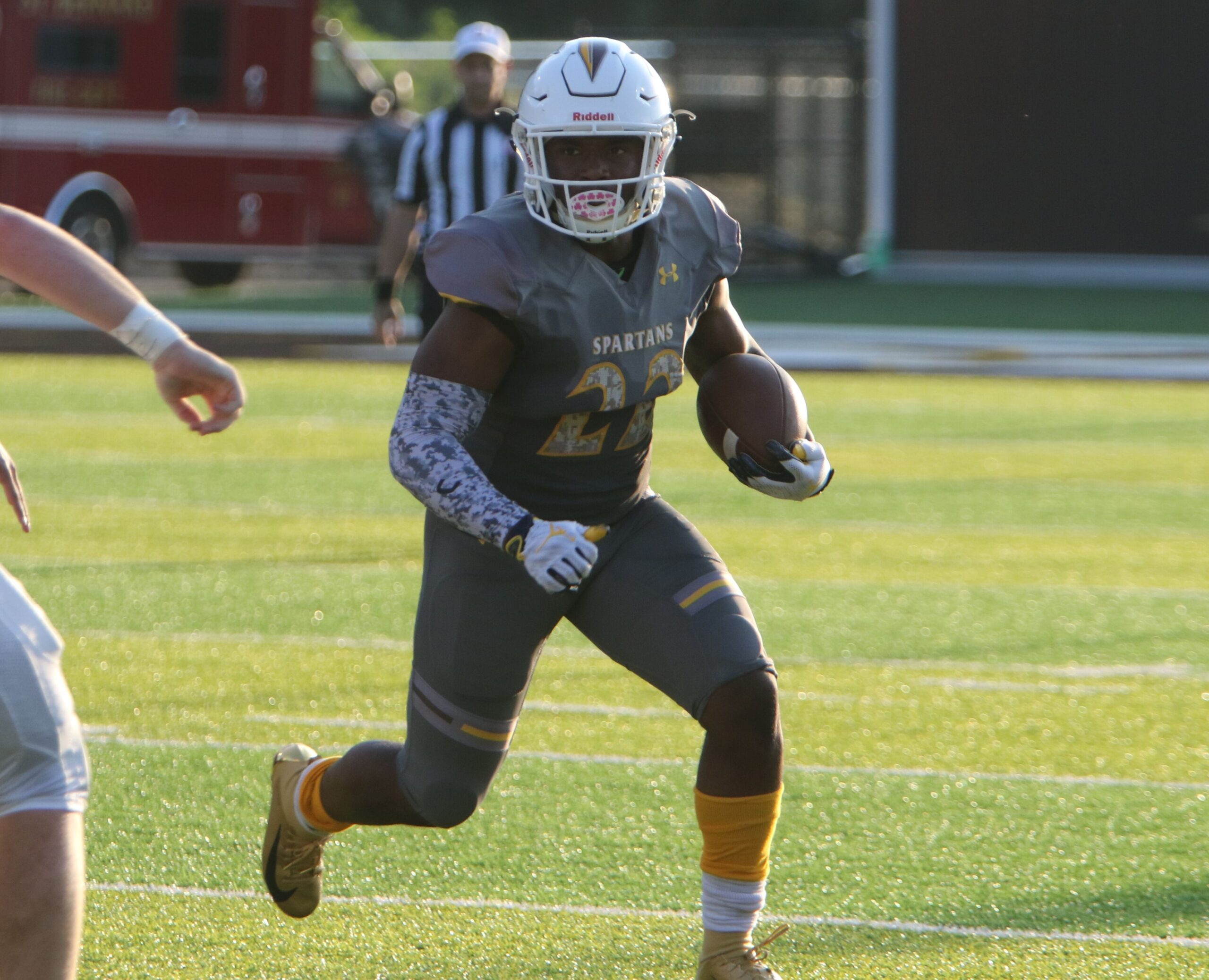 Roger Bacon RB Corey Kiner (photo by Dan Bieneke/TriStateFootball.com)
It didn't take long to know that Corey Kiner was going to be special. In Week 2 of his freshman year Kiner ran for then a Roger Bacon record 302 yards with five touchdowns in a win over Western Hills. He showed his grit and dogged determination that night on his 32 carries with a long of just 25 yards. Those attributes have only gotten better as Kiner heads into his senior season etching his way into history.
The honors and records are building up for Kiner who was named 2019 OPSWA Division IV First Team All-Ohio, Southwest District Co- Offensive Player of the Year, OPSWA First Team All-Southwest District (for a third straight season), MVC Scarlet Offensive Player of the Year, First Team All-TriState Football (RS) and TSF Cincinnati OPOY finalist (for a second straight season).
As a junior, Kiner crushed the school record books with 2,298 yards rushing, a 12.1 yards per carry average, 40 rushing touchdowns, 44 total touchdowns, 278 points scored (14th best in a season in Ohio history) and 2,943 all-purpose yards (300+ yards in each of the last four games of the season). He ran for 200 yards or more seven times in his last eight games including more than 300 against playoff teams CHCA (8-3) and Summit Country Day (8-2).
Kiner goes into 2020 with 5,264 yards rushing, 81 rushing touchdowns (tied for 20th all-time in Ohio), 88 total touchdowns (25th all-time in Ohio), 6,804 all-purpose yards and 548 points scored – all Roger Bacon records. His offers include Arkansas, Cincinnati, Indiana, Kentucky, Louisville, LSU, Michigan, Michigan State, Minnesota, Missouri, Notre Dame, Ohio State, Penn State, Pitt, South Carolina, Tennessee, Texas A & M, Toledo, USC, Vanderbilt & Wisconsin.
Here is a look at Kiner, By The Numbers.
1 – Punt return for a touchdown in his career
3 – Receiving touchdowns in his career
3 – Kickoff returns for touchdowns in his career
3 – Games with 300 yards or more rushing in his career
7 – Most rushing touchdowns in a game (CHCA 10/18/19)
7 – Games with at least five rushing touchdowns in his career
8 – Receptions as a sophomore & freshman
8 – Most total touchdowns in a game (CHCA 10/18/19)
8 – Games with 300 all-purpose yards or more in his career
9 – Receptions as a junior
13 – Games with 200 yards or more rushing in his career
14 – Games with at least three rushing touchdowns in his career
15 – Rushing touchdowns as a freshman
16 – Games with 200 all-purpose yards or more in his career
19 – Games with at least two rushing touchdowns in his career
23 – Games with 100 yards or more rushing in his career
25 – Receptions in his career
26 – Rushing touchdowns as a sophomore
31 – Games played in his career
40 – Rushing touchdowns as a junior
44 – Total touchdowns as a junior
81 – Rushing touchdowns in his career (tied for 20th all-time in Ohio)
88 – Total touchdowns in his career (25th all-time in Ohio)
99 – Most yards receiving in a game (at Chaminade Julienne 10/06/17)
110 – Yards receiving as a sophomore
122 – Yards receiving as a junior
126 – Yards receiving as a freshman
278 – Points scored as a junior (14th best season in Ohio history)
322 – Most yards rushing in a game (CHCA 10/18/19)
358 – Yards receiving in his career
338 – Total return yards as a senior (351 KR / 37 PR)
400 – Most all-purpose yards in a game (CHCA 10/18/19)
523 – Total return yards as a senior (358 KR / 165 PR)
548 – Points scored in his career
1,182 – Total return yards in his career (709 KR / 202 PR)
1,226 – Yards rushing as a freshman
1,623 – All-purpose yards as a freshman
1,740 – Yards rushing as a sophomore
2,238 – All-purpose yards as a sophomore
2,298 – Yards rushing as a junior
2,943 – All-purpose yards as a junior
5,264 – Yards rushing in his career