2020 Snapshot: Centerville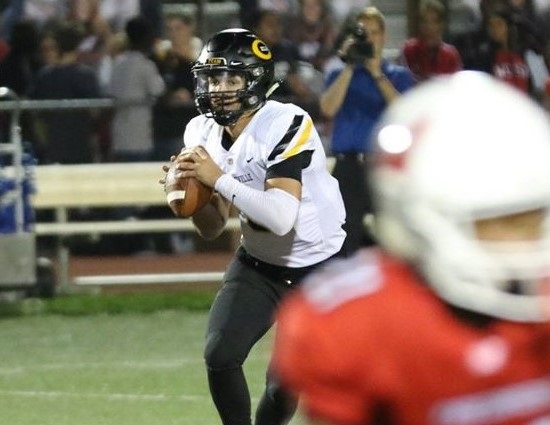 Centerville QB Chase Harrison (photo courtesy of ScoutingOhio.com)
The angst that goes along with growing pains has hampered Centerville the past two campaigns. A young group of starters a year ago are now seasoned veterans hungry to get the Elks back into the postseason.
The offense has the talent to be something special. There is explosiveness at quarterback and at receiver. This unit will light up the scoreboard. One question mark is at running back. The coaching staff is looking for someone to emerge that can keep the chains moving.  If a player can step up and answer that call this group will be close to being unstoppable.
Defensively, the Elks are experienced in the trenches. Putting more pressure on opponent's quarterbacks and getting into their backfields will be a key to this team's success. Centerville only had 11.0 sacks and forced just 10 turnovers in 2019. The more they can put the ball back in the hands of the Elks offense the better this season will go.
This program is set up for runs at playoff berths for at least the next couple of years. Now all that is left for Centerville to do is, prove it on the field. With four of the Elks first five tilts at home everything is aligned for them to jump start the process.
Division I, Region 2
2019 RECORD: 4-6, 2-2 GWOC American
COACH: Brent Ullery (16-16 at Centerville, three years; 16-16 overall)
HONOR ROLL
Will Jackson-Linkhart, Sr, WR – In his first year as an Elk after transferring from Beavercreek Jackson-Linkhart set the single season school records for receptions with 78, receiving yards at 1,017 and tied the top spot with 11 touchdown catches. He was named OPSWA Division I Honorable Mention All-Ohio and First Team All-Southwest District for his work.
Chase Harrison, Jr, QB – If Harrison makes the same kind of improvement that he did from his freshman year to his sophomore campaign it is going to be a dynamite season for the junior. Harrison threw for 2,458 yards, ran for 180 yards and accounted for 28 Touchdowns (24 pass, four rush) a year ago. He set the school record with five touchdown passes in a game against Miamisburg then turnaround and matched it the next week versus Beavercreek. Harrison was named OPSWA Division I Second Team All-Southwest District. Harrison has offers from Louisville, Toledo and Penn.
Jon Bruder, Sr, LB – OPSWA Division I Second Team All-Southwest District selection as a junior, Bruder is one of the top defensive players in the GWOC. Bruder has 175 total tackles, six sacks and an interception in his career.
Matthew Graveline, Jr, DB – A breakout sophomore season saw Graveline tally 35 total tackles recover a fumble and snare four interceptions. He was named Honorable Mention All-GWOC.
Cam Smith, Jr, WR – Hauled in 50 receptions for 633 yards and seven touchdowns to earn Honorable Mention All-GWOC honors as a sophomore. Don't be surprised if Smith puts up the kind of numbers that Jackson-Linkhart did a year ago.
OTHER RETURNEES
Protecting Harrison up front will be seniors OL Wyatt Osterhage, OL Alex Hardin, OL Tyler Dixon and junior OL Coby Castor. Senior WR/DB Nick Meade is a viable third option at receiver. He has 41 receptions and three touchdowns over the past two seasons.
On defense, senior DL Kris Artis, juniors DL Zane Worrell and DL Chad Lugo give the Elks a veteran presence along the d-line. Artis had 33 total tackles and two sacks in just seven games last fall.
PLAYOFF HISTORY
(16 appearances, 10-16) – 2017, 2014, 2013, 2011, 2010, 2009, 2008, 2007, 2005, 2004, 1999, 1998, 1993, 1991 (State Runner-up), 1986, 1984
2020 SCHEDULE
Fri – 08/28/20 – FAIRFIELD – 7:00 PM
Fri – 09/04/20 – MASON – 7:00 PM
Fri – 09/11/20 – NAPERVILLE NORTH (IL) – 7:00 PM
Fri – 09/18/20 – at Miamisburg – 7:00 PM
Fri – 09/25/20 – NORTHMONT – 7:00 PM
Fri – 10/02/20 – at Springboro – 7:00 PM
Fri – 10/09/20 – at Beavercreek – 7:00 PM
Fri – 10/16/20 – SPRINGFIELD – 7:00 PM
Fri – 10/23/20 – at Fairmont – 7:00 PM
Fri – 10/30/20 – WAYNE – 7:00 PM
PLAYING WITH THE BIG DOGS
The six teams that Centerville lost to a year ago were a combined 48-21 (.695 winning %). Five of those schools made the playoffs. They had a combined winning % of .756.
PROPERITY PIT STOP
Centerville is coming off back-to-back losing seasons for the first time in 45 years. The Elks were under .500 in 1973-74, the first two years of legendary head coach, Bob Gregg. The program would not lose more than two games in a season under Gregg, the 12 years that followed.