2020 Snapshot: Hamilton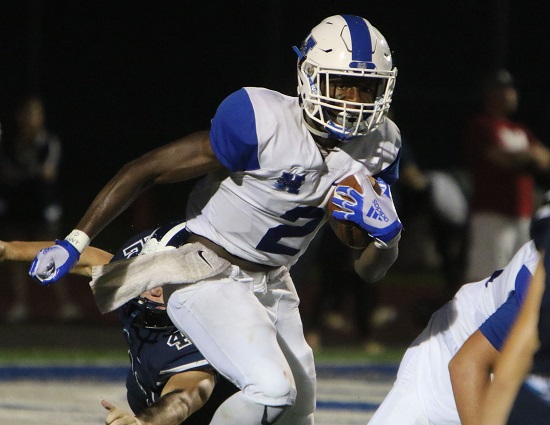 Hamilton RB Kaleb Johnson (photo by Dan Bieneke/TriStateFootball.com)
Returning back to his alma mater, head coach Nate Mahon led Hamilton to its fifth ever playoff appearance in his first season at the helm. As joyous as last year was, there is more work to do. The Big Blue still finished 5-6. That said, this is an exciting time to be a Hamilton fan.
"That taste of the playoffs has left this group hungry and excited for the 2020 season," Mahon states." We have a strong senior class that returns a lot of experience. Many of our returning starters played a lot last season."
What's not to like about an offense that returns its entire backfield. That includes a pair of running backs that have Division I scholarship offers. Expect the Big Blue to improve on the 22.7 points they averaged per game a year ago.
Defensively, the secondary and linebackers are a strength of the team. The biggest question mark will be up front on both sides of the ball. "We have to replace some key players on the defensive side of the ball and on our offensive line," Mahon says. There were some very good leaders that have departed from last seasons squad.
Mahon will have little trouble motivating this team. They want to finish above .500 as well as make back-to-back playoff appearances and win in the postseason for the first time in program history. Hamilton will be someone that opponents and their coaches will cringe playing against.
Division I, Region 4
2018 RECORD: 5-6, 3-5 GMC
COACH: Nate Mahon (5-6 at Hamilton, first year; 45-31 overall, seven years)
HONOR ROLL
Keyshawn Stephens, Sr, RB – Was named OPSWA Division I Second Team All-Southwest District for a second straight year in 2019. Stephens churned out 1,436 all-purpose yards (775 rush, 326 rec, 336 ret), had 22 receptions and found the end zone 14 times (11 rush, three rec) as a junior. Back for his fourth season as a starter, Stephens has 3,179 all-purpose yards, 2,186 rushing yards, 282 passing yards, 32 receptions for 396 yards, 597 total return yards, three passing touchdowns, three receiving touchdowns and 23 rushing scores at the varsity level. He has offers from Miami (OH) and Liberty.
Daryan Bowling, Sr, WR – A difference-maker is the passing game. Bowling had 28 receptions for 557 yards and four touchdown catches on his way to being named OPSWA Division I Honorable Mention All-Southwest District as a junior.
Jacob Harmon, Sr, OL/DL – A First Team All-GMC selection as a junior, Harmon is the anchor on both sides of the line. He has 45 total tackles with two-and-a-half sacks in his career.
Kaleb Johnson, Jr, RB – Was named Second Team All-GMC for a second straight year after running for 879 yards, amassing 1,040 all-purpose yards with nine rushing touchdowns. Johnson has offers that include Bowling Green, Iowa State, Miami (OH) and Toledo.
OTHER RETURNEES
Quincy Simms-Marshall, Sr, QB – Did a nice job of leading the offense as a junior. Simms-Marshall threw for 1,270 yards and 12 touchdowns. He should be even better this fall.
Jordan Jones, Sr, LB – One of the more underrated players in the GMC. Jones heads into his senior season with 124 total tackles and seven-and-a-half sacks.
Dillon Lee, Sr, LB – Has a real knack for finding loose balls. Lee recorded 54 total tackles, had a sack and recovered five fumbles in 2019. He has 110 total tackles in his career.
Dustin Brock, Sr, OL – Will be relied upon heavily to get the inexperienced linemen comfortable on Friday nights.
Corey Roberts, Sr, DL – Gets his chance to shine after tallying 11 total tackles with one-and-a-half sacks as a junior.
Blake Hawkins, Sr, TE/LB – Played in seven games, recorded 17 total tackles and had a fumble recovery last season. Hawkins will see more time at tight end this fall.
James Turner, Sr, DB – Back for his third year as a starter in the secondary. Turner has 57 total tackles in his career.
NEWCOMERS
The Hamilton coaching staff believes that senior FS/ATH Malik Verdon, junior LB Isaac Craft and sophomore WR Breon Ishmail will make immediate contributions for the team. This is the third school that Verdon has played for in the last four years. He has offers from Ball State, Central Michigan, Florida, Miami (OH), Mississippi State and West Virginia.
PLAYOFF HISTORY
(four appearances, 0-5) – 2019, 2010, 2001, 1997, 1994
2020 SCHEDULE
Fri – 08/28/20 – WEST CLERMONT – 7:00 PM
Fri – 09/04/20 – at Edgewood – 7:00 PM
Fri – 09/11/20 – PRINCETON – 7:00 PM
Fri – 09/18/20 – at Lakota West – 7:00 PM
Fri – 09/25/20 – FAIRFIELD – 7:00 PM
Fri – 10/02/20 – at Oak Hills – 7:00 PM
Fri – 10/09/20 – MASON – 7:00 PM
Fri – 10/16/20 – at Colerain – 7:00 PM
Fri – 10/23/20 – MIDDLETOWN – 7:00 PM
Fri – 10/30/20 – at Sycamore – 7:00 PM