Player Spotlight: Cam Hergott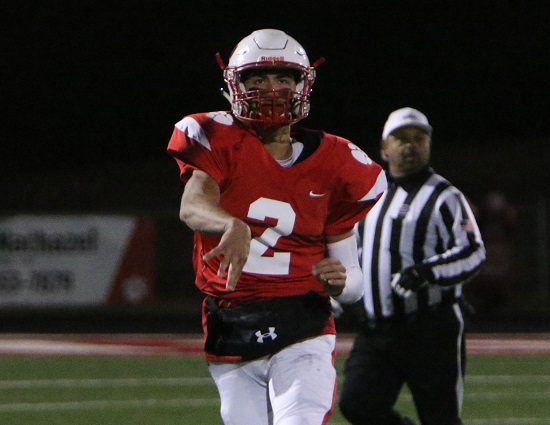 Beechwood QB Cam Hergott (photo by Dan Bieneke/TriStateFootball.com)
It is a head-scratcher how a player like Beechwood quarterback, Cam Hergott has yet to receive a Division I scholarship offer. The only drawback we can find, is that he plays small school football.
On the field, this dual threat signal-caller's numbers speak for themselves. Hergott threw for 2,076 yards, ran for 751 yards and accounted for 27 touchdowns (15 pass, 12 rush) last fall.
He heads into his senior season having amassed 5,045 yards of total offense (3,747 pass, 1,298 rush) while accounting for 58 touchdowns (39 pass, 19 rush). Hergott is 8-1 as a starter in the playoffs which includes helping guide the Tigers to the Kentucky Class 1A state title in 2018, as a sophomore.
Ask Beechwood head coach Noel Rash and he will tell you that Hergott checks off all the intangibles. "Cam is just so darn competitive, intensely competitive. His demeanor never changes, whether he throws a touchdown or an interception," Rash states. "Cam is soft spoken, but his teammates know who the leader is in the huddle." Grades are not a problem either, Hergott excels in the classroom with 3.6 GPA.
The is 6-foot-3, 185-pound Hergott has family pedigree. Older brother, Austin (6-foot-4/ 235-pounds) played quarterback for Highlands and is now a tight end at Central Michigan.
Rash says that Cam is drawing heavy interest from several MAC schools, yet no one has pulled the trigger on an offer. Rash believes, once one school offers others will follow. Not wanting to miss out on the opportunity to land such a talent. Wherever Hergott ends up you can bank on that school and its football program being in a better state with Cam's arrival.