2020 Snapshot: East Central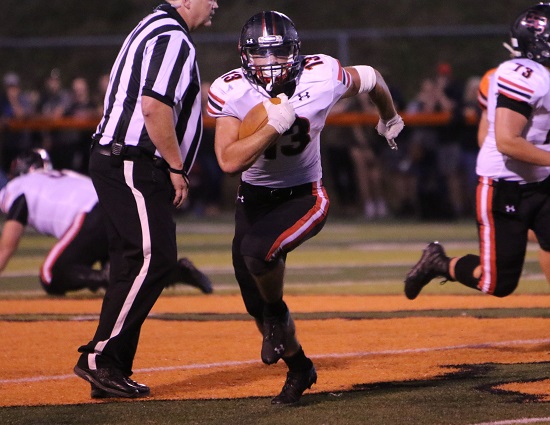 East Central RB Jake Fike (photo by Dan Bieneke/TriStateFootball.com)
It's hard to believe that a program as good as East Central has been, had its first undefeated regular season in 25 years last fall. The Trojans fell just short of winning their fifth consecutive sectional title a year ago. That's plenty of motivation to become even better in 2020.
East Central was very good in all phases of the game last season. On special teams, the Trojans return their kicker, Sophie Browndyke, running back/punter Jake Fike and Erik Perkins will handle return duties.
Last season, the offense averaged 38.8 points per game with an average margin of victory of 29.5 points. The Trojans had a seven week stretch where they scored 40 or more points. "We will run the football like we have in the past. Fike is a workhorse. We are looking for big things from him again this season," states head coach Jake Meiners.
On defense, there are holes to fill from a team that allowed just 9.3 points per game and held 11 of their 12 foes to 17 points or fewer with four shutouts in 2019. "We have to replace a ton of good defensive linemen. Guys will have to step up and solidify themselves as varsity football players," Meiners says.
This squad is going to be one of the favorites to bring home an Indiana Class 4A state championship. Depth and experience will not be a problem. The East Central program is in that wonderful position where it reloads (not rebuilds) on a yearly basis.
Class 4A, District 23
2019 RECORD: 11-1, 3-0 EIAC 4A
COACH: Jake Meiners (11-1 at East Central, one year; 11-1 overall)
TOP RETURNEES
Luke Collinsworth, Sr, OT – The 6-foot-6, 300-pound lineman is the #3 rated prospect in Indiana according to 247Sports. He was named IFCA Class 4A Junior All-State, First Team All-TSF and Class 4A All-EIAC (for a second straight season) in 2019. Collinsworth has verbally committed to Cincinnati.

Jake Fike, Sr, RB – It was a breakout junior campaign for Fike who ran for 1,679 yards and 29 touchdowns. He also averaged 39.0 on 26 punts (12 inside the 20) on his way to being named Class 4A All-EIAC (RB) and Third Team All-TSF (P). Fike has 2,380 all-purpose yards, 2,167 yards rushing, 12 receptions for 203 yards and 38 total touchdowns (37 rush) in a Trojans uniform.
Nate Griffin, Sr, LB – Back for his fourth year as a starter. Griffin was named Class 4A All-EIAC as a junior. He has 133 total tackles, 4.0 sacks and eight takeaways (two FRs, six INTs) in his career.
Kole Viel, Sr, LB – A three-year starter, Viel recorded 89 total tackles, had 10 tackles for losses, four sacks and recovered a fumble as a junior. The effort led to Class 4A All-EIAC honors.
Erik Perkins, Sr, WR/DB/KR – A do-it-all player who will fill the role vacated by Devon Donawerth. Perkins snared three interceptions to earn Class 4A All-EIAC acclaim as a junior.
Ryan Bond, Sr, QB – Did a great job of managing the game in his first season as a starter in 2019. Bond threw 1,436 yards and 18 touchdowns on his way to
Honorable Mention Class 4A All-EIAC accolades.
Sophie Browndyke, Jr, K – Coach Meiners calls Browndyke, "incredibly clutch." She was named Class 4A All-EIAC after connecting on 55/59 extra points and 5/8 field goals for 70 points as a sophomore.
NEWCOMERS
The Trojans will have many new faces along their lines with seniors DL Jackson Ibold, DL Parker Becknell, OL Logan Adams along with sophomores OL Phillip Schneider and OL Jacob Sedgebeer all looking to make their marks. Junior DB Sam Ringer should slide into a starting role in the secondary. Sophomore RB Trae Ohmer will back up Fike. His best days are probably a year away.
PLAYOFF HISTORY
(85-34 overall)
Sectional Champions (18) – 2018, 2017, 2016, 2015, 2010, 2009, 2005, 2003, 2002, 2000, 1998, 1996, 1994, 1993, 1992, 1989, 1987, 1985, 1980
Regional Champions (7) – 2017, 2016, 2015, 2003, 1998, 1994, 1993, 1985
State Champions (2) – 2017, 1994
2020 SCHEDULE
Fri – 08/21/20 – LAWRENCEBURG – 7:00 PM
Fri – 08/28/20 – at Oak Hills (OH) – 7:00 PM
Fri – 09/04/20 – at Harrison – 7:00 PM
Fri – 09/11/20 – FRANKLIN COUNTY – 7:00 PM
Fri – 09/18/20 – BATESVILLE – 7:00 PM
Fri – 09/25/20 – at South Dearborn – 7:00 PM
Fri – 10/02/20 – at Connersville – 7:00 PM
Fri – 10/09/20 – at Greensburg – 7:00 PM
Fri – 10/16/20 – RONCALLI – 7:30 PM
Fri – 10/23/20 – TBD: IHSAA Sectional 23 Playoffs