2020 Snapshot: Bethel-Tate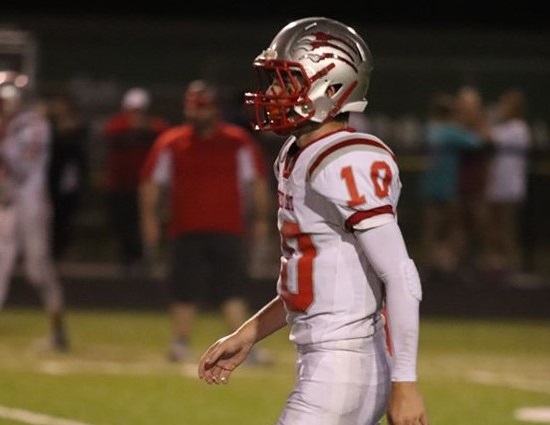 Bethel-Tate WR/DB Gauge Dunn (photo courtesy of facebook.com/BHSsportspage)
With a large cast of returnees, Bethel-Tate is positioned to make a run at the playoffs in 2020. Snatching one of the coveted eight postseason berths will take a monumental effort with juggernauts Wyoming, Clinton-Massie, Kenton, Indian Hill, Roger Bacon and Valley View in the region.
"We are returning almost every position. On offense, we graduated a quarterback, receiver, right tackle and center. On defense, we graduated no one," head coach Jeff Essig laments. "Last season the defense finished many of our games. With nearly the entire unit returning, we will look to them again, to lead this team."
Gone is the school's all-time leading passer, Alex Manz. "Quarterback will be one position to watch. There will be a lot of competition. I cannot wait to see how our guys react to it. We will be looking for someone who can not only play the position on the field, but also display the leadership skills needed for this position off the field as well," states Essig.
The Tigers won't be a team that gets rattled easy. "Experience will be a major strength. We have quite a few juniors who have had Friday night experience since their freshman seasons," says Essig.
Bethel-Tate has much going for it. That should work to their advantage not only during the regular season but in the playoffs. Come November, the Tigers should find themselves in a spot to win the program's first ever postseason game.
Division IV, Region 16
2019 RECORD: 6-4, 3-2 SBAAC National
COACH: Jeff Essig (25-16 at Bethel-Tate, four years; 25-16 overall)
TOP RETURNEES
Gauge Dunn, Jr, WR/DB – Going into his junior season, Dunn is already one of the most productive players in Bethel-Tate history. Dunn had 66 receptions, 920 receiving yards, 1,105 all-purpose yards, 12 total touchdowns (10 rec, two rush) and five takeaways (three INT, two FR) to earn OPSWA Division IV Honorable Mention All-Ohio accolades in 2019. He has 121 receptions, 1,508 receiving yards, 1,759 all-purpose yards and 20 total touchdowns (18 rec, two rush) in a Tigers uniform.
Eli Ryan, Sr, OL/DL – A relentless pest on defense, Ryan is coming off a First Team All-SBAAC National performance. He has 11.5 sacks at the varsity level.
Kyle Smith, Sr, WR/DE – Was second in the SBAAC with 11 sacks a year ago. That effort earned Smith Second Team All-SBAAC National for his work. Smith has 17.5 sacks in his career.
Norman "Bubba" Darnell Jr., Jr, RB/LB – A three-year starter, Darnell is the Tigers defensive signal-caller. He was named Second Team All-SBAAC National after tallying three-and-a-half sacks, recovering a fumble and snaring two interceptions as a sophomore.
Cole Grigsby, Sr, LB – Back for his third year as a starter, Grigsby had three-and-a-half sacks on his way to Second Team All-SBAAC National honors in 2019.
Jaycob Storer, Sr, WR – Was a Second Team All-SBAAC National selection as a junior. Stroer has 44 receptions, 500 receiving yards and three touchdowns at the varsity level.
Wyatt Burton, Jr, WR – Hauled in 30 balls for 431 yards and seven touchdowns on his way to Honorable Mention All-SBAAC National accolades in 2019.
Ethan Molloy, Jr, OL/DL – The 5-foot-9, 285-pound lineman is a rock in the trenches. Molloy was named Honorable Mention All-SBAAC National as a sophomore.
Logan Owens, Sr, RB/LB – Played a prominent role in the offense last fall running for 546 and two touchdowns. Owens also had 14 receptions for 96 yards. He has five career sacks on defense.       

PLAYOFF HISTORY
(two appearances, 0-2) – 2017, 2015
2020 SCHEDULE
Fri – 08/28/20 – at Bellbrook – 7:00 PM
Fri – 09/04/20 – NEW RICHMOND – 7:00 PM
Fri – 09/11/20 – SCOTT (KY) – 7:00 PM
Fri – 09/18/20 – BATAVIA – 7:00 PM
Fri – 09/25/20 – at CHCA – 7:00 PM
Fri – 10/02/20 – at East Clinton – 7:00 PM
Fri – 10/09/20 – at Clermont Northeastern – 7:00 PM
Fri – 10/16/20 – BLANCHESTER – 7:00 PM
Fri – 10/23/20 – at Williamsburg – 7:00 PM
Fri – 10/30/20 – FAYETTEVILLE-PERRY – 7:00 PM