2020 Snapshot: Batavia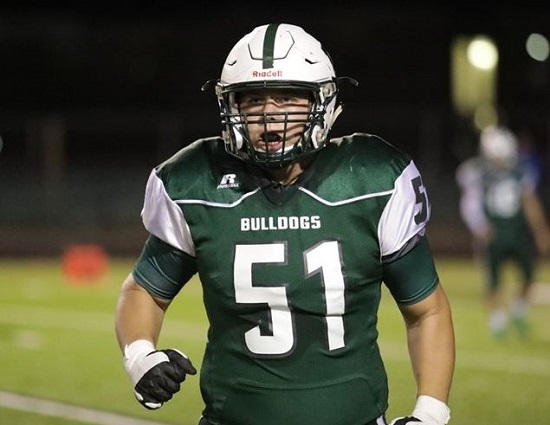 Batavia OL/DL Canaan Sheets (photo courtesy of facebook.com/BHSsportspage)
It was time to hit the reset button at Batavia. The Bulldogs were overmatched and lacked the depth to be competitive last fall.
New head coach Nick Schmidt brings a positive attitude and fresh look into the future. "As a first-year head coach there couldn't be a better situation of the buy-in from the administration, school, players, community and anyone involved with the program," Schmidt states. "This buy-in shows the overall yearning of the community and school to be successful."
There is nowhere to go but up for Batavia. The Bulldogs limp into 2020 having lost eight in a row, including being shutout in their last three tilts of the year. They were outscored in SBAAC American play by an average of 51.6 points to 2.8 points per game.
Under Schmidt the offense will run the option. On defense, the Bulldogs will line up in a stack scheme.
It is a long road ahead for Batavia but the mood is definitely upbeat. "The players and others can't wait to show how much work they've put in and how the foundation is being built on a daily basis," says Schmidt.
Division IV, Region 16
2019 RECORD: 1-9, 0-5 SBAAC National
COACH: Nick Schmidt (0-0 at Batavia, first year; 0-0 overall)
TOP RETURNEES
Luke Scaggs, Sr, RB/DB – Lead team with 449 rushing yards, 305 receiving yards (on 16 receptions) and touchdowns (four rushing) in 2019. He also had a fumble recovery and an interception on defense. Scaggs was named First Team All-SBAAC American for the effort.
Canaan Sheets, Sr, OL/DL – The 6-foot-4, 270-pound Sheets is the anchor in the trenches for the Bulldogs. He was named Second Team All-SBAAC American as a junior.
Nathan DeFrank, Sr, OL/DL – Was an Honorable Mention All-SBAAC American selection in 2019. DeFrank will be counted on for leadership on both sides of the line.
Drew Mentzel, Sr, QB/DB – Threw for 524 yards and four touchdowns on his way to Honorable Mention All-SBAAC American accolades as a junior.
Kellen Epps, Jr, WR/DB – The 6-foot-4 multi-sport athlete tied for the team lead with 16 receptions for 158 yards as a sophomore.
Max Applegate, Jr, QB/WR/DB – Started the last two games at quarterback as a sophomore. Applegate will play a major role on both sides of the ball for Batavia.

PLAYOFF HISTORY
(three appearances, 1-3) – 2012, 2003, 1999
2020 SCHEDULE
Fri – 08/28/20 – at Williamsburg – 7:00 PM
Fri – 09/04/20 – NORWOOD – 7:00 PM
Fri – 09/11/20 – CLERMONT NORTHEASTERN – 7:00 PM
Fri – 09/18/20 – at Bethel-Tate – 7:00 PM
Fri – 09/25/20 – FAYETTEVILLE-PERRY – 7:00 PM
Fri – 10/02/20 – at Wilmington – 7:00 PM
Fri – 10/09/20 – at New Richmond – 7:00 PM
Fri – 10/16/20 – at Clinton-Massie – 7:00 PM
Fri – 10/23/20 – GOSHEN – 7:00 PM
Fri – 10/30/20 – WESTERN BROWN – 7:00 PM