2020 Snapshot: Western Brown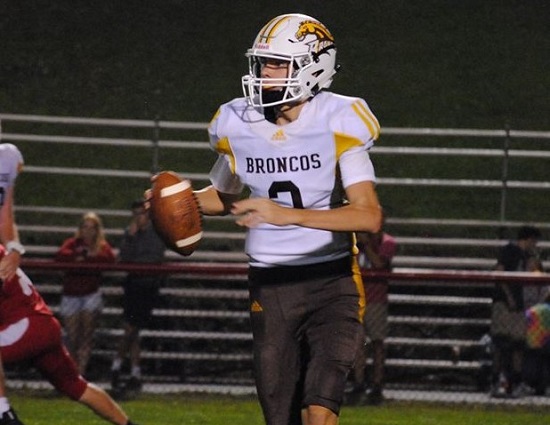 Western Brown QB Drew Novak (photo courtesy of Facebook.com/GoWBBroncos)
Just six years after graduating, Nick Osborne returns to his alma mater to become head coach at Western Brown. He will be on of the youngest head coaches in the entire state. Osborne looks to lead the Broncos, who haven't had a winning season since 2015, back to prosperity.
Western Brown returns an excellent receiving crew, strong offensive line and a sophomore quarterback who has a year under his belt as a starter. The Broncos will need to establish a running game in order to keep their opponents honest against their spread offense. Last fall the team only ran for 326 yards with four touchdowns in 10 games.
Defensively, Western Brown needs to be more consistent. They had a stretch of seven straight games where they allowed 34 points or more in 2019.
Foes pounded the ball in the run game against the Broncos. It is an area that will need vast improvement if the program wants to return to its winning ways that Osborne enjoyed as a player. Western Brown was a 27-5 in his three years as a starter. The Broncos have won just 18 contests in the five seasons since.
Division III, Region 11
2019 RECORD: 2-8, 2-3 SBAAC National
COACH: Nick Osborne (0-0 at Western Brown, first year; 0-0 overall)
HONOR ROLL
Will Sizer, Sr, OL/LB – The four-year starter is the heart and soul of the Broncos. Sizer was named Second Team All-SBAAC American for the second time in 2019.
Gary Powell, Sr, WR/LB – Earned Second Team All-SBAAC American honors after catching 28 balls for 395 yards and a touchdown in 2019. Powell has 54 receptions for 770 yards and four touchdowns in his career.
Taylor Hayes, Sr, OL – The very experienced Hayes will be counted on for leadership up front. He was an Honorable Mention All-SBAAC American selection as a junior.
OTHER RETURNEES
Drew Novak, So, QB – The best thing about freshmen is that they become sophomores. Novak threw for 2,112 Passing Yards and 14 touchdowns in his varsity debut. Look for even bigger things out of him this fall.
Logan Campbell, Jr, WR – Headx into his junior campaign with 57 receptions, 554 receiving yards and four touchdown catches in a Broncos uniform.
Cade Chisman, Sr, DB – A three-year starter, Chisman will need to step up in a young and inexperienced secondary.
Andre LaJoye, Sr, LB – Returns for a third season as a starter. LaJoye has all-league potential.
NEWCOMERS
Dylan Novak, Jr, WR – Played in just six games as a sophomore and hauled in 15 balls for 90 yards. Novak had five games with at least two receptions.
Dakota Luther, Jr, LB – Will get every opportunity to crack the starting lineup at linebacker.
Bryson Chambers, Sr, WR – The transfer from Milford will be a great addition to the spread offense. He caught five balls for 37 yards and a touchdown in four games as a junior.

PLAYOFF HISTORY
(three appearances, 0-3) – 2014, 2013, 2008
2020 SCHEDULE
Fri – 08/28/20 – HILLSBORO – 7:00 PM
Fri – 09/04/20 – at Gallia Academy – 7:00 PM
Fri – 09/11/20 – at Ross – 7:00 PM
Fri – 09/18/20 – at Jackson – 7:00 PM
Fri – 09/25/20 – MIAMI TRACE – 7:00 PM
Fri – 10/02/20 – NEW RICHMOND – 7:00 PM
Fri – 10/09/20 – CLINTON-MASSIE – 7:00 PM
Fri – 10/16/20 – at Goshen – 7:00 PM
Fri – 10/23/20 – WILMINGTON – 7:00 PM
Fri – 10/30/20 – at Batavia – 7:00 PM