2020 Snapshot: Ross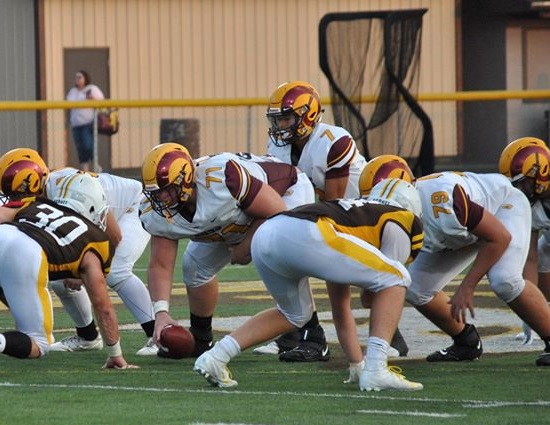 Ross QB CJ Boze (7) (photo courtesy of Facebook.com/GoWBBroncos)
It is the land of smash mouth football at Ross. The Rams make no bones about what they do on offense. They come at their foes in relentless fashion with their triple option scheme.
That tenacity led to the programs first playoff appearance in eight years last fall. Ross averaged 355.1 yards per game rushing. They threw the ball just 17 times all season (nine completions of which four went for touchdowns). With eight starters returning the Rams offense is going to be a load to handle.
With the confidence high and the expectations large, Ross looks to do something that has never been done before in the history of the program, make the playoffs in back-to-back seasons.
"Culture, experience, and overall team strength will be our biggest asset this year.  We have a lot of seniors who will end up being two-and-three-year varsity players," says head coach Kenyon Commins. "They've been through and seen a lot. Those experiences will prove to be invaluable on Friday nights this fall. This was the freshman class when my staff and I got the Ross job, so it's been nice to grow with them."
Ross returns six starters from a defense that allowed 26.7 points per contest. defense. Commins would like to see this side of the ball tighten up. "We will be young at some spots defensively, particularly at the linebacker position.  Replacing some of the senior defensive leaders from last year may prove to be difficult. We are going to have a lot of competition for spots. We will need to figure out who has risen to the top quicker than usual given our current and future worldly conditions."
The Rams should take the next step in 2020 and contend for a conference title. Even sweeter would be to make it to the postseason and bring home the school's first-ever playoff win.
Division III, Region 12
2019 RECORD: 8-3, 4-2 SWOC
COACH: Kenyon Commins (14-17 at Ross, three years; 14-17 overall, three years)
HONOR ROLL
Kaden Rogers, Sr, OL – A three-time team captain, Rogers is a stud up front. He was named OPSWA Division III Special Mention All-Ohio and First Team All-Southwest District last fall. The 6-foot-3, 283-pound Rogers currently has offers from Air Force, Akron, Army, Ball State, Buffalo, Central Michigan, Eastern Michigan, Kent State, Liberty, Marshall, Miami (OH), Navy, Ohio, Toledo and Western Michigan.
Casey Redemeier, Sr, DB – A defensive leader and centerpiece of the secondary. Redemeier earned OPSWA Division III Second Team All-Southwest District accolades after snaring five interceptions and getting in on 30 total tackles in 2019.
CJ Boze, Sr, QB – Has been a great decision maker for the Rams offense the last two seasons. Boze led the SWOC in rushing with 1,233 yards and found the end zone 12 times in 2019. The effort earned him Second Team All-SWOC honors.
Jackson Gifford, Sr, FB – The engine that revs the Rams offense. Gifford ran for 1,206 yards and 16 touchdowns to earn OPSWA Division III Second Team All-Southwest District honors as a junior.
Tanner Meale, Sr, TE/DL – A team leader who works side by side with Rogers on the o-line. Meale was named Second Team All-SWOC as a junior. He was also in on 22 total tackles, with one-and-a-half sacks and a forced fumble.
Griffin Peacock, Sr, OL – The 6-foot-4 and 240-pound lineman is looking to play at the next level. Peacock was a Second Team All-SWOC selection in 2019.
Will Mischke, Sr, OL – The 6-foot-2, 255-pound Mischke is the strongest player on the team hands down. He was named Honorable Mention All-SWOC last season.
OTHER RETURNEES
Landon Herrmann, Jr, OL – Is gaining lots of NCAA interest and camp invites. Expect offers to start coming for Hermann soon.
Tanner Smith, Sr, MLB/P – Started every game at middle linebacker in 2019. Smith tallied 49 total tackles with a sack. He also averaged 38.6 on 16 punts.
Bruno DiAngelo, Sr, DL – The most intelligent player on the team. DiAngelo was in on 22 total tackles and had half a sack as a junior.
NEWCOMERS
With five spots open on defense juniors DL Trey Campbell, DB Andrew Hodge, ATH Brayden Fraasman and sophomore RB/LB Bryson Bastin will get their chance to crack the starting lineup. Bastin and Fraasman will also see snaps on offense. Frassman averaged 9.8 yards on 19 carries for 186 yards and threw a touchdown on his only passing attempt as a sophomore.
PLAYOFF HISTORY
(seven appearances, 0-7) – 2019, 2011, 2009, 2001, 1997, 1995, 1993
2020 SCHEDULE
Fri – 08/28/20 – BADIN – 7:00 PM
Fri – 09/04/20 – at Monroe – 7:00 PM
Fri – 09/11/20 – WESTERN BROWN – 7:00 PM
Fri – 09/18/20 – THURGOOD MARSHALL – 7:00 PM
Fri – 09/25/20 – MOUNT HEALTHY – 7:00 PM
Fri – 10/02/20 – at Northwest – 7:00 PM
Fri – 10/09/20 – at Talawanda – 7:00 PM
Fri – 10/16/20 – at Harrison – 7:00 PM
Fri – 10/23/20 – EDGEWOOD – 7:00 PM
Fri – 10/30/20 – at Simon Kenton (KY) – 7:00 PM
COMMINS ON CORONA
"This whole Coronavirus outbreak has been humbling and a good break to take my mind off of things. It also makes you realize how important high school sports are in our everyday lives. It puts what we do in perspective. While I miss Friday nights like crazy, it is the everyday relationships and conversations that my staff and I have with our guys that I miss the most. I will never take that for granted!"