Schedule Sneak Peek: Harrison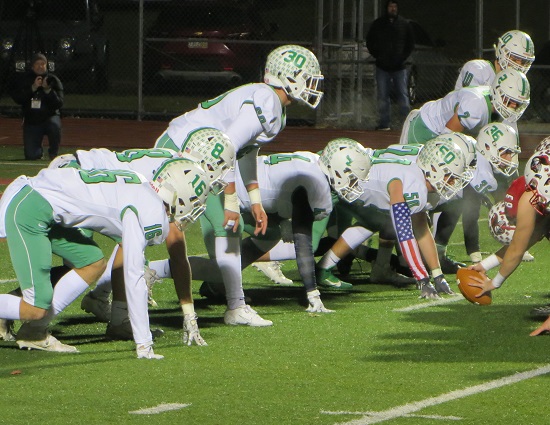 The 2019 Harrison defense (photo by Greg Shoemaker/TriStateFootball.com)
The 2020 season will be a historic one at Harrison. Bill Kuntz Field at Wildcat Stadium is getting field turf for the first time (no more grass), a new press box and scoreboard as well as renovations to the visitor's bleachers. Top that off with the most grueling football schedule the school has ever assembled and 2020 is destined to be a year to remember.
With the departure of Little Miami the SWOC is down to six teams. League members have the unenviable chore of finding five non-conference opponents to fill out their slates.
Harrison did not shy away from adding stiff competition. The Wildcats five non-conference opponents have combined to win 18 regional titles and seven state championships in the last decade.
"We knew we lost Little Miami which has been 8-2 the last two years and 7-3 before that. We also lost Anderson who is a Division II powerhouse. We knew we needed to replace them with tough schools. We lost Vandalia Butler who in 2018 was a Division III playoff team. We replaced them with Wyoming who we all know is great," Harrison head coach Derek Rehage laments about the additions and subtractions on the 2020 schedule.
He goes on to say, "East Central is who they are. The rest of the non-conference will be a challenge, but we are ready for the challenge, the best we can be, with what is going on. It will be a fun 2020."
Here is a look at the 2020 Harrison schedule:
Fri – 08/28/20 – at Wyoming – 7:00 PM
Fri – 09/04/20 – EAST CENTRAL (IN) – 7:00 PM
Fri – 09/11/20 – MIAMISBURG – 7:00 PM
Fri – 09/18/20 – at Trotwood-Madison – 7:00 PM
Fri – 09/25/20 – at Clinton-Massie – 7:00 PM
Fri – 10/02/20 – TALAWANDA – 7:00 PM
Fri – 10/09/20 – MOUNT HEALTHY – 7:00 PM
Fri – 10/16/20 – ROSS – 7:00 PM
Fri – 10/23/20 – at Northwest – 7:00 PM
Fri – 10/30/20 – at Edgewood – 7:00 PM
FINAL TAKE: Harrison made it all the way to the regional finals (Division II, Region 8) falling to eventual state champion, La Salle a year ago. The Wildcats were a veteran senior-laden team. The departure of that class leaves Rehage and his staff with many holes to fill and questions to be answered. The schedule is loaded with potentially huge computer points that will be needed to nab one of the eight coveted playoff berths in Region 8. The journey however is going to be a gauntlet that will require intense focus and intestinal fortitude on Harrison's end.