2020 Snapshot: Miamisburg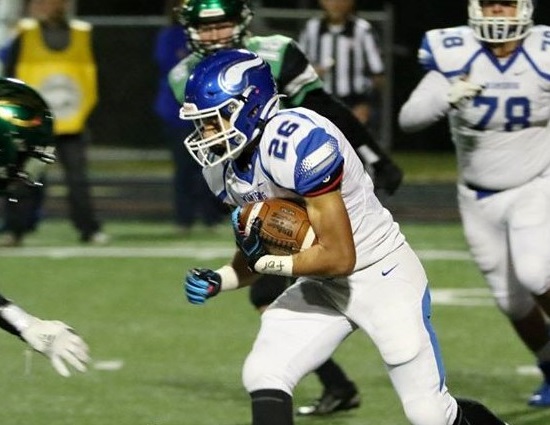 Miamisburg RB Christian Davis (photo courtesy of ScoutingOhio.com)
With a year under their belt for head coach Lance Schneider, Miamisburg appears ready to take the next step and be a menace in the GWOC. The Vikings lost seven games in a row last year before rebounding to win their final two contests and gain some momentum and confidence heading into 2020.

"We have a good core of players returning from the 2019 season. Our offseason leadership and commitment has been tremendous to this point. We have made great strides to get to the level we need to be and compete with the teams on our schedule," Schneider states.
There is still work to be done but things are moving in the right direction. "We need to develop a passion for competition and continue to develop leadership and team dynamics," Schneider says.
When Miamisburg starts taking on the persona of its head coach we will know that they have turned the corner. That means not being satisfied with just being competitive but winning on a regular basis.
Division I, Region 2
2019 RECORD: 3-7, 1-3 GWOC National
COACH: Lance Schneider (3-7 at Miamisburg, one year; 110-70 overall, 17 years)
HONOR ROLL
Spencer Harger, Sr, DL – An outstanding junior campaign saw Harger get in on 39 total tackles as an interior d-lineman. He was named OPSWA Division I Second Team All-Southwest District for his work.
Christian Davis, So, RB – The Vikings top returning offensive threat. Davis amassed 998 all-purpose yards (525 rush, 453 rec, 20 ret), had 31 receptions and found the end zone six times (four rush, two rec) as a freshman. He garnered Honorable Mention All-GWOC accolades for the effort.
Peyton Jackson, Sr, OL – Miamisburg's best offensive lineman, Jackson was named Honorable Mention All-GWOC as a junior.
Austin Plowman, Sr, DB – The Vikings top player in the secondary. Plowman tallied 75 total tackles and recovered a fumble on his way to being named Honorable Mention All-GWOC in 2019.
OTHER RETURNEES
Luke Myers, Jr, LB – A returning starter, Myers was in on 25 total tackles with two fumble recoveries in 2019.
Peyton Myers, Sr, DE – Schneider and the coaching staff are expecting big things out of Myers this fall.
Corwyn Hurt, Jr, ATH – Will be used in multiple ways in the offense. Hurt will be an excellent complement to Davis.
Brock Harris, Jr, DT – A very strong defensive lineman. Harris will be a force with Harger inside. He registered 27 total tackles, had two sacks and two fumble recoveries as a sophomore.
Kolin Ivy, Sr, WR/RS – Came on strong last season with at least one catch in seven of the Vikings last eight games. Ivy finished with 14 receptions, 221 yards receiving, one touchdown catch and 595 all-purpose yards.
NEWCOMERS
Youngsters, freshman TE Drew Dunaway and sophomore ATH Drew Copsey are expected to make immediate contributions for the Vikings.
PLAYOFF HISTORY
(five appearances, 2-5) – 2016, 2015, 2014, 2013, 2000
2020 SCHEDULE
Fri – 08/28/20 –at West Carrollton – 7:00 PM
Fri – 09/04/20 – LEBANON – 7:00 PM
Fri – 09/11/20 – at Harrison – 7:00 PM
Fri – 09/18/20 – CENTERVILLE – 7:00 PM
Fri – 09/25/20 – at Wayne – 7:00 PM
Fri – 10/02/20 – NORTHMONT – 7:00 PM
Fri – 10/09/20 – at Fairmont – 7:00 PM
Fri – 10/16/20 – BEAVERCREEK – 7:00 PM
Fri – 10/23/20 – at Springfield – 7:00 PM
Fri – 10/30/20 – SPRINGBORO  – 7:00 PM
INTERCEPTION DROUGHT
The Miamisburg defense had just one interception a year ago. It is the only pick they have had in the last 15 contests dating back to 2018. The Vikings head into next season having not had an interception in their last eight games.